1 oz. Pure Gold Coin – Relics of New France: Louis XIV 30 Deniers
1 oz. Pure Gold Coin – Relics of New France: Louis XIV 30 Deniers
Masters Club:
44,000
Status:

CAN & US shipping only
Availability:

Out of stock in stores
A modern 'mousquetaire,' crafted in 99.99% pure gold. Own the replica and the relic!
The 30-denier coin of the French regime was dubbed the "mousquetaire" because of its cross, which resembled the emblem of the king's musketeers. Three centuries later, that famous cross has been made new again on the reverse of this 99.99% pure gold collector's item!
We've gone to great lengths to capture all the details of the original design from the 1700s. But you can judge for yourself, because your 24-karat gold collectible comes with a genuine 30-denier coin, which instantly evokes images of life in New France.
Lower mintage. Mintage is limited to just 350 coins worldwide — that's much lower than the 2020 Relics of New France coin (1,000), which sold out quickly!
Historically accurate. Close consultation with the Bank of Canada Museum, which has 21 of the original coins in its collection, helped ensure our modern tribute is as historically accurate as possible.

New yet "aged". Modern engraving techniques mimic the effect of time on the reverse design without interfering with the coin's luxurious proof finish.
For the love of history and the hobby. With its modern obverse and centuries-old reverse, this gorgeous piece is our way of honouring the past and celebrating the joy of coin collecting.
Includes serialized certificate. The Royal Canadian Mint certifies all of its collector coins.
No GST/HST
30 Deniers, 1709-1713
In the early 18th century, rising inflation meant the silver value of French coins was higher than its actual face value — this was the case with the sol (sou) coin, which had an assigned value of 12 deniers. However, by decree in 1640, all sol coins were ordered to be returned to the Crown on pain of severe penalty. They were then re-evaluated and counter-stamped with a fleur-de-lys to raise their value from 12 to 15 deniers. Coin shortages, especially in the colonies, still needed to be remedied and France had a limited supply of silver; in September 1709, a royal decree issued by King Louis XIV authorized the minting of two new denominations: a 30-denier coin and a similarly designed 15-denier piece. These would be made of billon, a very low-grade silver, but with a 20% silver content to prop up their value.
Between 1709 and 1713, more than 122 million of these 30 deniers "mousquetaires" were struck at the Lyon and Metz mints. Quantities were supplied to New France, where they were never officially removed from circulation; they continued to circulate for years, often until the pieces were barely recognizable.
An extraordinary and meaningful tribute to one of the great coins in Canada's past.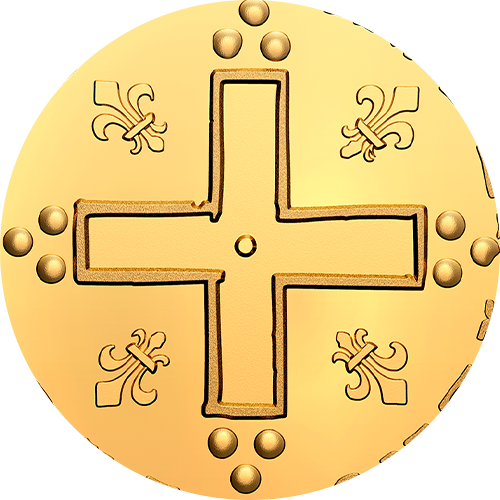 A piece of New France
A historic coin from New France has been brought back to life on the reverse of this premium collectible. It's the first time this design has ever appeared on a coin issued by the Royal Canadian Mint.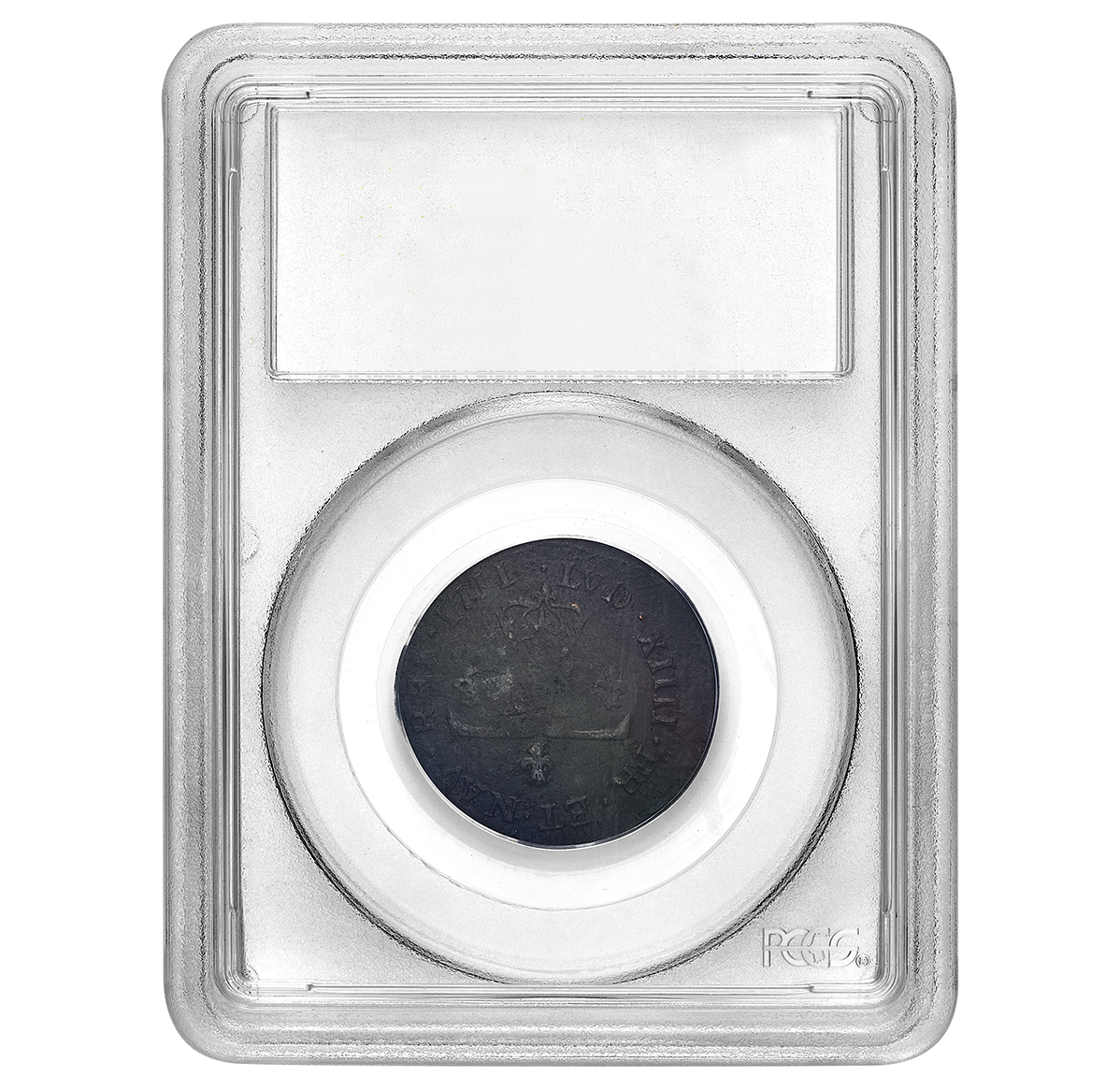 Includes original coin
Two coins, one collectible — your gold coin comes packaged with an original Louis XIV 30-denier piece sealed in a coin slab. Perfect for side-by-side viewing and comparison!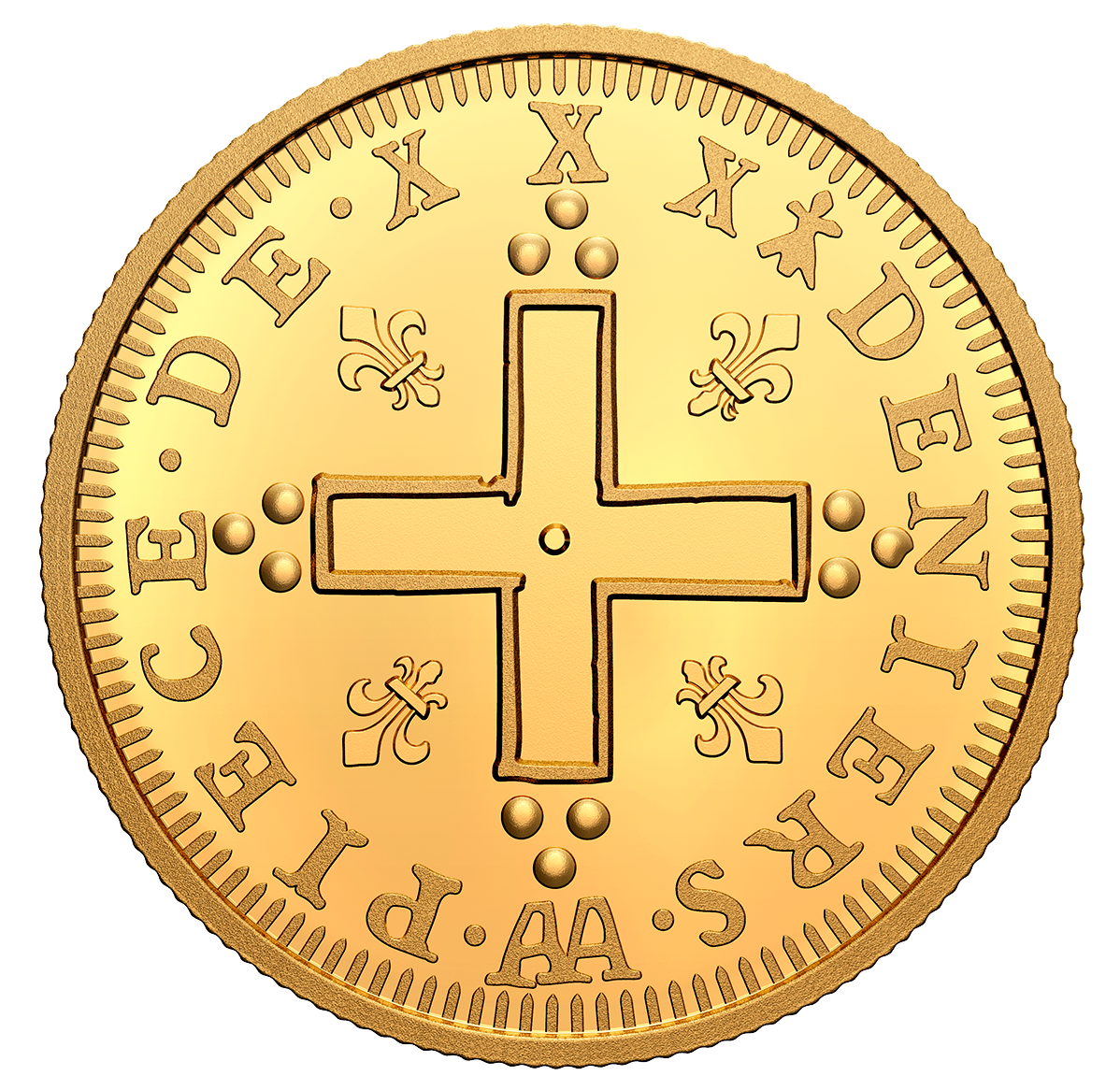 Original inscriptions
The reverse includes the unilingual inscription that states the coin's original value of 30 deniers.
Composition
99.99% pure gold
Packaging
Your 99.99% pure gold coin is individually encapsulated and presented in a Royal Canadian Mint-branded clamshell with a black beauty box. Also included is a special insert for both the coin and the original piece, which comes sealed in a plastic coin slab.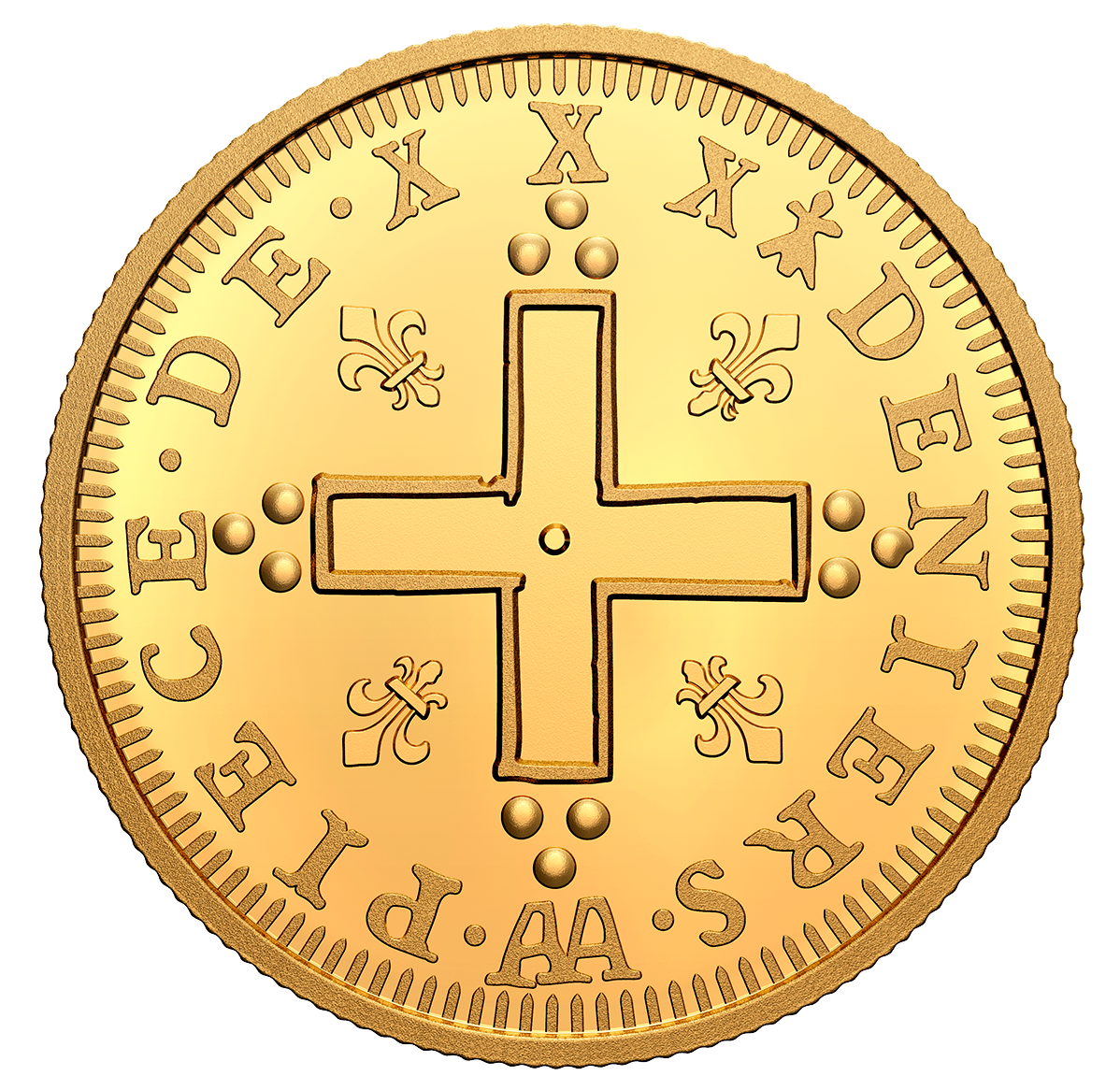 Reverse
Original design by Norbert Roëttiers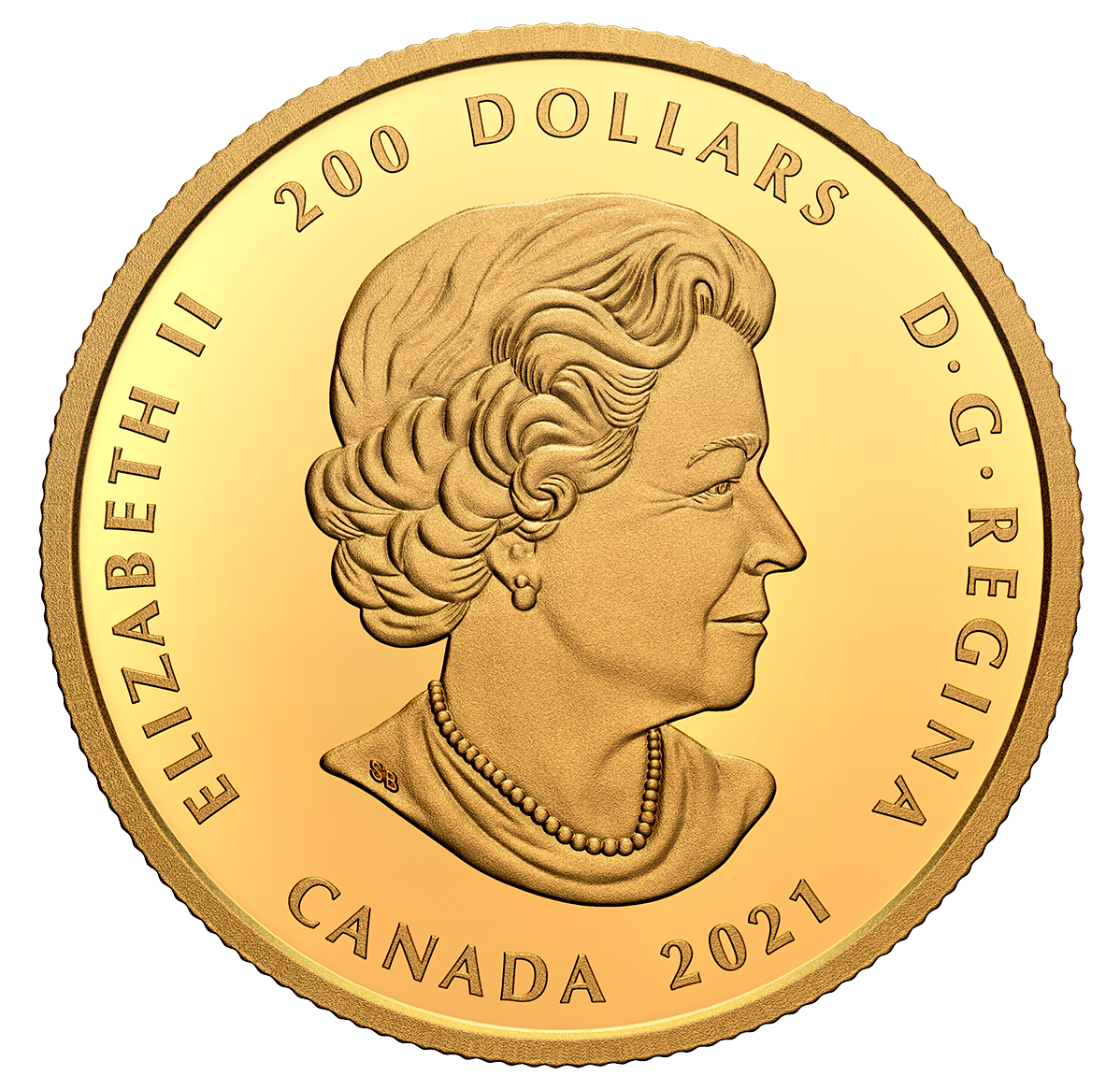 Your coin's reverse is based on the 30-denier coin that was minted from 1709 to 1713. Though not originally intended for it, the 30-denier coin would appear in circulation in New France. The original design by engraver Norbert Röettiers (1665-1727) features an outlined cross with three circles at the end of each arm and a fleur-de-lis at each angle. For historical authenticity, the reverse includes the original inscribed denomination, "PIECE DE XXX DENIERS", and the "AA" Metz mint mark. The obverse features the effigy of Her Majesty Queen Elizabeth II by Susanna Blunt.
What do you want to know about this product?
Your product was successfully added to your collection.
The product could not be added