1 oz. Pure Silver Coin – A Wreath of Remembrance: Lest We Forget
1 oz. Pure Silver Coin – A Wreath of Remembrance: Lest We Forget
Masters Club:
1,100
Status:

CAN & US shipping only
Availability:

Out of stock in stores
A wreath tribute to our Veterans and to the fallen on the Poppy's 100th year.
On the Poppy's 100th year as a symbol of Remembrance, we offer this wreath to honour those who have served our country and those who continue to help advance peace around the world.
Theirs is a legacy of great trials and sacrifice, but also of hope and heroism. We will never forget their bravery,and with this wreath of forget-me-nots and red poppies, we gratefully acknowledge their service while honouring the memory of the fallen.
Selective colour highlights the Poppy of Remembrance on its 100th year. Order today.
An annual rite of remembrance. For 2021, our annual Remembrance Day coin combines two different floral symbols: forget-me-nots and the red Poppy that has symbolized Remembrance in Canada since 1921.
Includes serialized certificate. The Royal Canadian Mint certifies all ofits collector coins.
No GST/HST
The Poppy Design is a registered trademark of The Royal Canadian Legion, Dominion Command and is used under license.
Packaging
Your coin is encapsulated and presented in a Royal Canadian Mint-branded clamshell with a black beauty box.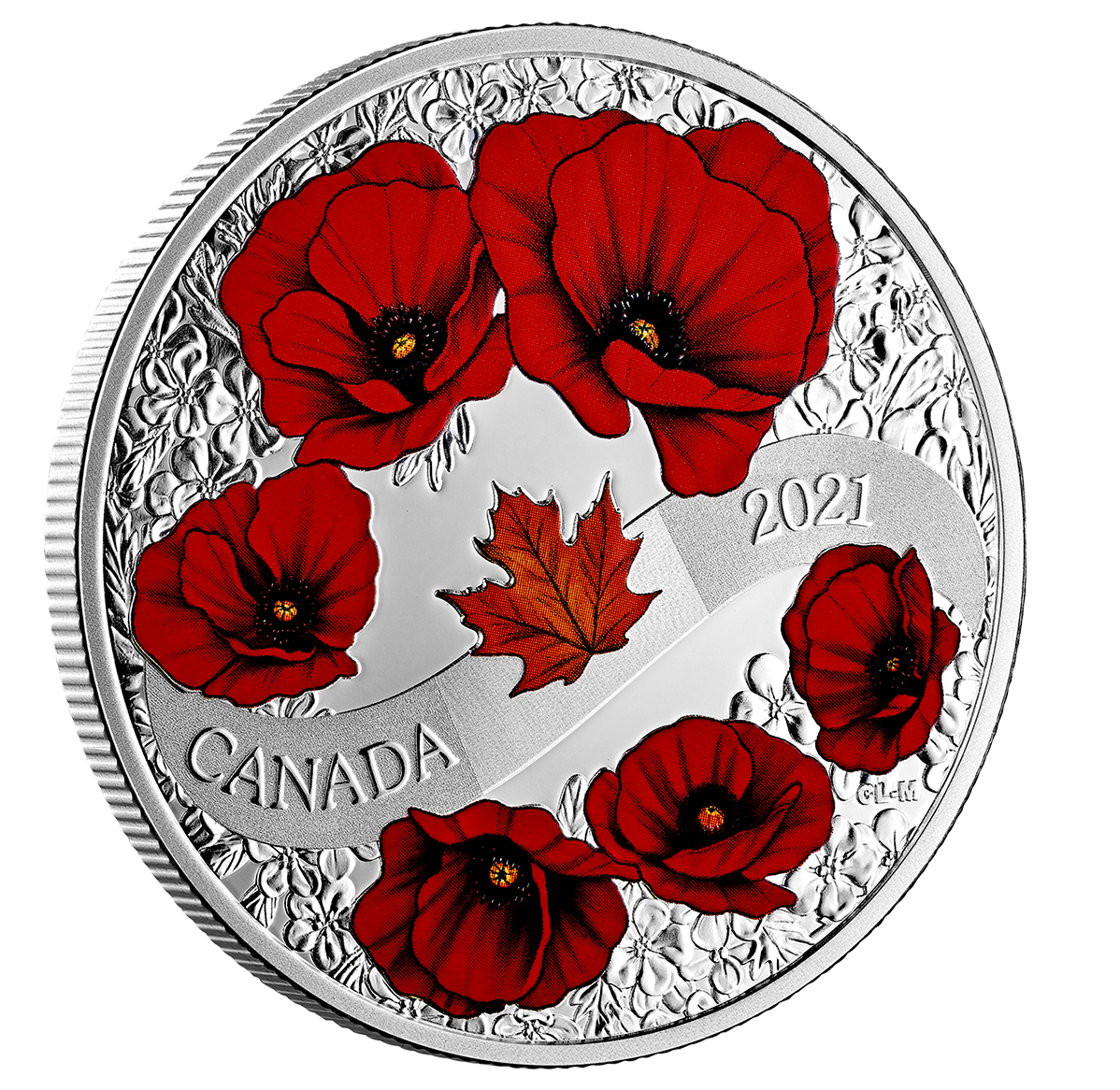 Selective colour
While special frostings add depth to the engraved forget-me-nots, selective colour over relief adds a mournful red to the poppies and fall-like hues to the maple leaf symbol of a nation's gratitude.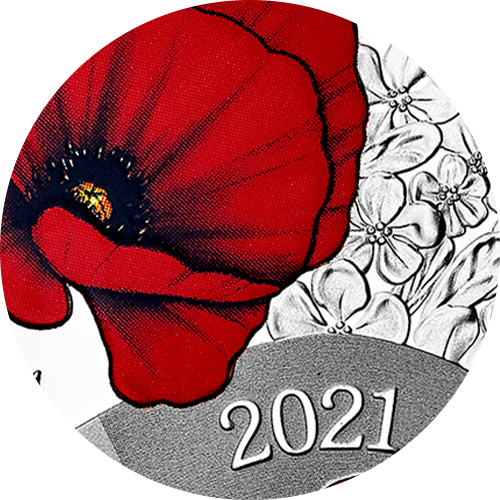 Exquisite engraving
This 1 oz. fine silver coin features precision-etched details and thoughtful touches that transform the delicate-looking flowers into a powerful expression of Remembrance.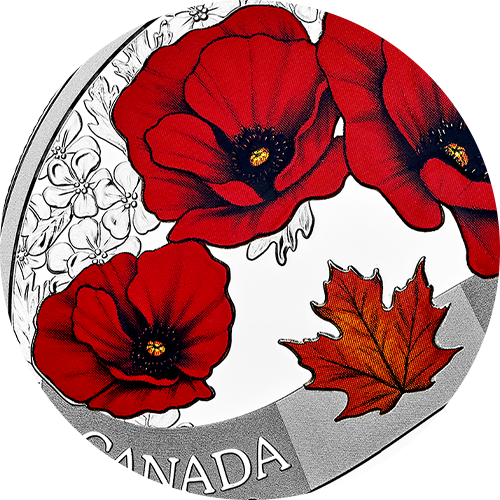 Dynamic design
By using different sizes of flowers, the artist has created a sense of movement that pulls you into the wreath design that invites all Canadians to reflect, remember and never forget.
Composition
99.99% pure silver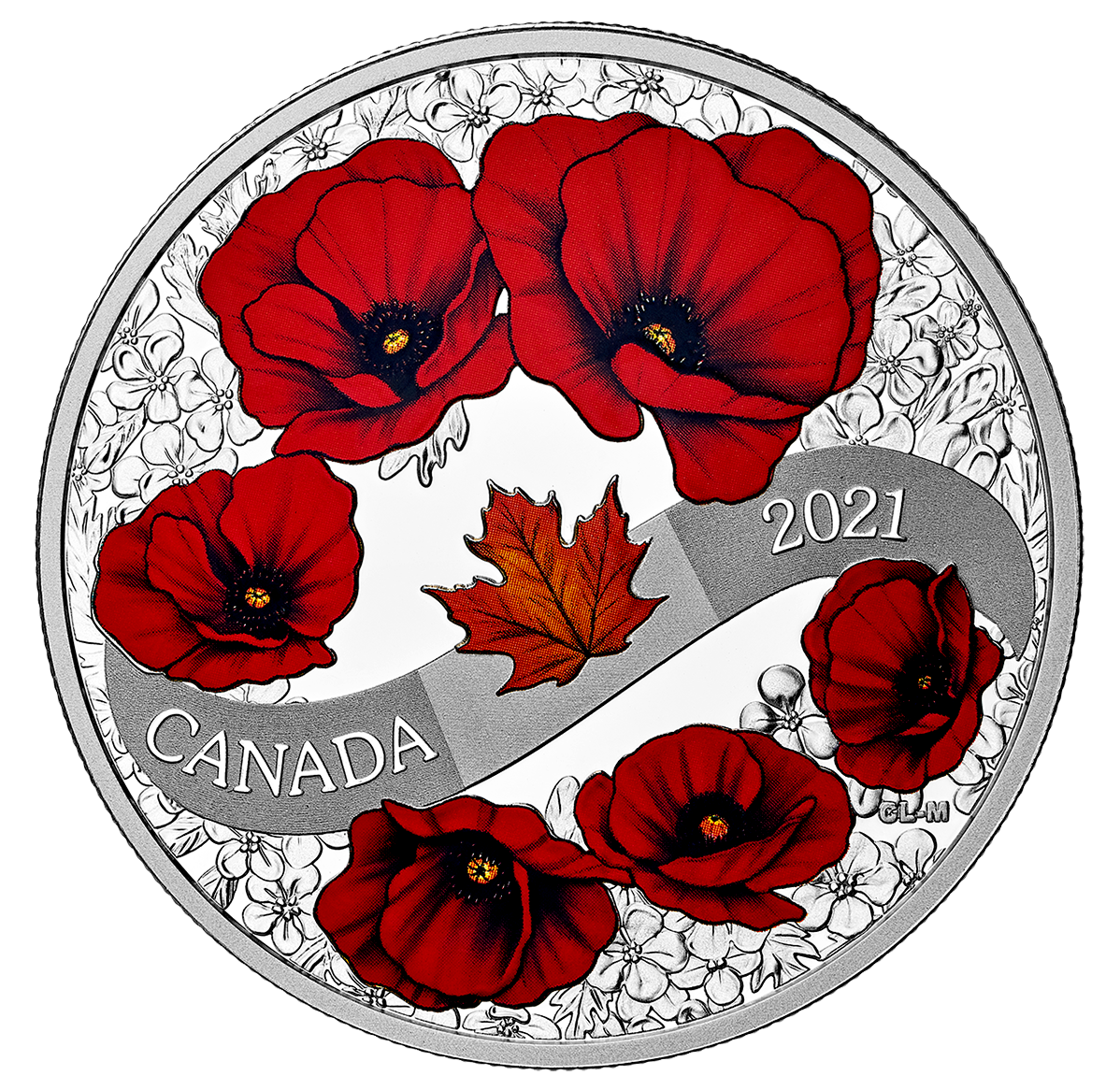 The reverse design by Canadian artist Caitlin Lindstrom-Milne is a spiralling wreath arrangement of Remembrance flowers: red-coloured poppies and engraved forget-me-nots. Upon a banner bearing the words "CANADA" and "2021" lies a colourful maple leaf, which symbolizes this nation's gratitude to all who serve and have served their country throughout Canada's military history. The obverse features the effigy of Her Majesty Queen Elizabeth II by Susanna Blunt.
What do you want to know about this product?
Your product was successfully added to your collection.
The product could not be added