10 oz. Pure Silver Coin - Canada's Provincial and Territorial Flags
10 oz. Pure Silver Coin - Canada's Provincial and Territorial Flags
Masters Club:
10,000
Status:

CAN & US shipping only
Celebrate Canada in a big, colourful way with this 10 oz. pure silver collage.
This 10 oz. pure silver coin is the perfect way to show your national pride! On the coin's reverse, the map of Canada gives shape to an eye-catching collage of provincial and territorial flags. From east to west and across our north, each flag is distinguished by colours and symbols specific to theland, people and history they represent. These 13 flags come together beautifully on this special collectible, where they form an inspiring image that proudly represents Canada as a whole.
It's the perfect patriotic piece, but hurry! Only 750 are available.
Special features:
10 oz. Of pure silver. The perfect addition to any silver or Canadiana-themed collection, this limited-edition piece is crafted in 10 ounces of 99.99% pure silver — some of the purest silver in the world.
Low mintage. Only 750 are available to collectors worldwide.
Includes serialized certificate. The Royal Canadian Mint certifies all of its collector coins.
No GST/HST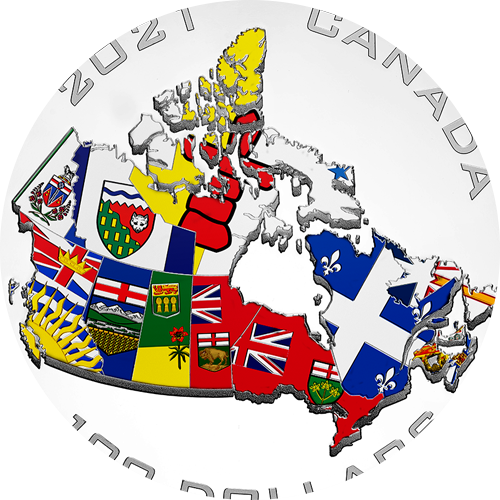 A patriotic collage
The map of Canada gives shape to the collage on the coin's colour-over-engraved reverse. The design is our first map-shaped collage of Canada's provincial and territorial flags.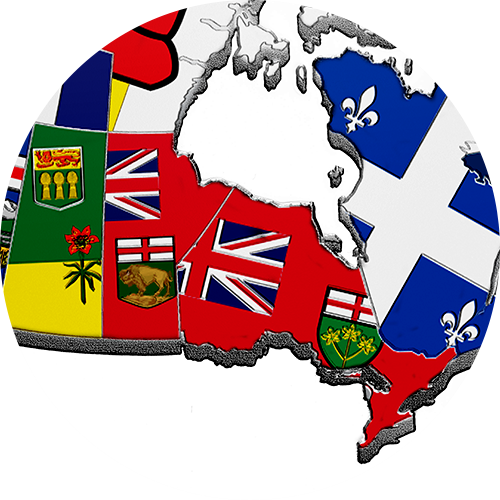 Flags over Canada
Just in time for Canada Day, this 2021 pure silver coin celebrates Canada through its unifying collage of provincial and territorial flags.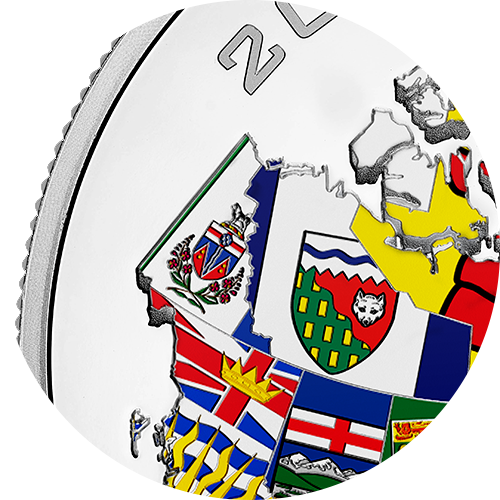 A mix of colour and silver
Each flag's colours carry deeper meaning, and those colours have been re-created on this coin. The use of selective colour ensures each flag is instantly recognizable, and they are especially vibrant against the coin's luminous proof finish.
Composition
99.99% pure silver
Packaging
Your coin is encapsulated and presented in a Royal Canadian Mint-branded clamshell with a black beauty box.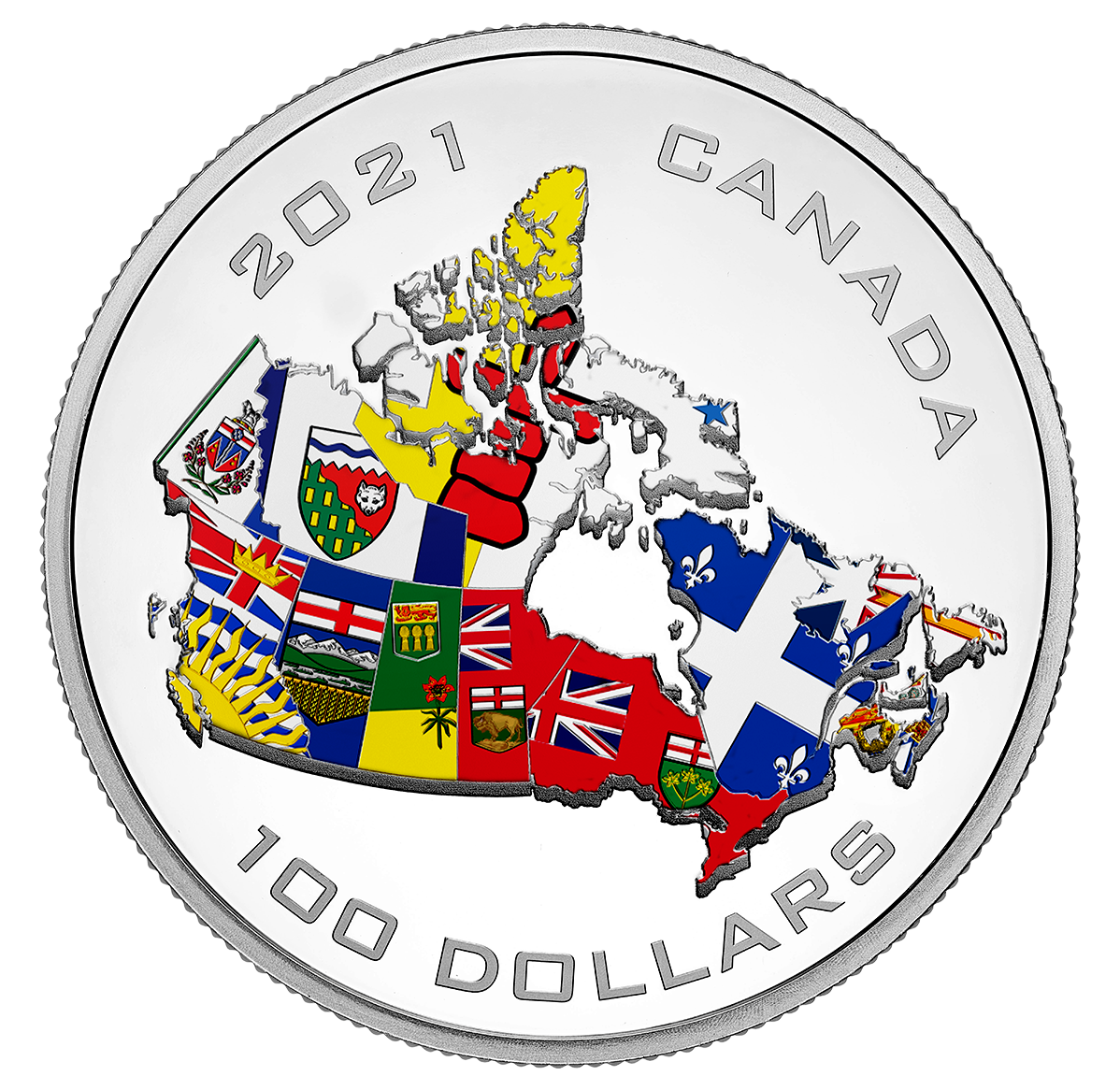 Reverse
Royal Canadian Mint engravers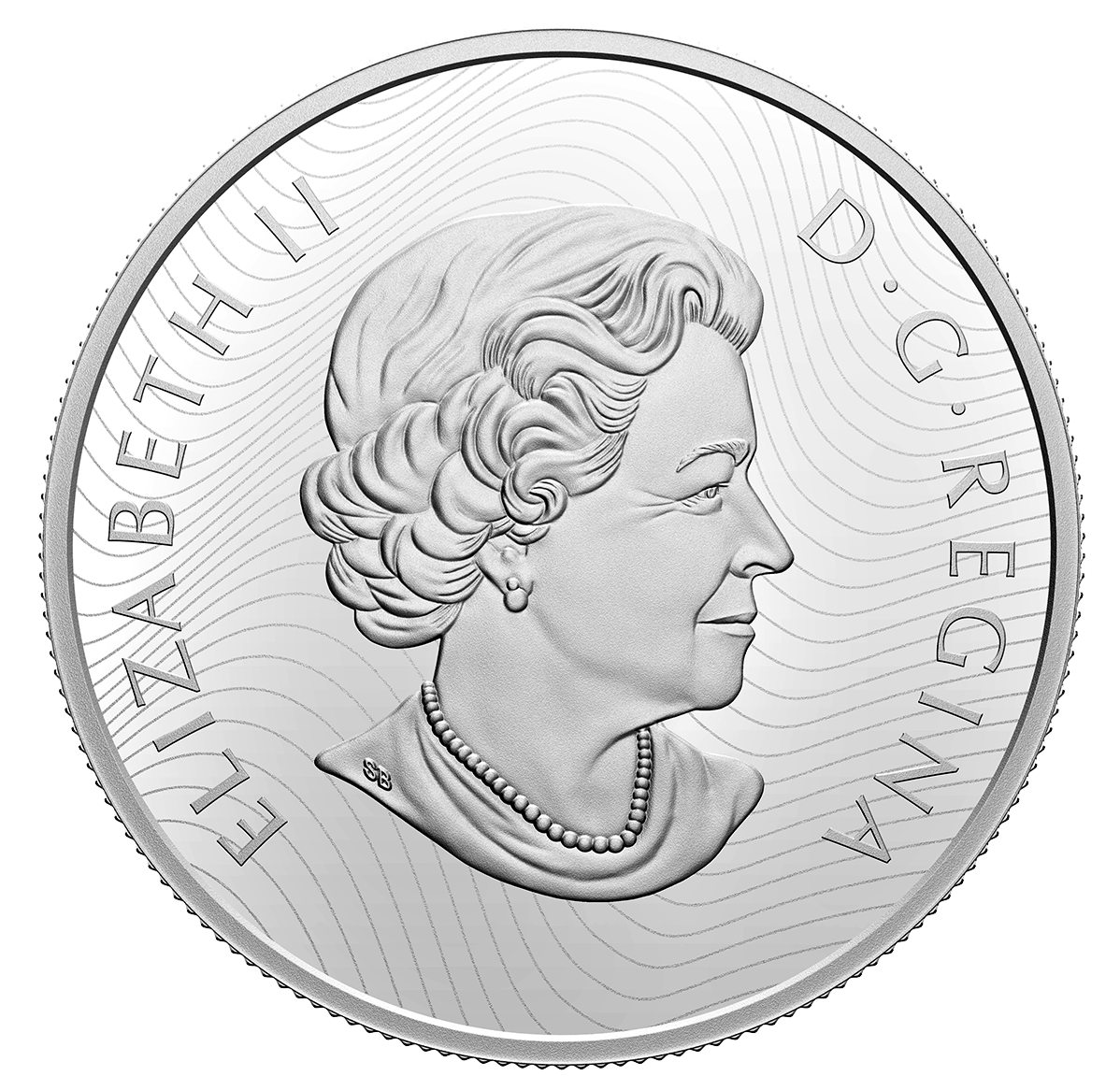 Your coin's reverse re-imagines the map of Canada as a colourful collage of the nation's provincial and territorial flags. Each flag fills the shape of the province or territory it represents: Yukon, Northwest Territories and Nunavut in the north; and from west to east, British Columbia, Alberta, Saskatchewan, Manitoba, Ontario, Quebec, New Brunswick, Prince Edward Island, Nova Scotia, and Newfoundland and Labrador. The reverse includes the year "2021", the word "CANADA" and the face value "100 DOLLARS". The obverse features the effigy of Her Majesty Queen Elizabeth II by Susanna Bunt.
What do you want to know about this product?
Your product was successfully added to your collection.
The product could not be added