1/4 oz. Pure Silver Coin - Moments to Hold: The Snowbirds
1/4 oz. Pure Silver Coin - Moments to Hold: The Snowbirds
Masters Club:
250
Status:

CAN & US shipping only
Canada's aerial ambassadors celebrate 50 years.
The Royal Canadian Mint is honoured to salute the Snowbirds as they celebrate their 50th consecutive airshow season across North America. Formed in 1971 to demonstrate the skill, professionalism and teamwork inherent in the Canadian Forces, the Snowbirds carry on a proud tradition of aerial excellence that dates back to the early years of powered flight in Canada. Their eminent predecessors include aerobatic teams such as the Royal Canadian Air Force's (RCAF's) first official aerobatic team in 1929, the Siskins, followed by many others including the Blue Devils, Sky Lancers, Red Knight, Golden Hawks and Golden Centennaires to name a few. In the post war years prior to unification in 1968, the Royal Canadian Navy (RCN) also formed several aerobatic teams including the Seafire Exhibition Flight and Grey Ghosts.
A beautiful gift for someone who enjoys watching the Snowbirds fly.
Special features:
Honours an aviation legacy! The Snowbirds are world-renowned for the precision and grace of their thrilling aerobatic show set to music. This Snowbirds coin salutes a legacy of aerobatic team prowess that dates back over 90 years in Canada.
Hold onto your memories of 2021! This is Coin #3 of a four-part compilation series that is your essential set for 2021.
Start here! Whether you're new to coin collecting or want to share your hobby with others, this is a great starting point or gift! It is one of our most affordable pure silver coins, and its design will serve as a long-lasting reminder of key moments in 2021.
An affordable addition! You get ¼ oz. of 99.99% pure silver – some of the purest silver in the world – for the low cost of $24.95 per coin.
Subscribe to the series! Want to guarantee a complete set of 2021 Moments to Hold coins? Subscribe to the series! Each subscription reserves all four coins – this one, plus three other issues in 2021 –without having to time your purchases to coincide with each quarterly release. You also get the convenience of paying as each coin is shipped, and your satisfaction is guaranteed.
No GST/HST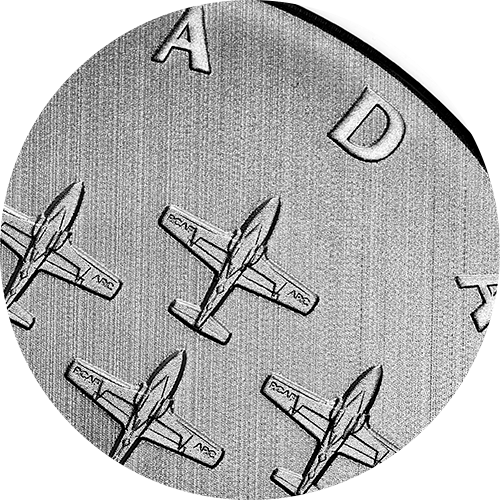 The Canadian designed and built CT-114 tutor
Your coin features the diminutive Canadair Tutor jet trainer that has been the mount of the Snowbirds since their inception. In the mid-1960s Canadair built 190 Tutors forservice in the RCAF and Canadian Forces.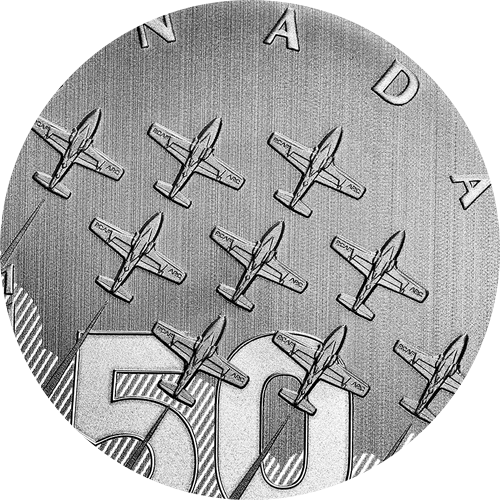 The big diamond formation
Your coin features a bottom view of the Snowbirds' signature formation, the nine-plane Big Diamond. All of the team's intricate formations derive from this basic formation.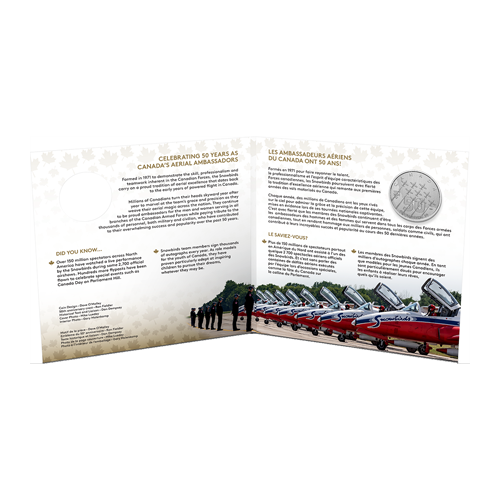 Special packaging
Your coin comes in a colourful and informative folder with a removable coin capsule for easy access—just pop the capsule out of the folder for a closer look at your coin.
Composition
99.99% pure silver
Packaging
Your coin comes in a full-colour custom folder with a removable capsule that allows for a close-up view.
Series
Pure Silver 4-coin Subscription - Moments to Hold (2021)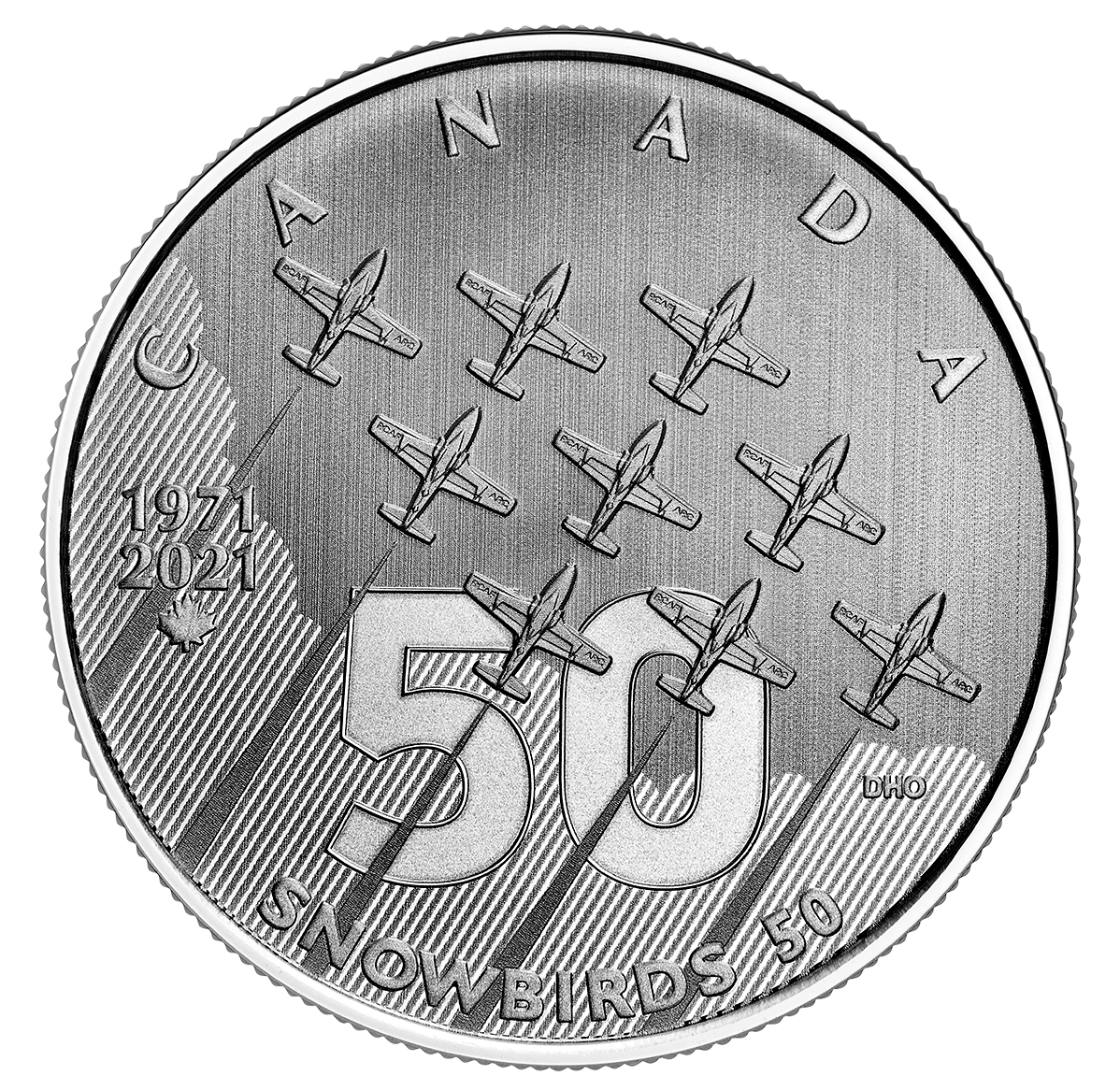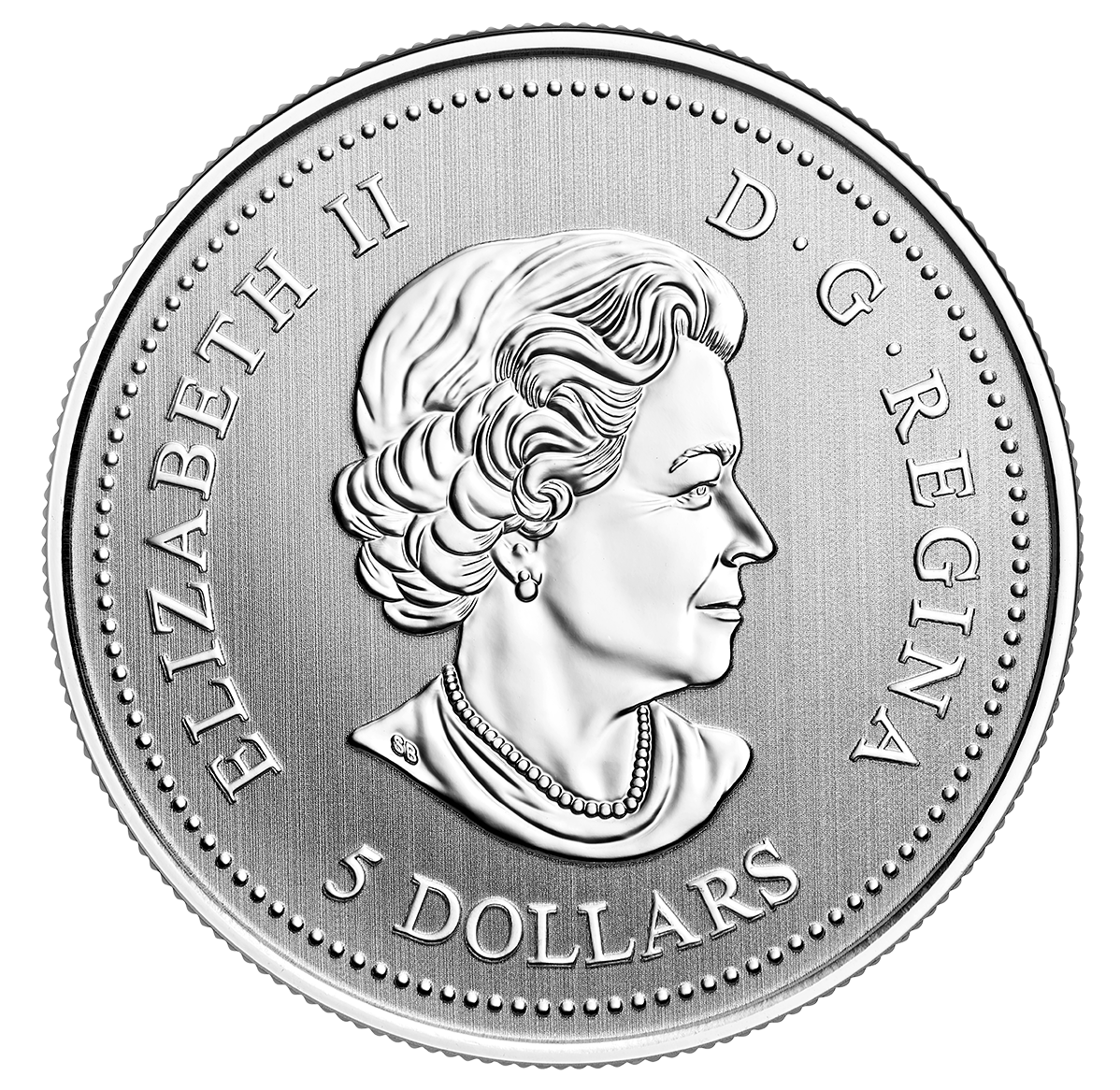 Your coin's reverse was designed by Canadian graphic artist Dave O'Malley and features the unique "speedbird" design that has graced the bottom of the Snowbird Tutors since a new paint scheme was introduced in 1974. The obverse features the effigy of Her Majesty Queen Elizabeth II by Susanna Blunt with "ELIZABETH II", "D·G·REGINA" and "5 DOLLARS" engraved along the outer edge. Historical text and production liaison were provided by former Snowbird commanding officer and team leader Dan Dempsey.
Coin Design: Dave O'Malley
Historical Text and Liaison: Dan Dempsey
Packaging: 50th anniversary crest: Ron Fieldler, Cover Photo: Mike Luedey, Interior Photo: Gary Molenkamp
Photos courtesy of DND
What do you want to know about this product?
Your product was successfully added to your collection.
The product could not be added