2 oz. Pure Platinum Pink Diamond Coin – Grandeur
2 oz. Pure Platinum Pink Diamond Coin – Grandeur
Masters Club:
550,000
Status:

CAN & US shipping only
Availability:

Out of stock in stores
Grandeur: A signature piece with heirloom appeal.
Available from official dealers
An exceptionally beautiful treasure that makes an unforgettable statement, a pink diamond is one of the world's rarest gemstones—so rare,that an entire year's production could fit in the palm of your hand.
This pure platinum coin is adorned with 30 pink diamonds from the legendary Argyle mine graded as Fancy Vivid and Fancy Intense. Set into rose gold-plated enhancements, these ultra-rare gemstones exude class and sophistication from the centre of the coin,which perfectly combines artistry, craftsmanship and the most precious materials in order to deliver luxury on a grand scale.
Only 30 coins exist worldwide.
Experience the opulence. This 2 oz.pure platinum coin is among the first offerings from our elite Opulence collection of incomparable works of art that are redefining rare. The 2021 Opulence coins are distinguished by beautiful cherry blossom motifs and sparkling Pink diamonds from the Argyle diamond mine graded as Fancy Vivid and Fancy Intense, and have a combined mintage of just 436 coins worldwide.
A rare piece of crafted perfection. Grandeur offers you luxury, elegance and exclusivity—mintage is limited to just 30 coins worldwide.
Rose gold plating. A fantastic complement to the pink diamond theme, rose gold plating adds springtime colour and amplifies the precious stones' colourful sparkle.
Includes serialized certificate. An additional tray insert contains a pair of gloves for safe coin handling, a key and two certificates of authenticity: a numbered one from the Royal Canadian Mint; and one from Crossworks Manufacturing, an Authorized Partner of Argyle Pink Diamonds.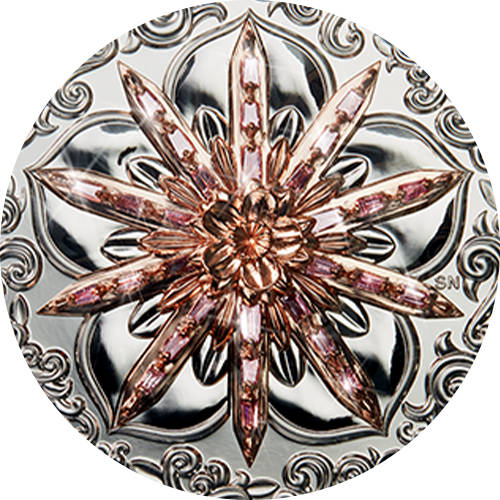 Pink diamond
Coveted for their vibrant colour and sparkle, 30 Pink diamonds from the Argyle diamond mine graded as Fancy Vivid and Fancy Intense (a total carat weight of 0.34) adorn your coin's reverse. Coveted for their vibrant colour and sparkle, these ultra-rare pink diamonds come from the famous Argyle mine and are part of a limited collection that took over three decades to collect.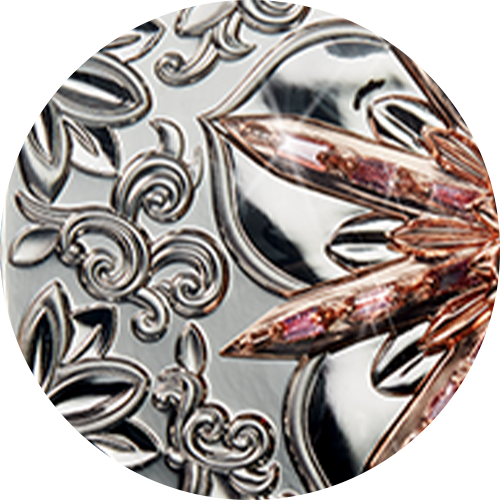 The purest platinum
When creating a sublime work of art, only the finest canvas will do: this coin is crafted from 2 oz. of 99.95% pure platinum, a precious metal even more rare than gold, and polished to proof perfection.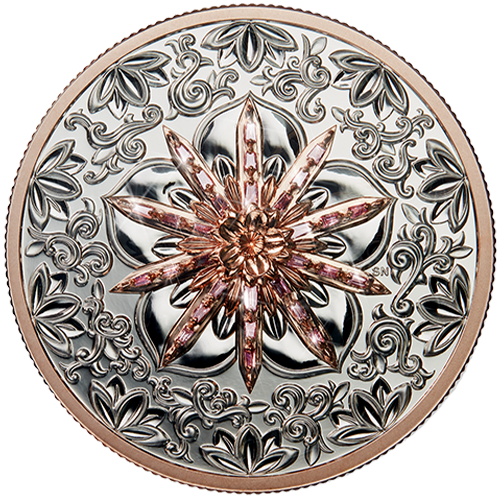 Exceptional craftsmanship
In addition to the meticulously engraved art, each of the pink diamonds has been superbly hand set into a rose gold-plated, platinum cast jewellery piece fashioned by Beverly Hills Jewellers.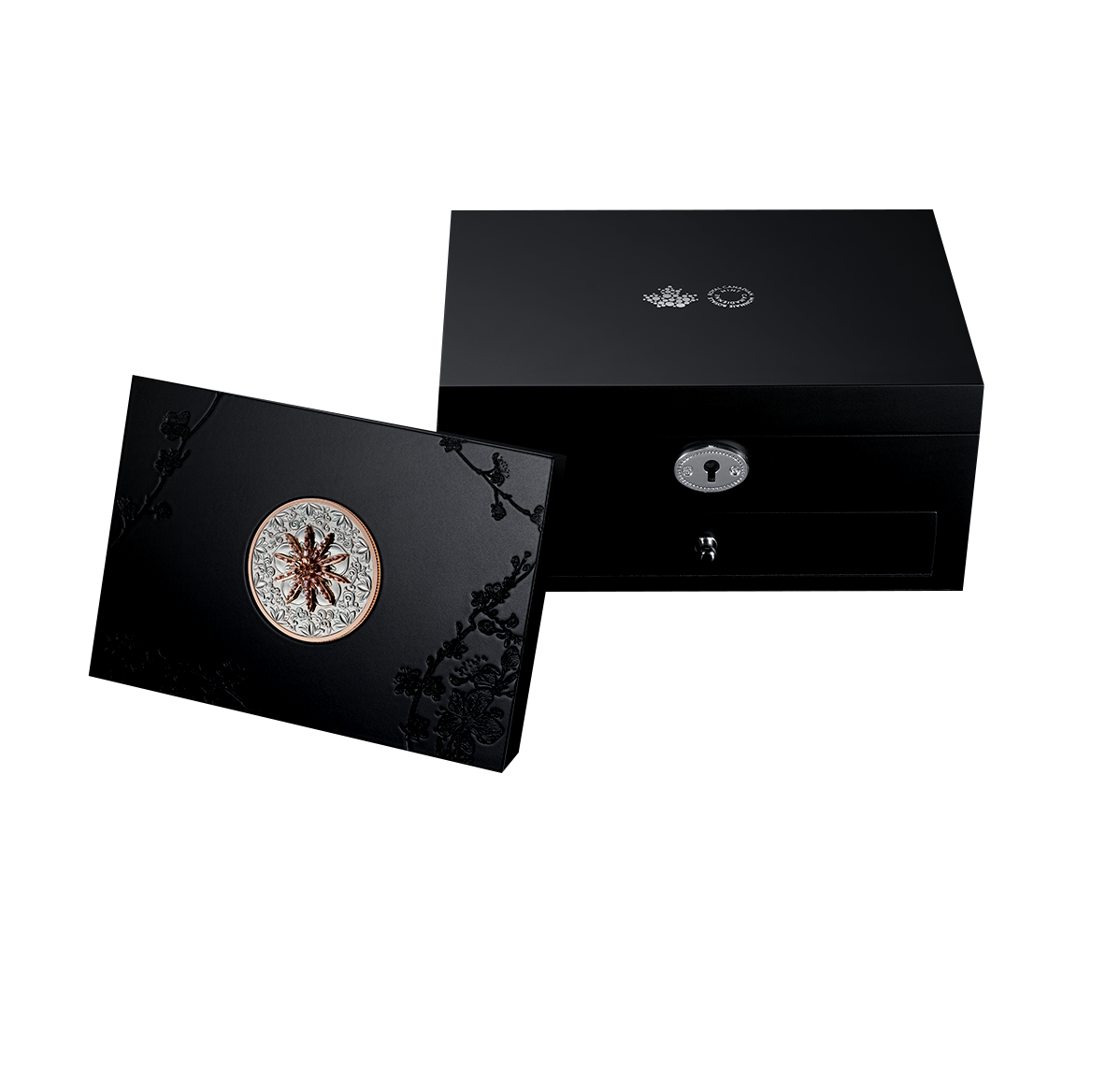 Luxurious packaging
Grandeur comes in a black presentation case with silver hardware, a lockable compartment and a removable coin tray that allows for an upright display.
Composition
99.95% pure platinum with selective rose gold plating
Embellishment
Gems
Plating
What do you want to know about this product?
Your product was successfully added to your collection.
The product could not be added