2 oz. Pure Gold Coin - Her Majesty Queen Elizabeth's Lover's Knot Tiara - Mintage: 175 (2021)
2 oz. Pure Gold Coin - Her Majesty Queen Elizabeth's Lover's Knot Tiara - Mintage: 175 (2021)
Masters Club:
78,400
Status:

CAN & US shipping only
Two gemstones—diamonds and pearls—top our fifth golden tiara tribute. Order today!
A glittering diadem dripping with pearls, the Lover's Knot Tiara is one of the most recognizable heirlooms in the royal jewellery collection. Its diamond-covered knots and drop-shaped pearls are the inspiration for this exquisitely engraved 99.99% puregold tribute, which features a four-effigy obversein honour of Her Majesty Queen Elizabeth II's 95th birthday. Embedded on your coin's reverse, three natural freshwater pearls and seven sparkling diamonds complete our interpretation of the tiara. But there's a hidden meaning: these are beautiful birthday gemstones, with diamonds representing Her Majesty's actual birthday in April, and pearls for the official celebration in June.
A rare opportunity to own a dazzling diamond-and-pearl birthday celebration. Order today!
Special features:
FIFTH GOLD TIARA COIN! Crafted in 2 oz. 99.99% pure gold, this fifth instalment in our annual tiara-themed tribute to Her Majesty Queen Elizabeth II has the added distinction of being a 95th birthday celebration.
SEVEN DIAMONDS! The reverse design represents one of our largest diamond-enhanced celebrations yet. Each of the seven embedded stones has been painstakingly placed by hand and perfectly positioned.
COMMEMORATIVE OBVERSE! To mark Her Majesty's 95th birthday, the commemorative obverse features all four effigies that have represented Her Majesty on our coins since 1953.
NATURAL FRESHWATER PEARLS! Our engraved take on the iconic Lover's Knot Tiara wouldn't be complete without one of its distinguishing features: pearls! This is the first timepearls have been featured on one of our coins.
BIRTHDAY GEMSTONES: The diamonds and pearls are also birthday gemstones that represent
Her Majesty's two birthday celebrations: diamonds for her actual birthday in April, and pearls for the official celebration in June.
SELECTIVE PLATINUM PLATING! The scroll motifs are platinum-plated for extra sparkle.
SPECIAL CERTIFICATE! In addition to the usual Royal Canadian Mint certificate, your coin comes with a special certificate that confirmsthe authenticity of the diamonds on this coin.
PREMIUM PACKAGING! Your encapsulated coin comes packaged in a premium wooden case with a black beauty box.
INCLUDES SERIALIZED CERTIFICATE! The Royal Canadian Mint certifies all of its collector coins.
Design:
Your coin's reverse features an interpretation of the Lover's Knot Tiara. Seven diamonds add sparkle to the engraved knot and arch motif, while three natural freshwater pearls resemble the tiara's suspended gems.The intricate arrangement is enhanced with selective platinum plating. The commemorative obverse features scroll flourishes and the four effigies of Her Majesty Queen Elizabeth II that have appeared on Canadian coins since 1953.
The Lover's Knot Tiara:
This famous tiara is also known as Queen Mary's Lover's Knot Tiara, for it was Queen Mary who commissioned it from the House of Garrard in 1913. Modelledafter the original Cambridge Lover's Knot Tiara worn by her grandmother and aunt, Queen Mary's version of the tiara is made from diamonds and pearls that once adorned the Ladies of England Tiara. The regal headpiece was passed down to Her Majesty Queen Elizabeth II in 1953; it was later loaned toDiana, Princess of Wales, and has been frequently worn by Her Royal Highness The Duchess of Cambridge.
Did you know?
Her Majesty has two birthdays! She was born on April 21, 1926, but in the United Kingdom, the monarch's birthday has always been publicly celebrated on the second Saturday in June. The occasion is known as the Trooping the Colour, and it's a tradition that dates back to King George II (1683-1760).
The Lover's Knot Tiara originally included uprightpearls on top of the 19 diamond arches. The pearlswere taken from the Girls of Great Britain and Ireland Tiara, one of Her Majesty's favourite tiaras, but Queen Mary later had them removed from the Lover's Knot Tiara too.
Packaging:
Your coin is individually encapsulated and presented in a Royal Canadian Mint-branded premium wooden case with a black beauty box, and a special certificate of authenticity for the diamonds.
Order today!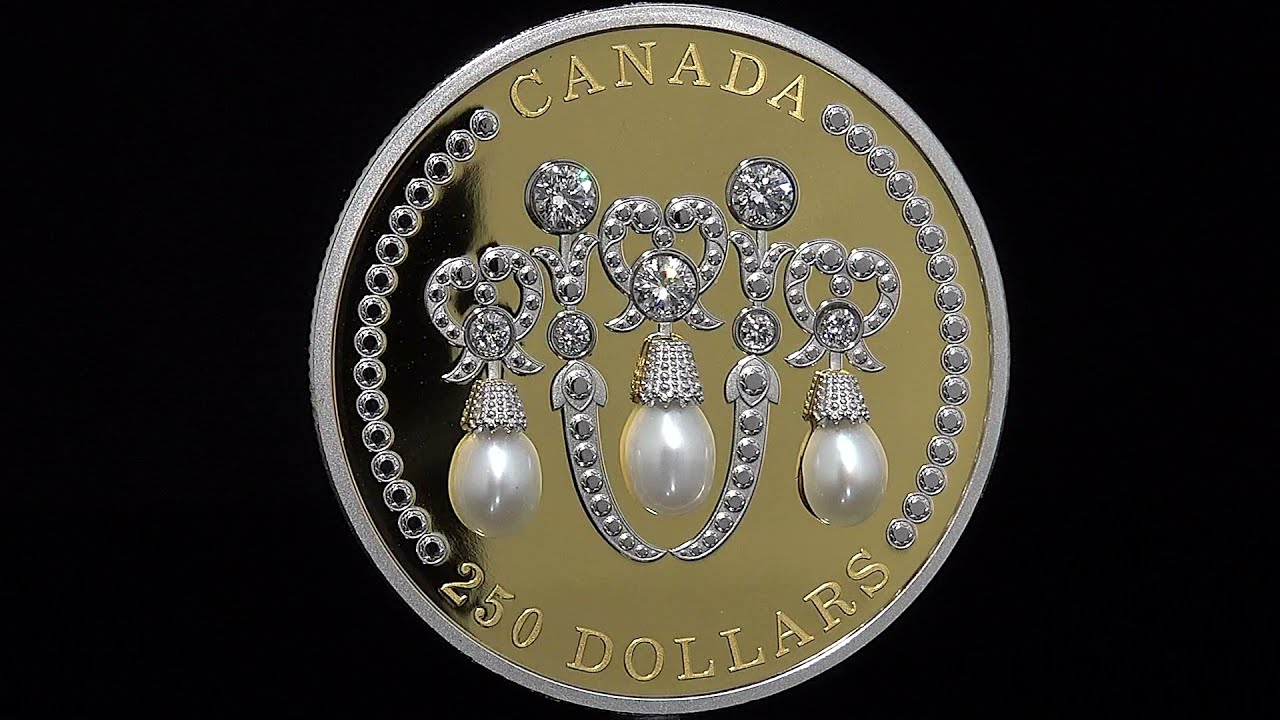 Composition
99.99% pure gold with selective platinum plating
Artist
RCM Engravers (reverse)
What do you want to know about this product?
Your product was successfully added to your collection.
The product could not be added