Five Kilogram Pure Silver Coin – Bluenose
Five Kilogram Pure Silver Coin – Bluenose
Masters Club:
110,000
Status:

CAN & US shipping only
Availability:

Out of stock in stores
The Bluenose legacy forever preserved in five kilograms of pure silver.
Launched on March 26, 1921 in Lunenburg, Nova Scotia, Bluenose brought home a record catch in its first season fishing on the Grand Banks. It captured the 1921 International Fishermen's Trophy for Canada in its first season and remained undefeated in the series. Skippered by Captain Angus Walters, Bluenose proved its worth as a fishing vessel in its first season at sea. The first test as a competitive racer came in the fall of 1921, and its first International Fishermen's Race, Bluenose outsailed the Gloucester schooner Elsie. It also outclassed Henry Ford the following year, and a racing legend was born. After a sensational racing career, Bluenose's final years and foundering in 1946 marked a sad end to a glorious era. Despite the loss, the legacy of the Canadians who built and crewed this legendary vessel still lives on, forever preserved in images that inspire awe—like the one engraved on this magnificent 5 kg pure silver showpiece. The sight of Bluenose sailing once again, its majestic sails filled with wind, will whisk you back in time and fill you with the thrill of the race, the euphoria of victory, and an unmistakable sense of pride for this symbol of Canada's maritime heritage.
An unforgettable send-off as we conclude ouryearlong commemoration.
Special features:
Final piece in the Bluenose anniversary collection! Our year long centennial celebration of Bluenose concludes with this spectacular 5 kg coin, which marks the final chapter in our retelling of the story of Canada's most famous ship.
A legacy that endures! Bluenose will always hold a special place in our hearts, and this coin is a special celebration of its enduring legacy on the 100th anniversary of its first racing victory. Built in Lunenburg, N.S., Bluenose remains the pride of Nova Scotia and a Canadian icon; as the ship depicted on Canada's 10-cent coin, it has also been a big part of our own story since 1937.
A rare and prestigious showpiece! Only 125 of these numismatic masterpieces are available to collectors worldwide. Order yours today.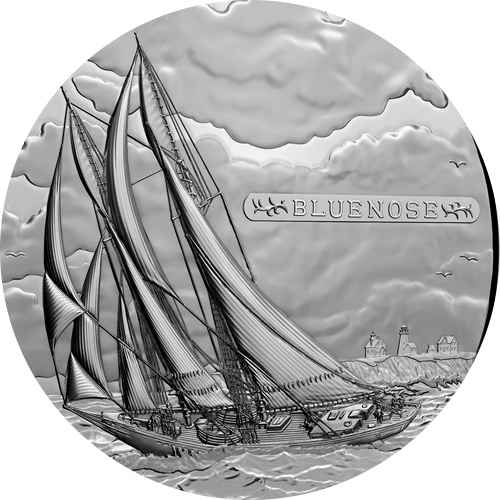 A big finale
A small canvas wouldn't do the original artwork justice. Crafted in 5 kg of 99.99% pure silver, this coin's impressive 180 mm diameter provides the right amount of space for an intricately detailed portrait of the schooner that has never ceased to inspire Canadians.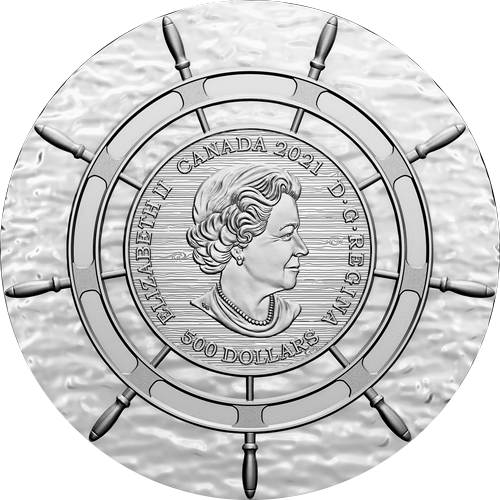 Special obverse
The theme extends to your coin's obverse, which features a wood field pattern and a reproduction of Bluenose's wheel. The field pattern is a special nod to those who built and crewed the wooden workhorse depicted on your coin's reverse, where a high-shine proof finish draws attention to the complexity of the engraved relief.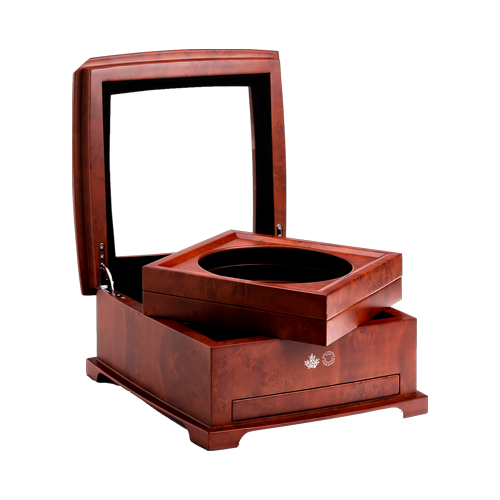 Prestige, from start to finish
Complete your Bluenose collection and get the complete story! Packaged in our finest wooden collector case, your 5 kg pure silver coin comes with a special booklet on the history of Bluenose.
Composition
99.99% pure silver
Packaging
Housed in a clear round capsule, your coin comes in a premium, burl wood case. Choose how you want to display your coin: inside its case and viewed through the acrylic window in the lid, or in the custom frame that comes with this case. The entire interior is lined in velvet-like black flocking, and just below the display compartment, a spring-loaded drawer houses a special serialized, multi-page booklet that shares the legacy of Bluenose. For added protection, each case is packaged in a custom set-up box and delivered in a Canadian-made NanukTM protective shipping case.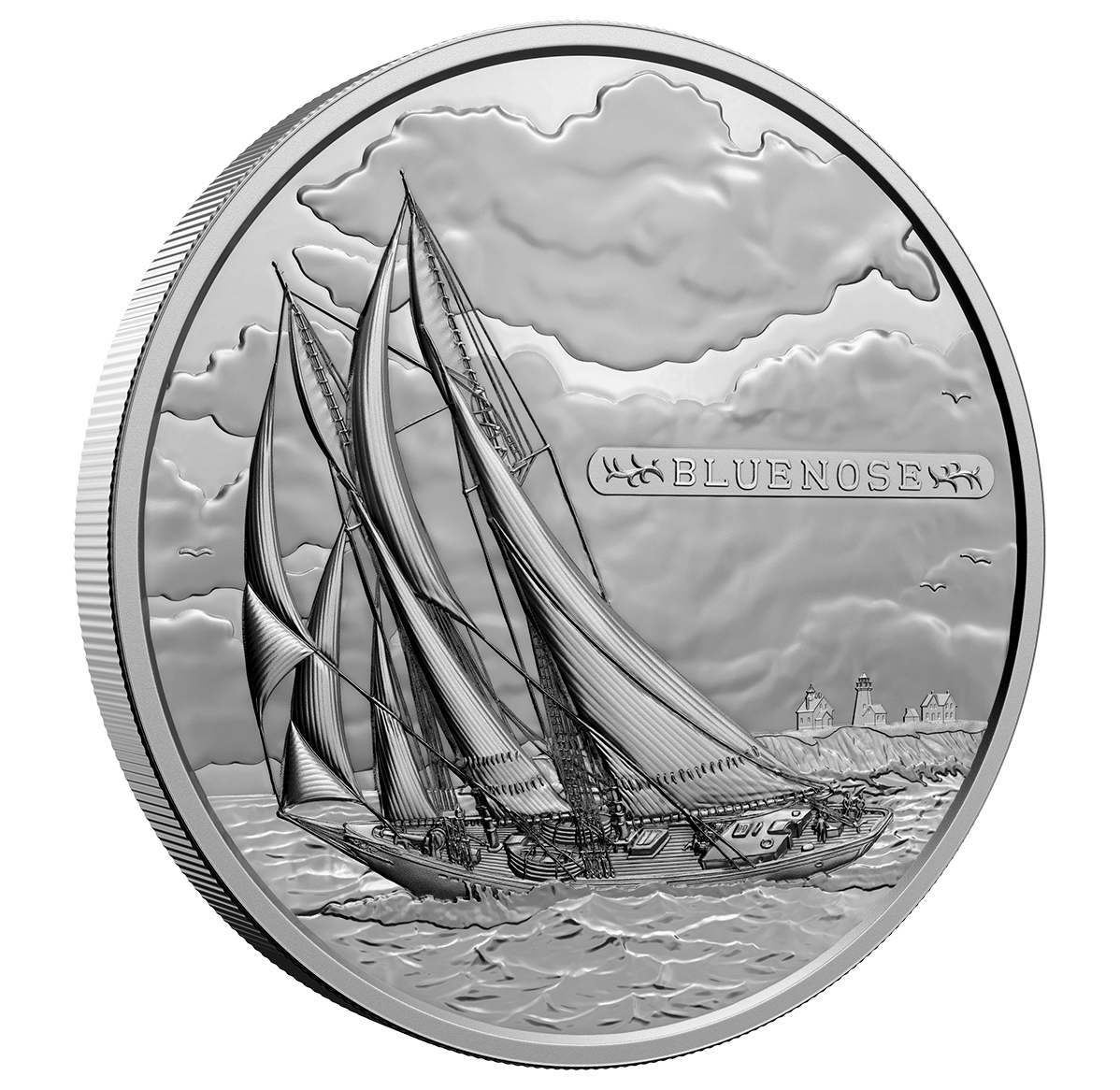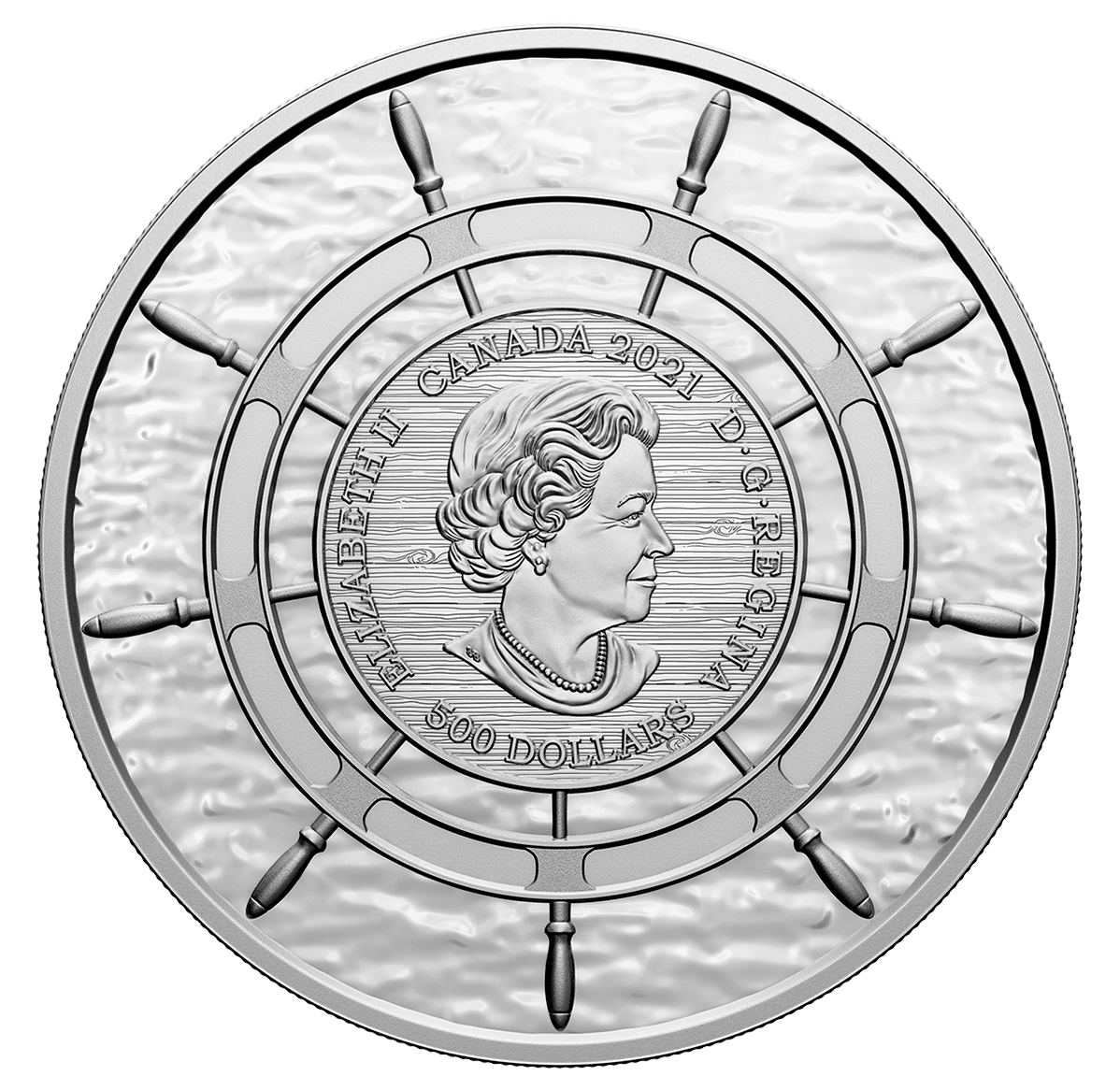 Your coin's reverse design is based on original artwork by Canadian marine artist Yves Bérubé. It presents a timeless portrait of Bluenose setting out beneath an evening sky and riding the waves off the coast of Cross Island, Nova Scotia. The name "BLUENOSE" appears to the right of the vessel's sails, accompanied by ornamental scrollwork as itappeared on the iconic schooner. The obverse features a wood field pattern, a reproduction of the ship's wheel, and the effigy of Her MajestyQueen Elizabeth II by Susanna Blunt.
'Bluenose' is an official mark adopted and used by the Nova Scotia Department of communities, Culture and Heritage pursuant to the Trademarks Act (Canada). It is used by the Royal Canadian Mint withthe Department's permission.
What do you want to know about this product?
Your product was successfully added to your collection.
The product could not be added