Pure Silver Coin - Multilayered Cougar - Mintage: 1,500 (2021)
Pure Silver Coin - Multilayered Cougar - Mintage: 1,500 (2021)
Masters Club:
4,500
Status:

CAN & US shipping only
Availability:

Out of stock in stores
One coin, multiple layers of (engraved) art. Order today!
New technology alert! How do you draw equal attentionto a portrait's subject and background? You treat them as independent layers of art! Thanks to a new advanced minting process,this piedfort-sized coin has two distinctly separate layers of engraving on its reverse: a cutout, and a background etched on the coin's interior surface. This is Multilayered Engraving, a groundbreaking approach that was previewedin early 2020 as part of the From R&D Lab collection. It's about unlocking additional design space on a standard coin blank. By using specially manufactured dies, we're now able to engrave behind the reverse's topplate—in this case, the cougar that cuts away to asweeping view of its forest surroundings.

It's our most dimensional engraving technique yet. Order today!
Special features:
NEW MULTILAYERED ENGRAVING! Pioneered by the Royal Canadian Mint's R&D researchers, Multilayered Engraving is a revolutionary new technique that unlocks additional design space by engraving behind the top plate, on the coin's inside surface.
THE FULL POTENTIAL OF A WORLD FIRST! Multilayered Engraving wasfirst unveiled to the world in early 2020 as part of the From R&D Lab collection. This fine silver coin is the first to show the full potential of this groundbreaking technique.
A DRAMATICALLY DIMENSIONAL DESIGN! The background offers a sweeping view of the forest—it doesn't just stop where the subject (the cougar) begins. It's a more dimensional approach to coin design, all while working with the traditional weight and precious metal volume of a standard coin blank.
A 3D LOOK! By extending the art as close to the edge as possible, the engraved cougar cutout has a more 3D-like appearance—with its intense gaze, it looks ready to pounce!
AN OVERSIZED PIECE! With its55 mm diameter, this larger-sized 99.99% pure silver coin is sized like a piedfort coin.
A VERY LOW MINTAGE of just 1,500 coins worldwide means this is a limited opportunity to own such a remarkable collectible.
INCLUDES SERIALIZED CERTIFICATE! The Royal Canadian Mint certifies all of its collector coins.
NO GST/HST!
Design:
On the reverse, a wildlife portrait by Canadian artist Denis Mayer Jr. is enhanced with Multilayered Engraving that divides the art into distinct layers. A top plate features a cutout of a cougar (Puma concolor) perched on a branch. Behind it, the coin'sinterior surface provides a separate base layer for an engraved rendering of a forest setting in Western Canada. The obverse features the effigy of Her Majesty Queen Elizabeth II by Susanna Blunt.
Did you know?
The cougar is Canada's largest wild cat and the second-largest in the Western Hemisphere (the jaguar is bigger).
Given that its range extends from the Yukon-British Columbia border to southern Argentina, the cougar is known to occupy a variety of habitats—from deserts to tropical rainforests, and the coniferous forest shown on this coin.
Packaging
Your coin is encapsulated and presented in a black Royal Canadian Mint-branded clamshell with a black beauty box.

Order your coin today!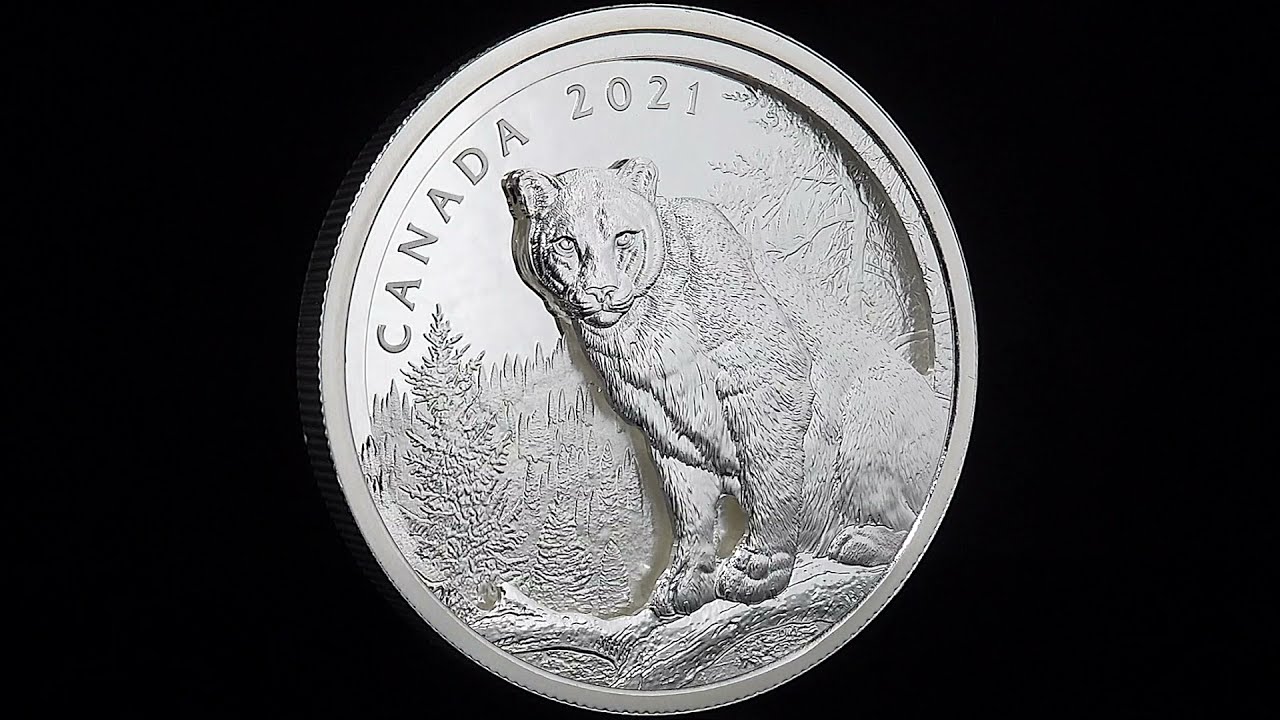 Composition
99.99% pure silver
Artist
Denis Mayer Jr. (reverse), Susanna Blunt (obverse)
What do you want to know about this product?
Your product was successfully added to your collection.
The product could not be added