The 2021 Special Wrap Roll Commemorative Collection
The 2021 Special Wrap Roll Commemorative Collection
Status:

CAN & US shipping only
Availability:

Out of stock in stores
One collection, seven special wrap rolls.
Each year, the Royal Canadian Mint proudly produces special circulation coins marking critical milestones in our heritage, culture, and values.
Benefits of ordering The 2021 Special Wrap Roll Commemorative Collection:
Peace-of-mind: Special wrap rolls sell out. Yours won't. Each special wrap roll in The 2021 Special Wrap Roll Commemorative Collection is reserved for you.
Convenience. No need to mark your calendar. We'll ship each special wrap roll as soon as it's available.
Affordable. With our pay-as-you-go plan, building your collection is manageable – and interest free.
Guaranteed Satisfaction. Each special wrap roll is backed by our 100% money-back guarantee*. We're not happy unless you are.
Free standard shipping. From east to west, we have you covered. Delivery is on us – anywhere in in Canada and the US.
Risk free. Changed your mind? It happens. Cancel your order at any time.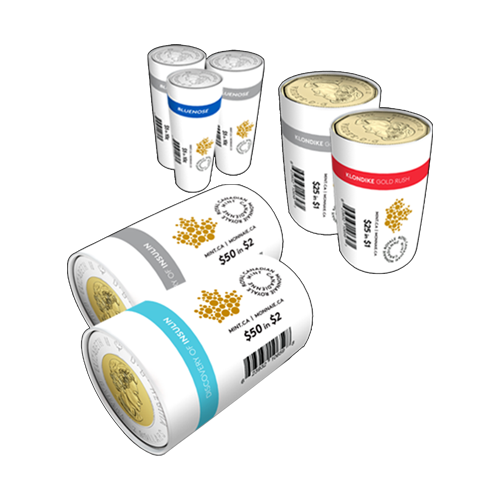 Seven 2021 commemorative special wrap rolls
The seven special wrap rolls in your 2021 commemorative collection include:
2021 $2 Special Wrap Rolls – Discovery of Insulin (Coloured & non-cloured coin rolls)
2021 $1 Special Wrap Rolls – Klondike Gold Rush (Coloured & non-coloured coin rolls)
2021 10¢ Special Wrap Rolls – Bluenose (Coloured & and two non-coloured coin rolls)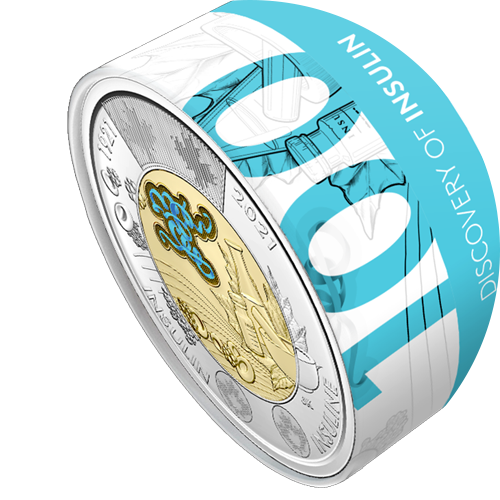 Reverse design is always shown
The reverse is visible on one or both ends of each roll.
Artist
Susanna Blunt (obverse)
'Bluenose' is an official mark adopted and used by the Nova Scotia Department of Communities, Culture and Heritage pursuant to the Trade-marks Act (Canada). It is used by the Royal Canadian Mint with the Department's permission.
William James Roué Signature © jeroué. Used with permission.
Blueprints of 1921 BLUENOSE © jeroué. Used with permission.
bluenose.novascotia.ca
wjroue.ca
*Credit card purchases only, charged when each coin is shipped. The Royal Canadian Mint reserves the right to refuse or limit orders and to limit the total amount of subscribers to this series. The Mint also reserves the right to change its prices and product offerings without notice. After purchasing your first coin, you will automatically receive the subsequent coins when they are released. Coins may not be issued in the same order as listed above. Subscription agreement may be cancelled at your request at any time with a phone call or written notice to the Royal Canadian Mint. While quantities last.
What do you want to know about this product?
Your product was successfully added to your collection.
The product could not be added