1 oz. Pure Silver Glow-in-the-Dark Coin - Canada's Unexplained Phenomena: The Falcon Lake Incident -
1 oz. Pure Silver Glow-in-the-Dark Coin - Canada's Unexplained Phenomena: The Falcon Lake Incident -
7 views in the last 24 hours!
Masters Club:
1,300
Status:

CAN & US shipping only
Availability:

Out of stock in stores
Commemorates Canada's most famous UFO sighting! Includes a black light flashlight! Order today!
It is one of Canada's most famous UFO encounters! According to Stefan Michalak's account, two glowing objects descended from the sky on May 20, 1967, near Falcon Lake, Manitoba, where one landed close enough for him to approach. When the craft suddenly took flight, its emission set Michalak's clothes ablaze, leaving him with mysterious burns… and an unusual tale to tell. Your coin's otherworldly shape is the perfect fit for such a story as the colourful coin captures the imagination as it recounts the Falcon Lake Incident, withblack light-activated features to add a glow to thecraft and the blast that knocked Michalak to the ground!
If you enjoy UFO stories, then this coin is for you! Ordertoday!
Special features:
FIRST SHAPED COIN OF ITS KIND TOFEATURE GLOWING ELEMENTS! Your coin is the first shaped coin of its kind to include photo-luminescent elements! Included with your coin is ablack light flashlight that activates the glow-in-the-dark features, which add a red and purple glow tothe craft (as per Stefan Michalak's account) and a yellow one to the blast.
A CLOSE ENCOUNTER! An exhilarating retelling of one of Canada's many fascinating stories of unexplained phenomena — a story that captures the imagination and seemingly defies explanation!
AN UNUSUAL SHAPE FOR A STRANGE ENCOUNTER! Your coin's ovoid shape addsa curious twist to this re-telling of a mysterious event—one that fuelled speculation about the originsof the craft and the possibility of extraterrestrial visitors.
A COLOURFUL RE-TELLING! A full application of vibrant colour over engraving results in an unforgettable scene, one filled with textural details that make this a superbly crafted example of visual storytelling.
1 OZ. 99.99% PURE SILVER! Your limited collectible is set apart byan unusual theme and a glowing design—a sure conversation-starter and an enthralling addition to your collection!
INCLUDES SERIALIZED CERTIFICATE! Regardless of special packaging, the Royal Canadian Mint certifies all of its collectorcoins!
LOW MINTAGE! Only 4,000 coins will be made worldwide—order today as your coin is a limited work of art in its own right and highly collectible!
NO GST/HST!
Design:
Designed by artist Joel Kimmel, your coin isbased on Stefan Michalak's account of what transpired on May 20, 1967, near Falcon Lake, Manitoba. A full application of colour re-creates the springtime colours of the place where Michalak saw twoobjects appear in the midday sky. Based on the witness's descriptions and sketches, the oval-shaped UFO on the reverse has a steel-like appearance as it hovers above him. Black light-activated features complete the story by mimicking the distinctivered glow described by Michalak, while adding a yellow hue to the blast of hot air or gas that knocked the amateur prospector on his back and left him with mysterious burn marks. The reverse includes the engraved word "CANADA", the face value "20 DOLLARS" and the year "2018". The obverse features the effigy of Her Majesty Queen Elizabeth II by Susanna Blunt.
The Story
Around midday on May 20, 1967, amateur prospector Stefan (Stephen) Michalak was on the hunt forprecious metals in Whiteshell Provincial Park when he suddenly noticed two strange objects in the sky. Both glowed with an intense red and  glare as they descended from the sky; one abruptly left the scene, but the other landed roughly 50 metres away from Michalak, who moved in to get a closer look.
The humming object was described as having a sulphurous smell, and it appeared to be made from a stainless steel-like material. Peering into a brightly lit opening, Michalak heard muffled sounds and tried calling out to them, only to be met with silence. He touched the seamless sides of the craft, which melted the tips of his glove; and when the UFO suddenly lifted off the ground, it emitted a blast of hot air or gas that knocked Michalak on his back, igniting his shirt and causing a grid-like pattern of third-degree burns to his chest.
What was the strange craft? Where did it come from? It's a story that has more questions than answers. Michalak never claimed the craft was an alien one; neither did he waver in his account of what he had seen and experienced that day, even under thescrutiny of doctors, scientists, law enforcement officials and other authorities, who could neither corroborate nor disprove the close encounter.
Did you know…
Canada is a hotbed of UFO activity! According to a survey, 1,131 UFO sightings were reported in Canada in 2016… but only 4% of these could not beexplained. Quebec also leads all other provinces inreported UFO sightings.
In 1967 (the same year as the Falcon Lake Incident), the world's first UFO landing pad was built inSt. Paul, Alta.
Another famous Canadian UFO sighting took place in 1967 — this time, in Shag Harbour, N.S., where a series of orange lights were seen flashing in the sky before the unknown object crashed into the ocean.
In 2016, a public opinion poll reported that four in five Canadians believe intelligent life existselsewhere in the universe, and nearly half of thosepolled believed aliens had already visited Earth.
Packaging:
Your coin is encapsulated and presented in a RoyalCanadian Mint-branded maroon clamshell with a blackbeauty box.
Order your Falcon Lake Incident coin today!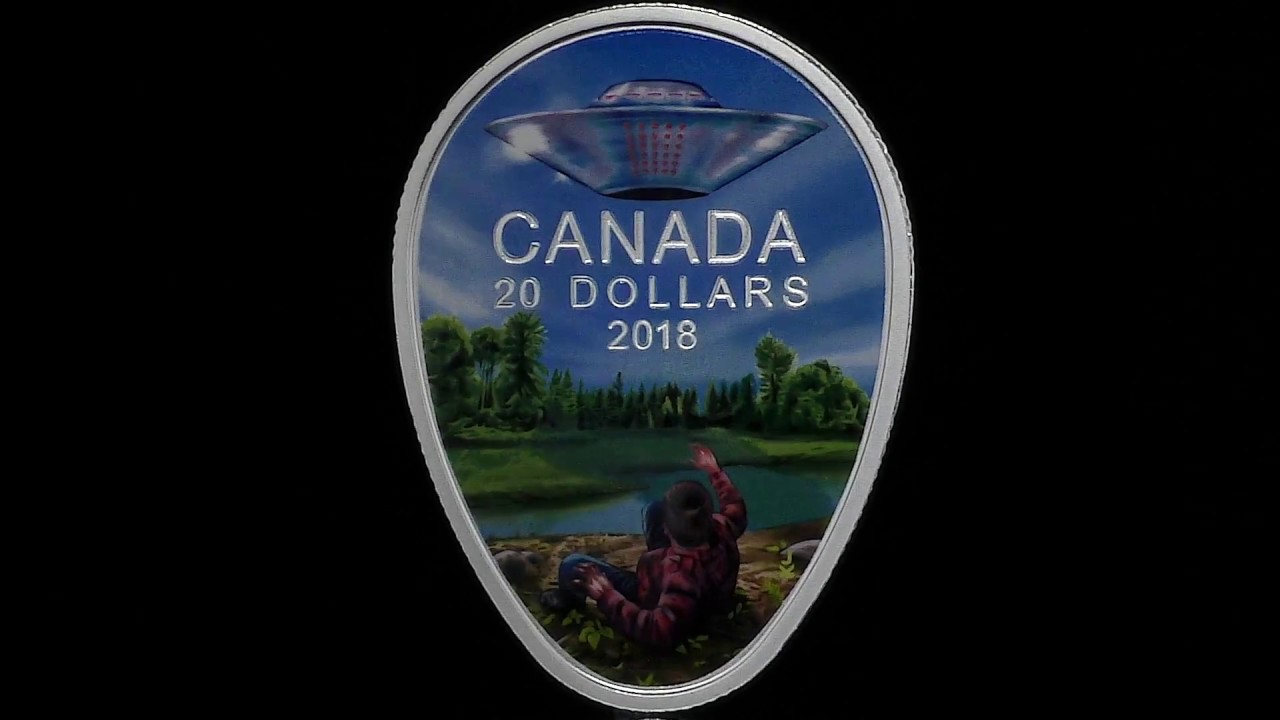 Composition
99.99% pure silver
Edge
interrupted serrations
Artist
Joel Kimmel (reverse), Susanna Blunt (obverse)
What do you want to know about this product?
Your product was successfully added to your collection.
The product could not be added