1 oz. Pure Gold Coin - HMS New Brunswick
1 oz. Pure Gold Coin - HMS New Brunswick
Masters Club:
28,000
Status:

CAN & US shipping only
Availability:

Out of stock in stores
STUNNING! Unique reproduction celebrates the history of colonial coinage! Order today!
The history of coinage in the British colonies is fascinating for those who love coins. Before Confederation, the colonies tried a number of schemes to make up for shortages of Crown-approved currency. These shortages happened frequently, and an economy emergedthat mixed bills of exchange, cheques, and bank notes with official coinage, unofficial tokens, hole-punched silver pieces, and alternative currencies. Many of these coins could only be used locally and had little or no value in other parts of Canada. Only coins officially sanctioned by the Crown retained their value across the colonies.
This gold coin reproduces the 1843 New Brunswick penny.This piece is notable not only for its beautiful design but also for its story. At the time, minting official coinage was exclusively a Royal prerogative—aprocess that was especially long and arduous when sea-based post was the only means of communication between England and the colonies. Because New Brunswick was so desperate for coinage, the province circumvented the normal process, seeking official approval only after the coin had already gone into production.
The design, created by the Soho Mint in Birmingham, England, is a detailed depiction of a three-mast frigateat anchor—reflecting the importance of sea trade and shipbuilding for New Brunswick. The Mint that created it referred to it as the most beautiful design they had ever produced.
Your exclusive 1 oz. 99.99% pure gold coin reproduces an 1843 New Brunswick one-penny token! Order today!
Special features:
A PIECE OF CANADA'S COLONIAL HISTORY! Celebrate the history of Canada with this rare, stunning reproduction of one of the most beautiful Canadian designs of the colonial era.
FEATURES AN 1843-ERA THREE-MAST NAVAL FRIGATE AT ANCHOR! An exclusive addition to any collection featuring historical subjects, Canadiana,or sea vessels.
INCLUDES SERIALIZED CERTIFICATE! TheRoyal Canadian Mint certifies all of its collector coins.
LOW MINTAGE! Limited to 250 coins worldwide.
ONE OZ. PURE GOLD! Your coin is crafted from one ounce of 99.99% pure gold.
NO GST/HST!
Design:
Your coin's image reproduces the Soho Mint's original design for one-penny coinage for the New Brunswick colony in 1843. It features a detailed depiction of a three-mast naval frigate, sails furled, at anchor. The text on the reverse reads "ONE PENNY TOKEN". The obverse features today's official effigy of Her Majesty Queen Elizabeth II by Susanna Blunt.
Did you know…
Although the vessel featured on this coin is sometimes referred to by collectors as "HMSNew Brunswick," no such naval ship existed. Instead, it is likely that this design was based on one or more of the naval and merchant vessels of this type that were common at the time.
A frigate was a naval vessel that was made to sail quickly. Frigates bore dozens of guns on the foredeck. At the height of the frigate's popularity, merchant frigates were sometimes designed to look just like naval frigates, with false gunports to dissuade piracy.
Packaging:
Your coin is encapsulated and presented in a Royal Canadian Mint-branded clamshell with a black beauty box.
Order today!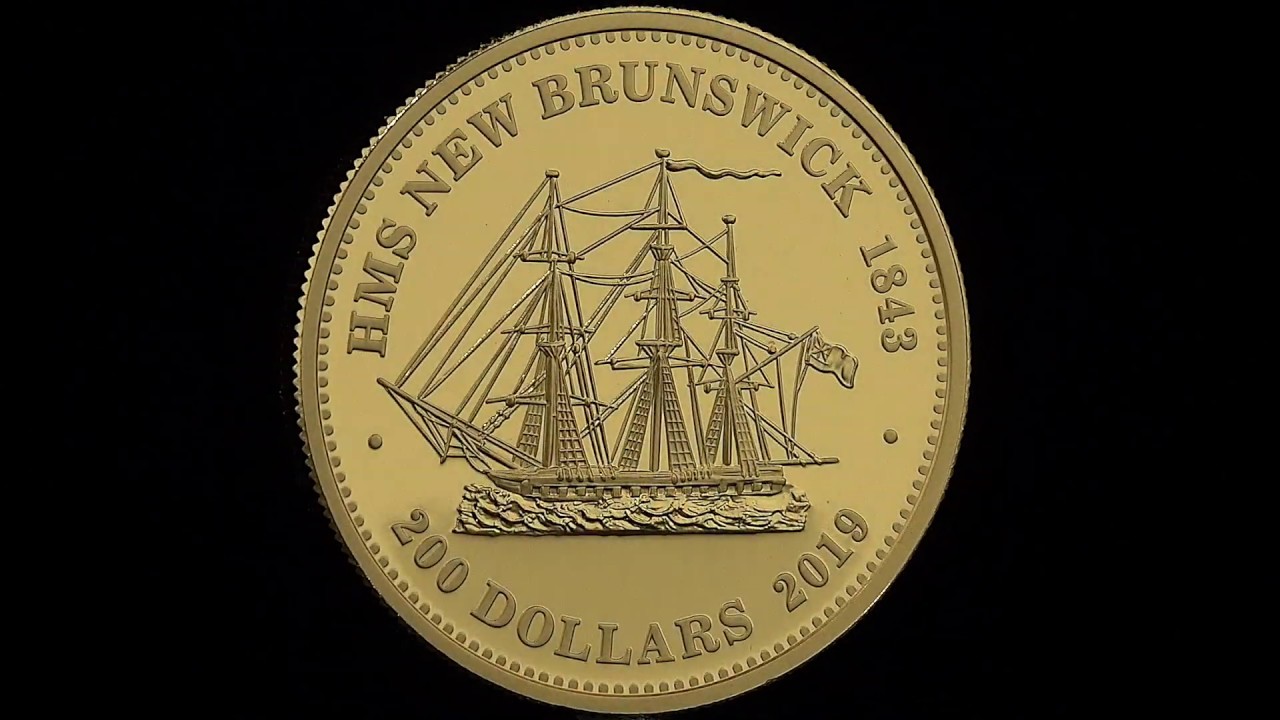 Composition
99.99% pure gold
Artist
Susanna Blunt (obverse)
What do you want to know about this product?
Your product was successfully added to your collection.
The product could not be added