1 oz. Pure Silver Coloured Coin - Canada's Historical Stamps: Arrival of Cartier, Quebec 1535
1 oz. Pure Silver Coloured Coin - Canada's Historical Stamps: Arrival of Cartier, Quebec 1535
Masters Club:
1,400
Status:

CAN & US shipping only
Availability:

Out of stock in stores
NEXT IN OUR STAMP-SHAPED COIN SERIES! Second stamp-shaped coin complete with a perforated stamp-like edge! Order today!
The maritime scene on your coin was one of four vignettes featured in Canada's 1908 Tercentenary Series of Postal Stamps, which included eight denominations: 1/2 cent, 1 cent, 2 cents, 5 cents, 7 cents, 10 cents, 15 cents and the 20-cent stamp reproduced here. A total of 304,200 ofthe 20-cent stamps were printed by the American Bank Note Company (later the Canadian Bank Note Company) in Ottawa, Ont., all in sheets of 100 stamps, before their release on July 16, 1908.
Attention philatelists and numismatists! This nextcoin still combines the best of stamp & coin collecting! Order today!
Special features:
SECOND IN A SERIES OF STAMP-SHAPED COINS! With serrated edges that mimic a postal stamp's perforations, your pure silver coin is a numismatic celebration of Canada's postal and philatelic history, with a special focus on early 20th century stamp designs. The other coins in the series are:

Parliament Building 1927 Confederation
Coat of Arms and Flags Special Delivery



ALSO AVAILABLE AS PART OF A 3-COIN SUBSCRIPTION! While supplies last, order the3-coin subscription to ensure you receive all threecoins in the series! Your credit card is charged only when your coin ships!
THE CLASSIC LOOK OF A BYGONE ERA! Your coin travels back in time to 1908, to reproduce a stamp issued for the 300th anniversary of the founding of Quebec City!
FAITHFUL REPRODUCTION! The engraved reproduction of the 1908 stamp is just asdetailed as the original—complete with horizontal lines that were the product of intaglio printing, or line engraving, one of the oldest methods of stamp production.
VINTAGE COLOUR!The addition of colour over engraving completes this reproduction of the original brown-coloured stamp.
INCLUDES SERIALIZED CERTIFICATE! The Royal Canadian Mint certifies all of its collector coins. Most of these are serialized certifications, meaning that each certificate is given a unique number, starting at 1.
LOW MINTAGE: Only 5,000 coins will be made available worldwide. Hurry and order yours today before they are all gone!
ONE-OUNCE 99.99% PURE SILVER COIN! Your coin has no GST/HST!
Design:
Engraved on the stamp-shaped reverse is a detailed reproduction of a Canadian postage stamp issued on July 16, 1908, to commemorate the 300th anniversary ofthe founding of Quebec City by French explorer and navigator, Samuel de Champlain. The stamp was titled"ARRIVÉE DE CARTIER – QUÉBEC 1535" (Arrival of Cartier – Quebec 1535), as inscribedbeneath the image. It was designed by José Antonio Machado and originally engraved by Elie Timothée Loizeaux, as evidenced by the horizontal lines that areindicative of traditional intaglio printing or lineengraving. The image depicts the arrival of Champlain's predecessor, French explorer Jacques Cartier, in the St. Lawrence River near the Iroquoian village of Stadacona. An application of modern colour mimics the brown colour of the original issue, while the double dates "1608" and"1908" and the words "IIIE CENTENAIRE DE QUÉBEC" reflect the city's tercentenary. Like the 1908 stamp, your coin also includes ornamental flourishes and the words "CANADA POSTAGE" atop the framed image, while the stamp's original denomination is represented by the number "20". The obverse features the effigy of Her Majesty Queen Elizabeth II by Susanna Blunt.
Did you know…
The original design's horizontal lines were the product of intaglio printing and anearly security feature, since the raised ink effectwas more difficult to replicate.
The three ships are those of Cartier'ssecond voyage (1535-1536): Grande Hermine, Petite Hermine and Emerillon.
Packaging:
Your coin is encapsulated and presented in a Royal Canadian Mint-branded maroon clamshell with a black beauty box.
Order your coin today!
© Canada Post Corporation. Used under license.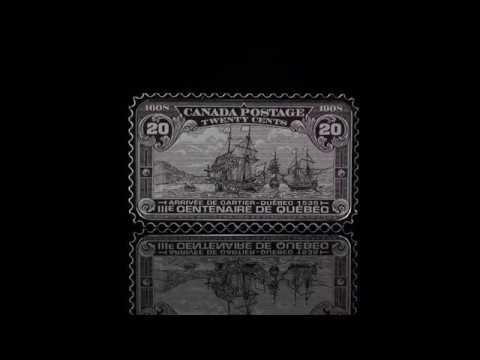 Composition
99.99% pure silver
Artist
Susanna Blunt (obverse)
What do you want to know about this product?
Your product was successfully added to your collection.
The product could not be added