1 oz. Pure Silver Coloured Coin - Canada's National Flag
1 oz. Pure Silver Coloured Coin - Canada's National Flag
Masters Club:
1,000
Status:

CAN & US shipping only
Availability:

Out of stock in stores
Celebrate Canada with a bold dash of colour! Order today!
Canada's National Flag is an inspiring sight. It's even more powerful when children fly it in the air. It becomes a beacon of hope and freedom for future generations to carry forward. Flying the flag shows pride and affection in one's home. This uplifting pure silver coin is shining with hopeand possibility for the future. It's a timeless keepsake that captures Canada's spirit and ideals in one unforgettable image.
A fun gift or souvenir to remember the beautyof Canada! Order your coin today!
Special features:
AN OUNCE OF CANADIAN PRIDE! Your uplifting pure silver coin is shining with hope and possibility for the future. It's a timeless keepsake that captures Canada's spirit and ideals in one unforgettable image.
A SPONTANEOUS DISPLAY OF YOUTHFUL PATRIOTISM! Captured by Canadian photographer Aoifa Anctil and meticulously engraved in pure silver, your coin is an energizing keepsake that will inspire generations of Canadians—today and tomorrow!
A BOLD DASH OF RED AND WHITE! The beauty and movement of Canada's National Flag comes to life with vivid colour that has been selectively applied to the design. It contrasts beautifully against your coin's mirror proof finish to deliver an eye-catching effect that will stand out in your collection.
INCLUDES SERIALIZED CERTIFICATE! The Royal Canadian Mint certifies all of its collector coins.
1 OZ. PURE SILVER! Your coin is crafted from one ounce of 99.99% pure silver.
NO GST/HST!
Design:
Canadian photographer Aoifa Anctil captured this image of a young girl running through a field with the Canadian flag and her brother following close behind. The horizon in the distance and the great expanse of skyconvey the vast landscapes that characterize Canada. Vibrant red and white give the flag movement and highlight its design. The effigy of Her Majesty Queen Elizabeth II by Susanna Blunt with "20 DOLLARS" and "ELIZABETH II D.G. REGINA" engraved along the outer edge of the coin is on the obverse.
Photographer Aoifa Anctil was driving near Sherwood Park (Alberta) when an old barn caughther eye, "Light is fleeting. You have to grab the opportunity when it's there. My kids jumped out of the car and started running with the Canada Flag. It was the perfect shot."
Did you know…
Historically speaking, Canada's National Flag is quite young. It's only 54 years old. Anyone born after 1965 might view the red-and-white maple leaf flag as a lifelong fixture. However, older generations will remember the RedEnsign that preceded Canada's current flag.
People who study flags are "vexillologists." Many of them consider Canada's National Flag one of the world's most beautiful because of its simple bold design and colours. It's the only national flag featuring a maple leaf.
There are five flags on Parliament Hill:one on the Peace Tower, two on Centre Block, and one on the West and East Blocks. Any Canadian resident can ask for a flag that has flown on Parliament Hill by contacting Public Services and Procurement Canada.
The Flag Master replaces the flag on the Peace Tower every weekday. The rest are changed every week. It takesabout 30 minutes to replace the Peace Tower flag. The Flag Master takes an elevator to the observation deck, and then climbs another 33 metres of stairs and ladders to get to the flagpole. Flags can never touch the ground.
Packaging:
Your coin is encapsulated and presented in a Royal Canadian Mint-branded maroon clamshell with a black beauty box.
Order today!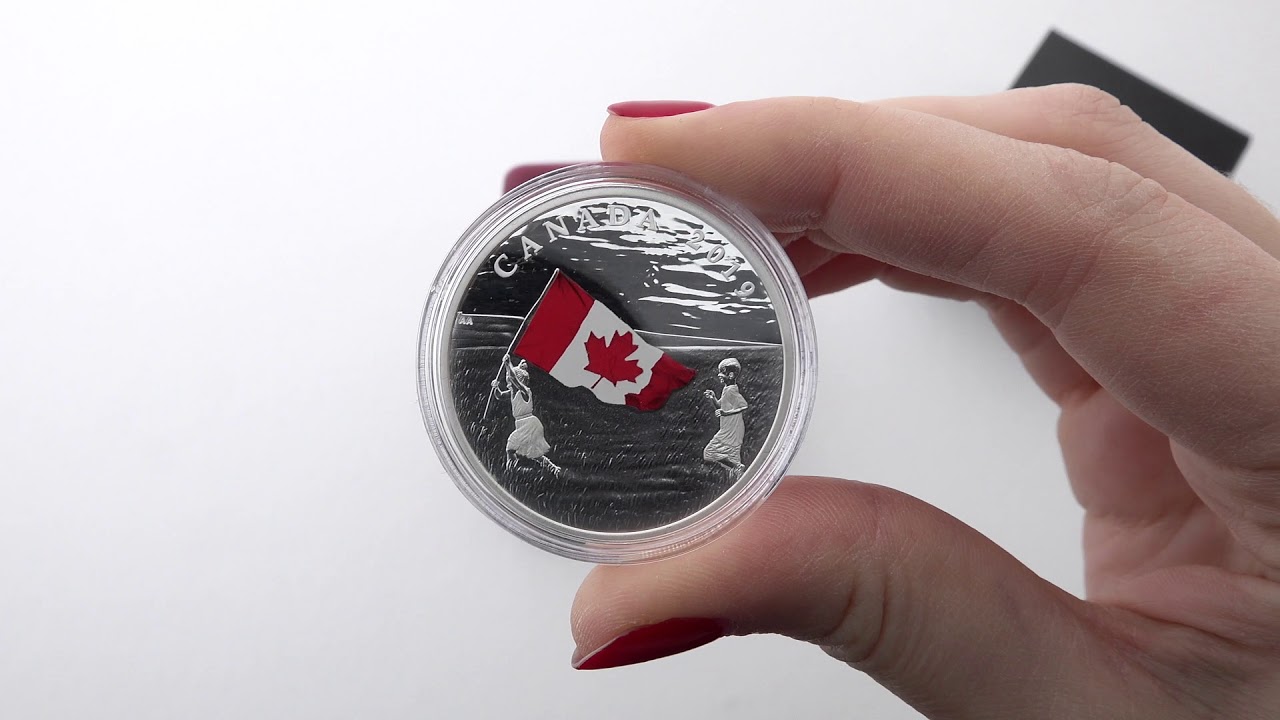 Composition
99.99% pure silver
Artist
Aoifa Anctil (reverse), Susanna Blunt (obverse)
What do you want to know about this product?
Your product was successfully added to your collection.
The product could not be added