10 oz. Pure Silver Gold-Plated Coin - Robert Bateman's Into the Light
10 oz. Pure Silver Gold-Plated Coin - Robert Bateman's Into the Light
Masters Club:
10,000
Status:

CAN & US shipping only
Availability:

Out of stock in stores
Robert Bateman's lion portrait steps onto a gold-plated canvas! Order today!
A symbol of majesty and might, the lion makes its Canadian debut on a pure silver coin that is fully gold-plated to give it a golden-hour glow. This extraordinary coin is a rare opportunity to own an engraved rendering of an original painting by Canada's foremost wildlife artist and naturalist, Robert Bateman. Each coin is accompanied by a special insert that features a printed reproduction of the original painting, along with the artist's description of his work and his signature. To re-create the realistic art style, we've had to combine a multitude of finely etched details with different frostings that alter the way each element shines in the light. The finished product is a collectible piece of art—one that pays tribute to the artist's legacy and ability to immerse us in a natural world that extends beyond national boundaries.
Own an engraved rendering of an original painting by Robert Bateman! Order today!
Special Features:
A ROBERT BATEMAN EXCLUSIVE! This collector coin is a rare opportunity to own an engraved rendering of an original painting by world-renowned wildlife artist Robert Bateman.
A KINGLY DEBUT! This is the first time a lion has appeared on a Canadian coin.
"PAINTING" WITH PRECIOUS METALS! In keeping withthe artist's realistic painting style, different frostings bring the original painting to life by highlighting the very finely engraved features of the lion.
FULLY GOLD-PLATED! Gives your 10 oz. 99.99% pure silver coin all the appearance of a gold one. The coin's golden gleam also stands in for early morning light, as the sun rises on the African savanna that is this lion's domain.
ARTIST'S SIGNATURE ENGRAVED ON COIN! Like a signed limited edition print, Robert Bateman's signature is engravedon your coin.
INCLUDES REPRODUCTION OF THE ORIGINAL PAINTING! Each coin is packaged with an insert card that features a printed reproduction of the original painting, along with theartist's description of his work and his signature.
LIMITED WORLDWIDE MINTAGE! Limited mintage of 700 coins makes this sought-after coin a rare collectible.
NO GST/HST!
Design:
Stepping into the golden glow of early morning light, the king of the jungle greets the day with a roar in this engraved rendering of Into the Light – Lion, an original acrylic-on-canvas painting by Canadian wildlife artist Robert Bateman.
"It is early morning in the Ngorongoro Crater. Although this is Africa, the high elevation brings very cold nights and misty mornings. The solitary lion is plodding his way slowly through the dewy vegetation. There is no particularly comfortable place to lie down, and there are no prospects for an easy hunt. A lone male is not a successful hunting machine. Lions are communal and cooperative. Hunting involves strategy and teamwork. Moreover, the team, or pride, is mostly made up of lionesses. Big males are more imposing and powerful, but they are not usually as quick and collaborative. Their role in lion society is to defend territory against rival lions and other predators such as leopards and hyenas. This big fellow is in his prime or perhaps just past it. Maybe he has lost his pride to a younger male. As he steps out into the sunlight of the rapidly warming morning, he is still confident and king of all that he surveys. It is perhaps lucky that he cannot foretell the future." Robert Bateman, Artist
Did you know…
A champion of conservancy and a member ofthe Order of Canada, Robert Bateman is known the world over for his captivating depictions of animals in their natural habitats. The illustrious painter isan advocate of wildlife education through learning initiatives, such as those carried out by the RobertBateman Foundation (https://batemancentre.org/).
Panthera leo is found south of the Sahara, in the grassy plains and open woodlands of the African savanna. Loss of habitat is the greatest threat to its survival—it is currently classified as a vulnerable species.
Packaging:
Your coin is encapsulated and presented in a Royal Canadian Mint-branded clamshell with a black beauty box.
Order today!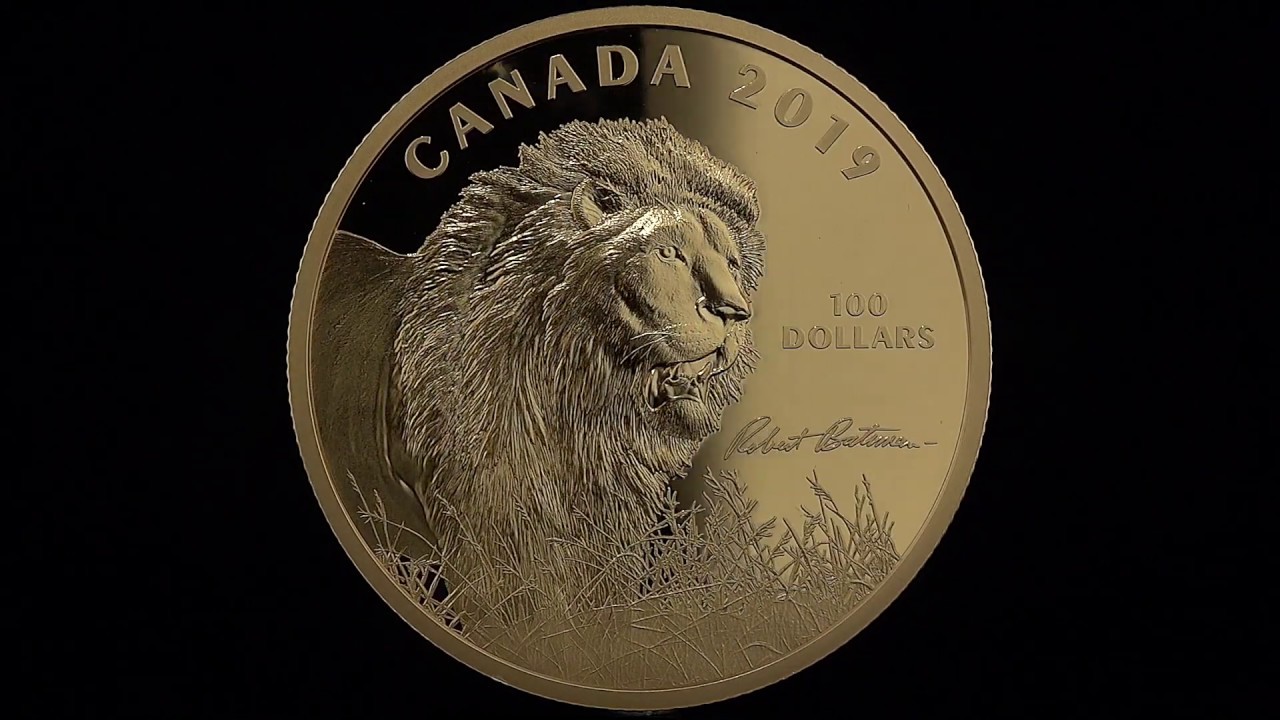 Composition
99.99% pure silver with gold plating
Artist
Robert Bateman (reverse), Susanna Blunt (obverse)
What do you want to know about this product?
Your product was successfully added to your collection.
The product could not be added