1/2 oz. Pure Silver Coin - Year of the Pig
1/2 oz. Pure Silver Coin - Year of the Pig
Masters Club:
420
Status:

CAN & US shipping only
Availability:

Out of stock in stores
PREVIOUS COIN SOLD OUT! Our most affordable Year of the Pig coin, an ideal gift! Order today!
Warm-hearted, resourceful and kind, the virtuous Pig is the 12th sign of the Chinese zodiac and is known for its optimistic outlook on life. Your pure silvercoin celebrates all who are born in the Year of thePig, for they are naturally inclined to be happy, even-tempered, and carefree! Confidently trotting across the coin, the diligent Pig generally keeps calm when encountering challenges big and small, and willhappily lend a hand wherever needed—because that's what a loyal friend does. The resourceful Pig is also generous, and trusting to a fault: the Pig believes in being open and honest with everyone, so it can be hard to accept that someone may be lessthan sincere. Luckily, the ever-playful Pig has a forgiving heart and isn't known to hold a grudge; it's just a smart, peace-loving soul who wants everyone to get along!
A SUPER CUTE YEAR OF THE PIG DESIGN! Celebrate the Year of the Pig with this super cute 99.99% pure silver coin! Order today!
Special features:
OUR MOST AFFORDABLE YEAR OF THE PIG COIN! The perfect gift or keepsake for a friend or loved one born in the Year of the Pig!
BEAUTIFUL SPECIMEN FINISH! The finish on your coin combines brilliant and frosted relief over a lined background. No other mint in the world offers coins with this kind of finish.
CHINESE CHARACTER FOR PIG! Your coin includes the Chinese character for pig!
UNIQUE MINTAGE! Limited to 45,888 coins worldwide.
HALF OUNCE PURE SILVER! Your coin is crafted from 1/2 ounce of 99.99% pure silver.
NO GST/HST!
INCLUDES SERIALIZED CERTIFICATE! The Royal Canadian Mint certifies all of its collector coins. Most of these are serialized certifications, meaning that each certificate is given a unique number, starting at 1.
Design:
Designed by artist Simon Ng, your coin features a stylized depiction of the happy-go-lucky Pig trotting along beneath the Chinese character for Pig. Artistic flourishes convey the animal's warm and positive character, as well as its traditional association with friendship and confidence. Wherever it goes, the Pig carries luck in the form of the stylized hydrangea and daisy found within the Pig's rounded shape, along with an auspicious lotus flower on its cheek. The Pig's integrity, generosity, loyalty and optimism give it strength for its journey, but a second lucky daisy atop thetraditional Chinese latticework may also double itsfortunes. The obverse features the effigy of Her Majesty Queen Elizabeth II by Susanna Blunt.
Did you know…
Those born in 1923, 1935, 1947, 1959, 1971, 1983, 1995, 2007 and 2019 fall under the Chinese zodiac sign of the Pig—but the Chinese New Year shifts annually due to the Spring Festival. This impactsthe zodiac sign for people born prior to February 6, 2019 or after January 24, 2020.
Famous Pig personalities include former Prime Minister; Kim Campbell , Formula One winner; Jacques Villeneuve, Painter; Stanley Cosgrove, and Entertainer; Bryan Adams
Highly imaginative and creative, the Pigtends to follow its heart when it comes to choosinga career, although it may thrive in entertainment or hospitality industries.
Kind-hearted and comfort-seeking Pig gets along famously with the Goat, Tiger, and Rabbit, but may be easily slighted by the Monkey's need to be constantly on the move, and may mistrust the Snake's true feelings and intentions.
Packaging:
Your coin is encapsulated and presented in a Royal Canadian Mint-branded maroon clamshell with a black beauty box.
Order today!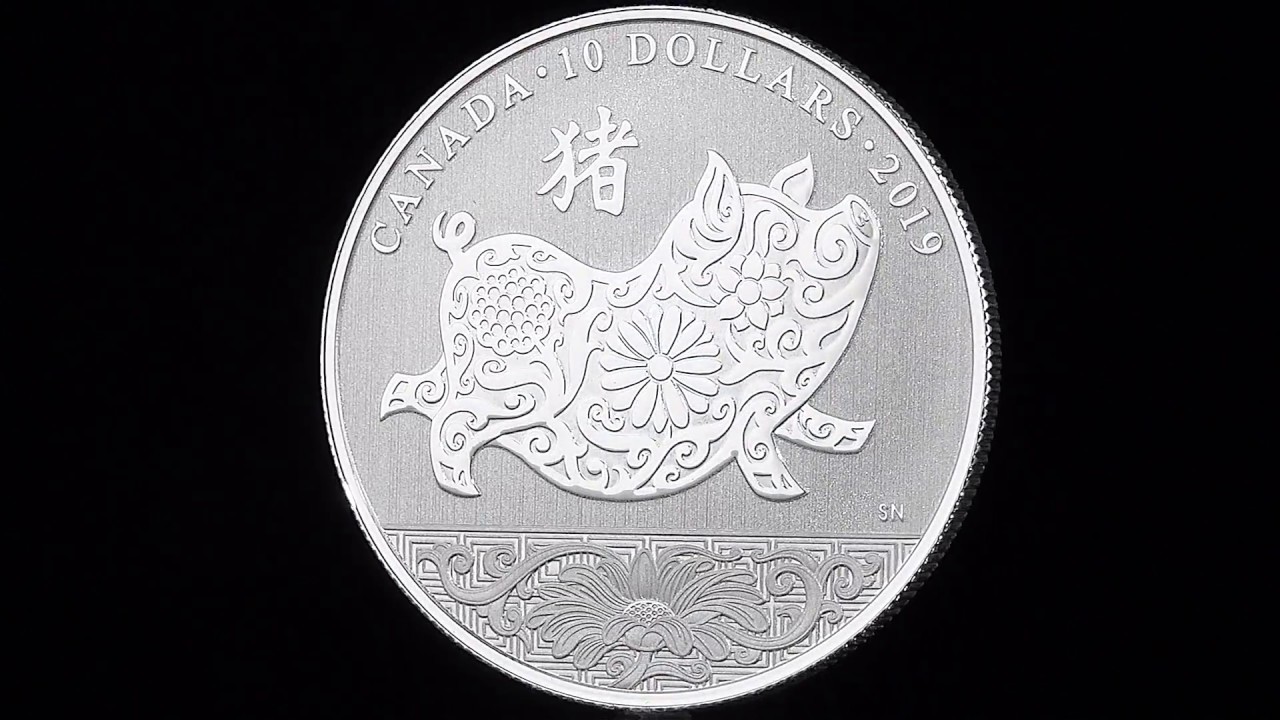 Composition
99.99% pure silver
Artist
Simon Ng (reverse), Susanna Blunt (obverse)
What do you want to know about this product?
Your product was successfully added to your collection.
The product could not be added