2 oz. Pure Silver Coin - Canadian Canopy: The Canada Goose
2 oz. Pure Silver Coin - Canadian Canopy: The Canada Goose
Masters Club:
1,900
Status:

CAN & US shipping only
Availability:

Out of stock in stores
How many Canada geese do you see in the 2 oz. pure silver coin's design? Order today!
They are the telltale signs of fall; of a time when one Canadian icon changes colour and another takes tothe skies. The second coin in this year'sCanadian Canopy series invites you to step into a maple grove—this time, during Canada's mostcolourful season. A proof finish shines like sunlight between the coloured treetops. The gaps in the foliage are also a tribute: they form the shape of a national symbol known for its fall migration and "honking" farewell, which gives us another reason to look up in awe.
A colourful 2 oz. coin that celebrates the sights and sounds of fall! Order today!
Special features:
OUR SECOND OVERSIZED CANOPY-THEMEDCOIN! This is the same size as the first Canadian Canopy coin issued in June 2018. Thanks to their 50 mm diameter, both collectibles are thelargest of all our popular canopy-themed coins, which have been issued almost annually since 2013.
ALSO AVAILABLE IN A 2-COIN SUBSCRIPTION! Order the Canadian Canopy 2-coin subscription and then relax knowing you will receive both coins (each 2 oz. 99.99% pure silver coin priced at $189.95)! Your credit card is charged only when your coin ships! The two coins in your subscription are:

The Maple Leaf (priced at $189.95)
The Canada Goose (priced at $189.95)

FEATURES A HIDDEN ART ELEMENT! Inspired by the natural phenomenon of crown shyness, the spacing between the treetops reveals a proof silver finish that shines like sunlight.The gaps also create unusual outlines that resembleflying Canadian geese!
DETAILED ENGRAVING! Along with the coloured foliage, the engraved tree branches and trunk feature textural details that give them a more life-like appearance.
AN IMMERSIVE VIEWING EXPERIENCE! The view from the base of the trees pulls the viewer into the scene, and simulates the experience of staring up at the canopy overhead.
INCLUDES SERIALIZED CERTIFICATE! The Royal Canadian Mint certifies all of its collector coins. Most of these are serialized certifications, meaning that each certificate is given a unique number, starting at 1.
LOW MINTAGE! Limited to 3,500 coins worldwide.
2 OZ. OF PURE SILVER! Your coin is crafted from two ounces of 99.99% pure silver and has no GST/HST.
Design:
Designed by artist Emily Damstra, your coin showcases the fall beauty of a classic Canadian maple species, the sugar maple (Acer saccharum). The view from the base of the trees offersa unique perspective on the engraved trunks and branches as they reach towards sunlight. Inspired by the natural phenomenon of crown shyness, the gaps in the coloured maple canopy reveal a proof finish and form the outline of Canada geese (Branta canadensis) in flight. The reverse includesthe engraved word "CANADA" and the year "2019". The obverse features the face value "30 DOLLARS" and the effigy of Her Majesty Queen Elizabeth II by Susanna Blunt.
Did you know…
The maple isn't the only one toexhibit shyness. Crown shyness occurs with many mature tree species found in our forests, including thelodgepole pine (Pinus contortavar. latifolia). It is most frequently observed among trees of the same species—but not always.
For decades, the maple leaf was at the centre of national debate. While the maple leaf first appeared on our flag in 1965, it was an early contender back in 1896 when the issue of a national flag was first raised.
Canada geese aren't necessarily "snowbirds." Most northern populations of Canada geese fly south for the winter, but some geese are year-round residents of Canada—especially in our more southern regions.
Packaging:
Your coin is encapsulated and presented in a Royal Canadian Mint-branded maroon clamshell with a black beauty box.
A magnificent gift or addition to your nature lover's collection! Order today!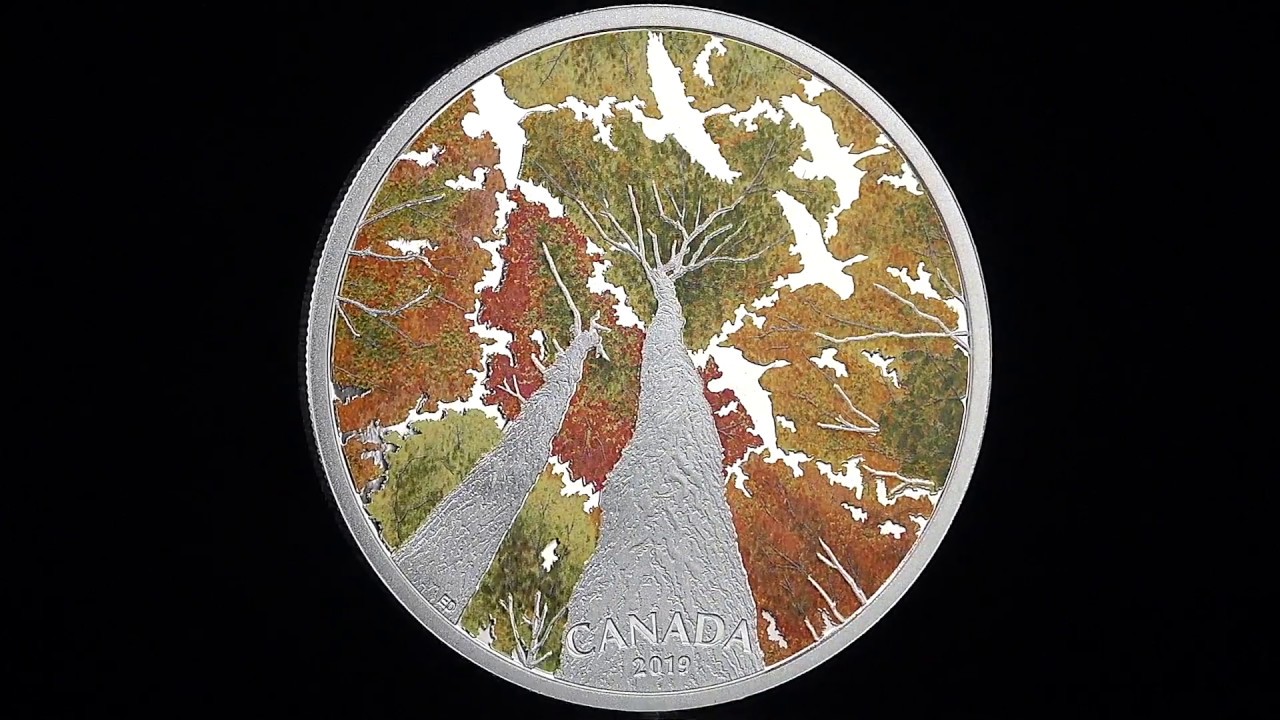 Composition
99.99% pure silver
Artist
Emily Damstra (reverse), Susanna Blunt (obverse)
What do you want to know about this product?
Your product was successfully added to your collection.
The product could not be added