2 oz. Pure Silver Hologram Coin - Majestic Birds in Motion: Canada Geese
2 oz. Pure Silver Hologram Coin - Majestic Birds in Motion: Canada Geese
Masters Club:
1,900
Status:

CAN & US shipping only
Availability:

Out of stock in stores
WOW! A multi-frame hologram on your 2 oz. coin shows a complete wing motion! Order the first in a new 3-coin series today!
It begins with communication—noisy vocalizations and repeated head tosses that indicate intent to fly. Stepping up to the "start line" with unfolded wings, a Canada goose (Branta canadensis) rushes forward to gain speed and momentum before lifting off to join others in the sky, where every wingbeat gives the flock a collective aerodynamic advantage.
A gorgeous 2 oz. pure silver Canada geese coin with a "wow" moving hologram! Order today!
Special features:
FIRST IN NEW 3-COIN SERIES!This is the first in a three-coin series featuring some of Canada's most iconic birds in flight. The next two coins in the Majestic Birds in Motion series include:

Great Horned Owls
Golden Eagles


ALSO AVAILABLE AS PART OF A 3-COIN SUBSCRIPTION! While supplies last, orderthe 3-coin Majestic Birds in Motion subscription toensure you receive all three coins in the series! Your credit card is charged only when your coin ships!
A REALISTIC DEPICTION OF MOVEMENT! The multi-frame hologram embedded on your coin allows for a smooth transition between wingbeats, and provides a realistic depiction of movement.
SELECTIVE COLOUR! A stunninguse of selective colour on your coin re-creates theplumage colours and the easily identifiable features of each species.
CLASSIC WORKMANSHIP! Polished to amirror-like finish, the engraved setting features crisp details that beautifully anchor the enhanced design elements.
SERIALIZED CERTIFICATE! Your coin includes a serialized certificate!
TWO OUNCES PURE SILVER! Your coin is crafted from two ounces of 99.99% pure silver.
NO GST/HST!
Design:
Designed by Pierre Leduc, your 2 oz. pure silver coin steps into the Canadian wilderness, where mountain peaks and evergreens add a soaring sense of majesty tothe engraved lake setting. In the foreground, a selectively coloured Canada goose is depicted just before lift off: its black head is thrust forward as it rushes headlong into the direction of its intended flight, with wings spread wide to gain momentum in order to join the others in the sky. The three flying geese are depicted in a multi-frame hologram, which re-creates the powerful wingbeats and fluid flight movements that carry them across Canada's skies. The reverse also includes the word "CANADA" and the year "2019". The obverse features the effigy of Her Majesty Queen Elizabeth II by Susanna Blunt.
Packaging:
Your coin is encapsulated and presented in a Royal Canadian Mint-branded maroon clamshell with a black beauty box.
Order today!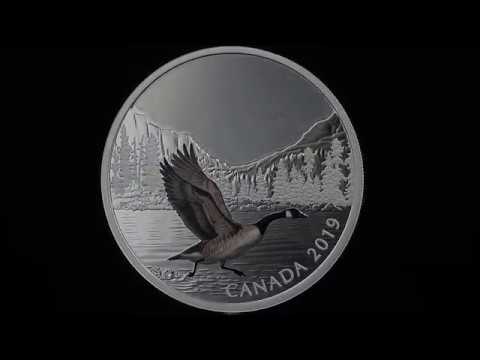 Composition
99.99% pure silver
Series
Majestic Birds in Motion (2019)
Artist
Pierre Leduc (reverse), Susanna Blunt (obverse)
What do you want to know about this product?
Your product was successfully added to your collection.
The product could not be added