99.999% Pure Gold Coin - Canadian Wildlife Portraits: The Cougar
99.999% Pure Gold Coin - Canadian Wildlife Portraits: The Cougar
Masters Club:
28,000
Status:

CAN & US shipping only
Availability:

Out of stock in stores
First in a new series of .99999 pure gold animal portraits! Order today!
It is sleek, strong and surprisingly secretive. Canada's largest big cat is more common in our western regions, where forest cover keeps it hidden from view. The cougar's big paws—as seen on this coin—allow it to climb, prowl and pounce, while its stealth and agility help it go undetected by its prey until it's too late. Captured in the highest standard of gold purity (99.999% or five 9s), our new annual series offers a glimpse of a wild and untamed Canada. Each of these Canadian Wildlife Portraits is a close encounter with a largeanimal in the wild—a natural work of art that has been lovingly brought to life with exceptionally detailed engraving.
A cougar takes a moment in this .99999 pure gold portrait! Order today!
Special features:
A NEW ANNUAL SERIES BEGINS IN 2019! This is the first coin in a new annual series of Canadian wildlife portraits, with one coin issued each year.
HIGHEST GOLD PURITY, LOW MINTAGE! A gold purity level of 99.999% (five nines) makes thisone of the world's purest gold coins—and just 400 are available worldwide.
DETAILED ART! Each design is a rare, close view that showcases the animal's raw strength and beauty. The limited-edition artwork features strongly textural details, which havebeen precisely engraved on a premium gold piece.
INCLUDES SERIALIZED CERTIFICATE! The Royal Canadian Mint certifies all of its collector coins.
LOW MINTAGE! Limited to just 400 coins worldwide.
NO GST/HST!
Design:
This $350 coin is 99.999% pure gold, with a diameter of 34 millimetres and a nominal metal weight of 35 grams. The reverse design by Canadian artist Denis Meyer Jr. features a cougar (Puma concolor) resting on a tree branch as it scans the horizon forsigns of danger or prey. The obverse features the effigy of Her Majesty Queen Elizabeth II by Susanna Blunt.
"Cougars use their paws and clawsto trip and grab their prey. I felt it was important to display this big cat's powerful paws, evenas it rests among the trees." Denis Mayer Jr.: Artist
Did you know…
Puma concolor has a large range that extends from the Yukon-British Columbia border to the southern tip of Argentina. Because of this, the species is known by many names, including mountain lion, panther and puma.
The cougar's front legs are smaller than its hind legs, butits front paws (armed with retractable claws) are big and powerful enough to hold down its favourite prey: deer.
This master of camouflage hunts alone, and usually between dusk and dawn. It doesn't chase its prey—instead, it stalks its target before pouncing and delivering a fatal bite to the neck.
Packaging:
Your coin is encapsulated and presented in a Royal Canadian Mint-branded clamshell with a black beauty box.
Order today!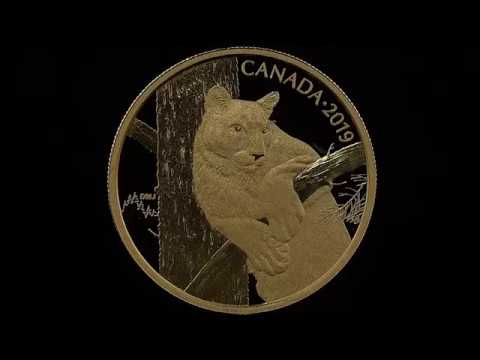 Composition
99.999% pure gold
Artist
Denis Mayer Jr. (reverse), Susanna Blunt (obverse)
What do you want to know about this product?
Your product was successfully added to your collection.
The product could not be added