Masters Club:
400
Status:

CAN & US shipping only
Availability:

Out of stock in stores
MINT FIRST! A ground-breaking design featuring cutting-edge technology. Order today!
October 5, 1984. 7:03:00 a.m. EDT. Blast off. Space Shuttle Challenger lifts off, carrying Marc Garneau, the first Canadian to travel into space. One of the seven crewmembers of Mission STS-41-G, Garneau conducted multiple Canadian-designed experiments as apayload specialist. After 8 days + 5 hours, orbiting Earth 133 times, the astronaut came back to Eartha Canadian hero. He would later set out on two more space flights: STS-77 in 1996 and STS-97 in 2000.
"October 5, 1984. I remember it as if itwere yesterday. What an exhilarating and humbling moment! Witnessing Earth from space, one understands how infinitely small we are and yet, how capable we are of immense innovations. I remain forever grateful to have been selected for this historic flight. This homage is a true honour and a splendid token to share an unforgettable moment with my fellow Canadians." Marc Garneau, Astronaut, and first Canadian in space

Celebrate the 35th anniversary of the first Canadian in space with this beautiful coin!
Special Features:
FEATURES CUTTING-EDGE TECHNOLOGY! Your 2019 tri-metallic 25-cent coin honours the 35th anniversary of Marc Garneau's incredible achievement with a Mint first: a ground-breaking design featuring cutting-edge technology.
A MONUMENTAL MILESTONE! Commemorate an iconic piece of Canadian history while celebrating all innovative Canadians.
DISTINCTIVE TRI-METAL DESIGN! Your coin's distinctive tri-metal design rockets the space shuttle through rings representing different layers of the atmosphere.
A CANADIAN ICON! Your coin honours an icon of space travel, Marc Garneau, who was the first Canadian to travel into space.
DOUBLE-DATED! The 35 maple leaves which adorn the outer ring represent the commemorated 35 years, also identified with the double dates of "1984–2019".
Design:
The reverse features a central core image of Challenger superimposed over Earth. The realistic design of the space shuttle is surrounded by concentric circles representing different sections of Earth's atmosphere. The inner core represents the troposphere where the shuttle launched, the inner ring is the thermosphere where the shuttle orbited, and the outer ring is outer space. The 35 maple leaves which adorn theouter ring represent the commemorated 35 years, also identified with the "1984–2019"as printed on the coin along with "CANADA." The obverse features the effigy of Her Majesty Queen Elizabeth II by Susanna Blunt, also surrounded by 35 maple leaves.
"Embracing the challenge of designinga coin with tri-metal technology, I worked with engineers and colleagues to create a coin that outshined all others. We considered each metal's implication and impact in the 3D modelling, and then set about the process, which involved engraving tooling work, 3D rendering and post-production. This is definitely a fascinating addition to my collection!" Ms. Aida Alves: Engraver
Did you know…
As a payload specialist during STS-41-G, Marc Garneau conducted experiments related to space science and technology, as well as life sciences. Payload specialists were nominated for specific shuttle missions by NASA and other space agencies, based on their specific skills and expertise. These highly skilled experts embarked upon missions with precise, specialized duties associated with their education and training.
In December 1983, Marc Garneau was selected to be part of the new Canadian astronaut corps. His trainingwould begin in February 1984.
In addition to being the first space flight to carry a Canadian, the mission boasted numerous other firsts. The mission included the first Australian and was the first with two women, one of whom became the first woman to perform a spacewalk.  The team,comprised of seven astronauts, also became the largest crew to ever fly on a spacecraft.
Order today!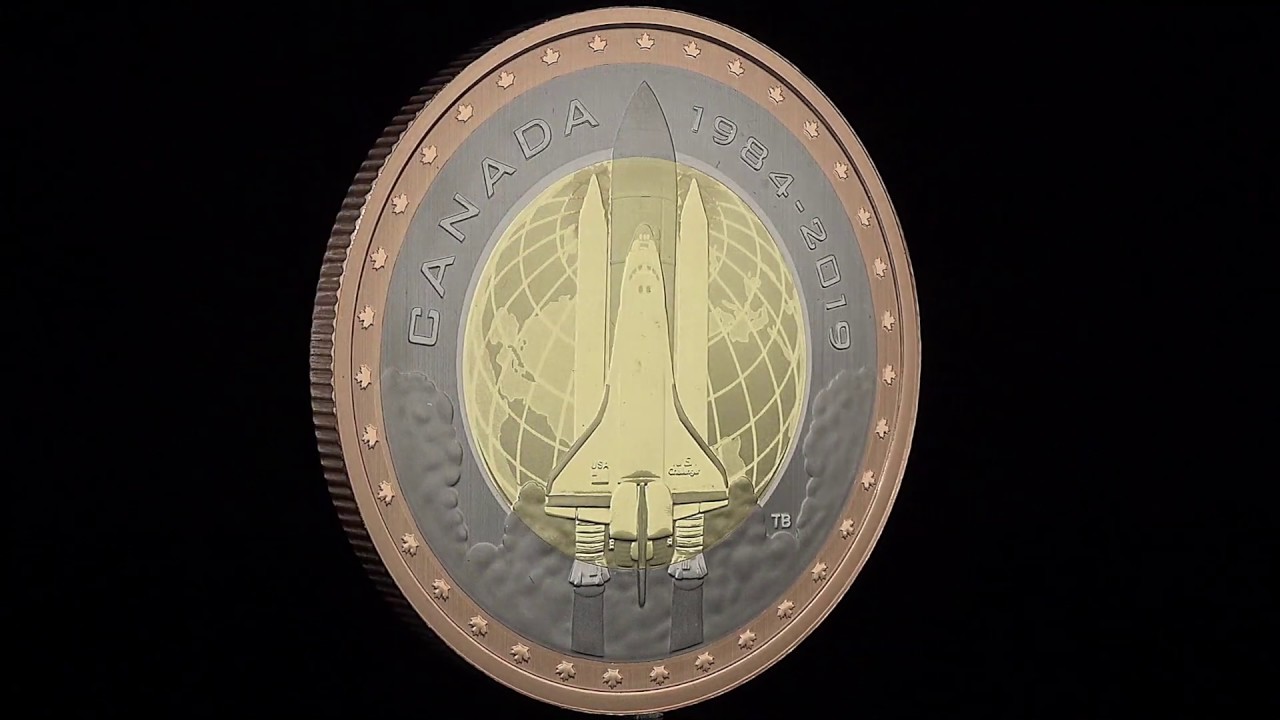 Composition
Tri-metallic (Brass, cupronickel and bronze)
Artist
Tony Bianco (reverse), Susanna Blunt (obverse)
What do you want to know about this product?
Your product was successfully added to your collection.
The product could not be added