Pure Silver Coloured Coin - Remembrance Day (2019)
Pure Silver Coloured Coin - Remembrance Day (2019)
Masters Club:
850
Status:

CAN & US shipping only
Availability:

Out of stock in stores
NEW COIN SHAPE: This first-ever poppy-shaped coin takes Canada's annual remembrance to new heights. Order today.
For nearly a century, the delicate poppy has symbolized the fallen soldier. Within a single flowerare four petals or more - each illustrating how a soldier never falls alone. Behind every fallen soldier is a mother, a father, siblings, relatives and friends left behind. One hundred years after the signing of the Treaty of Versailles, the poppy continues to be an enduring icon, reminding us of not only the fallen from the First World War, but of all wars.   This first-ever poppy-shaped coin is a poignant reminder of the cost of war, the fragility of peace, and the enduring hope of those who step forward to serve.
A heartfelt Remembrance Day memento treasured by anyone who has served. Order your coin today.
Special features:
NEW COIN SHAPE: This first-ever poppy-shaped coin takes Canada's annual remembrance to new heights. Its tactile,four-petal contours are unprecedented, making this coin a must-have collectible in its own right.
SHOWSTOPPING COLOUR: We've never applied colour in this way.It's an innovative twist to a traditional technique that captures the poppy's layered and airy feel in a way that has not been seen on previous poppy coins. 
A TIMELESS TRIBUTE—FOR ALL: As the world marks the 100th anniversary of the Treaty of Versailles, the symbolism of the poppy extends far beyond the First World War.This poppy-shaped coin is a heartfelt mementothat will be treasured by anyone who has everserved. Show and share your gratitude and respect for your personal hero with this memorable, one-of-a-kind keepsake.
A MODERN AESTHETIC FOR THE HISTORIC POPPY: This coin's unique four-petalshape, re-imagined design, and innovative useof colour gives the poppy a fresh new look that will appeal to younger generations eager to learnand honour Canada's rich military past.
PURE SILVER: Your coinis crafted from 99.99% pure silver.
NO GST/HST.
Design:
This multi-layered poppy illustration by Canadian artist Jamie Desrochers features four indentations along the circumference, providing the frameworkfor the poppy's four petals. Repeating graphic shapes, intersecting lines, and the innovative useof colour and engraving create the illusion of endless petals. The flower's pistil appears as the centre of the design in black, and the word CANADA is engraved along the outer edge of the bottom petal. The obverse features the effigy of Her Majesty Queen Elizabeth II by Susanna Blunt at the centre of the coin, with ELIZABETH II, D.G. Regina, and 10 DOLLARS engraved along the outer edge of three petals.
Did you know…
The First World War is the bloodiest war Canada has ever fought. It claimed over 60,000 lives. Ypres (1915), the Somme (1916), Vimy Ridge (1917) andPasschendaele (1917) are just a few of the battles where Canadian and Newfoundlander soldiers distinguished themselves. Their courage earned the Allies' respect and raised Canada's presence on the world stage.
In 1914, Newfoundlanders rushed to enlist, leading to a shortage of khaki uniforms; some donned blue-coloured leggings, which earned the 1st Newfoundland Regiment its nickname as "The Blue Puttees."
For Newfoundland, the tragic memory of her fallen sons during the Battle of Beaumont-Hamel endures in the generations that have followed every July1st. They solemnlyregard that day as a symbol of unity, courage and tremendous sacrifice.
Packaging:
Your coin is encapsulated and presented in a Royal Canadian Mint-branded clamshell with a black beauty box.
Order today.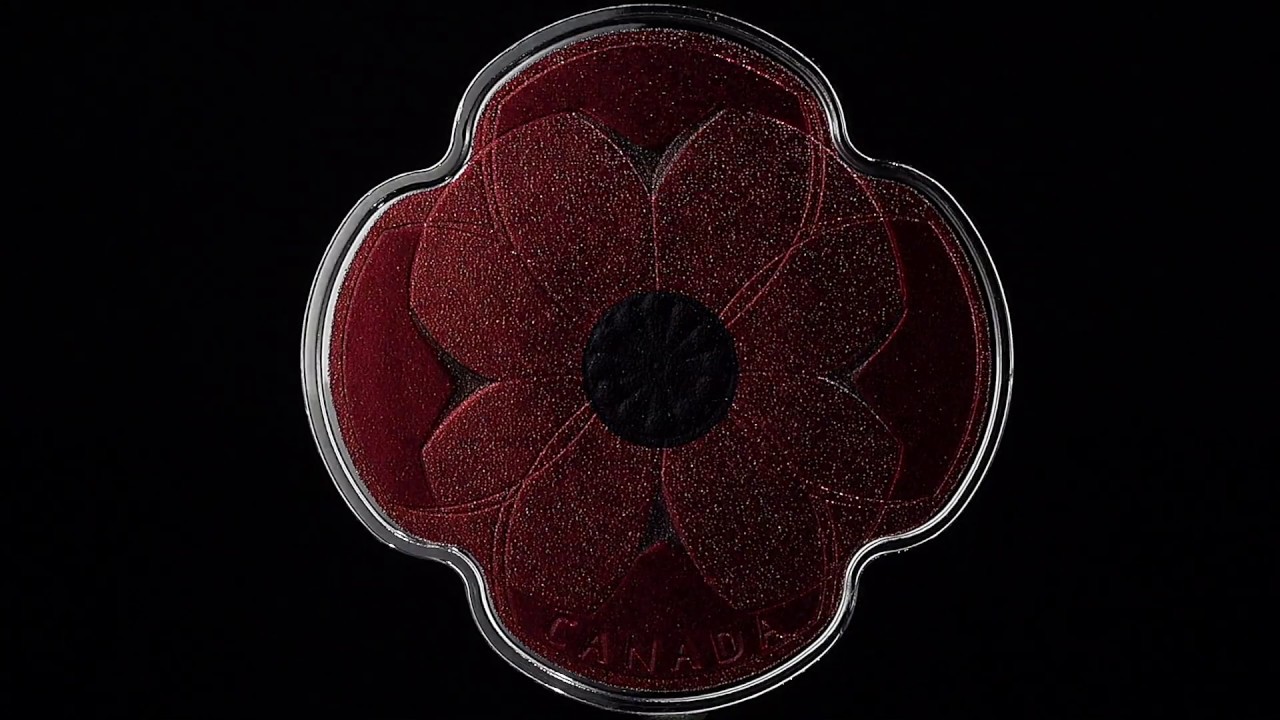 Composition
99.99% pure silver
Artist
Jamie Desrochers (reverse), Susanna Blunt (obverse)
What do you want to know about this product?
Your product was successfully added to your collection.
The product could not be added