Pure Silver Concave Ultra-High Relief One Kilogram Coin - 100th Anniversary of CN Rail
Pure Silver Concave Ultra-High Relief One Kilogram Coin - 100th Anniversary of CN Rail
Masters Club:
25,000
Status:

CAN & US shipping only
Availability:

Out of stock in stores
Celebrate CN's centennial with this spectacular 99.99% pure silver one kilogram showpiece. Order today!
A faraway whistle, the rumble of wheels coming down the track. For many Canadians, these are the sounds of history itself. A century of innovation and changehas been delivered to our communities by way of CN's rail network, which continues to provide us with vital goods and services today. To mark CN's centennial year, this commemorative piece invites you to take a (train) trip down memory lane. A large(161.8 mm x 100 mm) oval shape makes this an exquisite portrait of our rail past, while a concave panoramic view pulls you deeper into the design. The starof this tribute is CN 6060, engraved in ultra high relief, the late-era locomotive is a standout symbolof rail history, especially when tinted by a nostalgic antique finish.
No. 6060:
Built in 1944 by Montreal Locomotive Works, CN's first U-1-f Mountain locomotive was initially used onshort freight runs. Its sleek design and long-distance capacity made it well suited for passenger traffic, and the 6060 was soon assigned to CN's prestigious Canada-wide passenger service until 1960. Itwas retired and placed on display in Jasper, Alta.,until 1972, when it returned to service on tourist excursions in Ontario. Gifted to the people of Alberta in 1980, the 6060 (now known as the "Spirit of Alberta") is one of three surviving examples of the last steam locomotives purchased by CN before the age of diesel.
STUNNING! Your 99.99% pure silver one kilogram coin celebrates your enthusiasm for CN Rail's history!Order today!
Special features:
A PREMIUM OFFERING! Your coin is a premium offering that commemorates CN's 100th anniversary by celebrating its legacy and place in Canadian history.
OBLONG KILO COIN! The oblong shape transforms this coin into a portrait of a bygone era, while its concave design pulls you deeper into the scene. The extra-wide dimension (161.8 mm x 100 mm) also allows for a panoramic view that hints at the grandeur of the Canadian landscape, with the train representing a key link betweencommunities.
ULTRA HIGH RELIEF ENGRAVING! Ultra high relief engraving adds 4 mm of relief and keeps the focus on the train-shaped symbol of 100 years of history.
ANTIQUE FINISH! An antique finish imparts a sense of nostalgia to this design by engraver Matt Bowen.
SERIALIZED CERTIFICATE! Your coin includes a serialized certificate!
LOW MINTAGE! Limited to just 400 coins worldwide.
NO GST/HST!
Design:
This oblong $250 coin is 99.99% pure silver, with a diameter of 161.8 millimetres by 100 millimetres and a nominal metal weight of 1,010 grams. Designed by Royal Canadian Mint engraver Matt Bowen, the concave-shaped reverse brings CN's golden age of steam back to life. A panoramic view hints at Canada's vast wilderness and features some of the scenery that defined a Canadian rail journey. Engraved in ultra high relief, CN 6060 rounds a bend as the steam locomotive hauls a line of passenger cars across atruss bridge. An antique finish completes the rail tribute and heightens the sense of nostalgia.
"The Oblong UHR Kilo is a relatively new format for the RCM, in fact for any mint. I was honouredto design and model the first Oblong UHR Kilo featuring the Voyageurs. And when we decided to do a second coin, I wanted to stay on the theme of transportation and explore how the act of moving goods, peopleand ideas was actually the thread that stitched ourCanada together out of the landscape.
Canadian National Railway is having its 100th anniversary, so there was no better time to honour this milestone on a coin. It was a privilege to design and sculpt it for them.
The 100mm by 161.8mm size is based on the Golden Ratio. It has a curvature depth of 20mm and for myself, this is the most challenging and the mostrewarding format to design and sculpt for a coin. The oblong shape combined with the concave surface allows me to exaggerate the illusion of perspective, while the 4mm relief height gives me the opportunity to showcase the train in full detail."
– Matthew Bowen, Engraver, Royal Canadian Mint: The Artist
Packaging:
Your coin is encapsulated and presented in a Royal Canadian Mint-branded maple wooden box with a black beauty box.
Order today!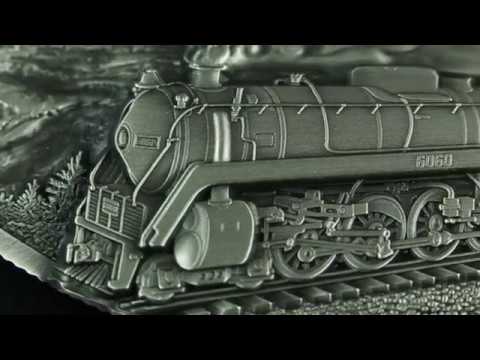 Composition
99.99% pure silver
Artist
Matt Bowen (reverse), Susanna Blunt (obverse)
What do you want to know about this product?
Your product was successfully added to your collection.
The product could not be added