Pure Silver Piedfort Coin 2019
Pure Silver Piedfort Coin 2019
Masters Club:
1,000
Status:

CAN & US shipping only
Availability:

Out of stock in stores
Commemorates Newfoundland's entry into Canadian Confederation! Order today the 1 oz. Pure Silver Piedfort - Heritage of the Royal Canadian Mint: The Matthew.
Widely considered to be one of our most beautiful commemorative pieces, the 1949 silver dollar is re-imagined as a brilliant uncirculated, pure silver piedfort coin. This 70th anniversary tribute is twice as thick and every bit as detailed as the original coin—a masterful work of art that isthe lasting legacy of Thomas Shingles, Master Engraver of the Royal Canadian Mint (1943-1965).
Own this piedfort tribute to those who helped forge a legacy! Order today!
Special features:
LOOK BACK ON OUR PAST! Like pages from our history, a past commemoration is an opportunity to explore the heritage of the Royal Canadian Mint and thank all the people who contributed to its history, from engravers to the production floor.
HIGHLIGHTS A DECADE OF CHANGE IN CANADIAN COINAGE! Your pure silver piedfort coin is a 70th anniversarytribute to a well-loved commemorative piece that isthe legacy of Thomas Shingles, Master Engraver of the Royal Canadian Mint (1943-1965).
ONE IMPRESSIVE COIN! A piedfort coin is twice the thickness of a typical coin—that means double theamount of 99.99% pure silver. This piece also has abrilliant uncirculated finish, much like the original.
AS FINELY ENGRAVED AS THE ORIGINAL PIECE! With the exception of an updateddate (2019), the reverse is identical to the original design by Thomas Shingles, who hand-carved the image in miniature.
FEATURES A HISTORICAL EFFIGY! Justlike the 1949 silver dollar, this $1 coin's obverse features the effigy of King George VI by T. H. Paget.
INCLUDES SERIALIZED CERTIFICATE! The Royal Canadian Mint certifies all of its collector coins.
1 OZ. 99.99% PURE SILVER COIN! NO GST/HST!
Design:
Except for the updated date "2019", your coin is a reproduction of Thomas Shingles' original design for a commemorative silver dollar issued in 1949, to mark Newfoundland's entry into Canadian Confederation (March 31, 1949). It features a detailed rendering of the Matthew, the ship historians believeJohn Cabot was sailing when he reached the coast ofNewfoundland in 1497. The image of the three-mastedship under full sail was originally based on a model and taken from a photograph provided by Ernest Maunder of St. John's, Newfoundland. Beneath the water lies the Latin inscription "FLOREAT TERRA NOVA" ("May the New Found Land Flourish"). The obverse features the effigy of King George VI by T. H. Paget.
About Thomas Shingles:
Thomas Shingles (1904-1984) joined the Royal Canadian Mint in 1939 and became Master Engraver in 1943. As he had done with the Victory Nickel, Shingles prepared the master tooling for the 1949 Newfoundland Commemorative dollar entirely by hand in the span of just five weeks, carefully carving the design in miniature directly onto the steel matrix. Shingles retired in 1965 but continued to work as an artist, and won the design competition for a 1971 silverdollar that marked the centennial of another province's entry into Confederation: British Columbia.
"Ours is a rich history that goes back to 1908. Thousands of people have been behindeverything we've done; in fact, for everycoin we've produced, hundreds of members of our Mint family have worked hard for that end result. I love to look back on that history, to acknowledge all who came before me and to thank them for paving the way." Jamie Desrochers, Product Manager, Royal Canadian Mint
Did you know…
Commemorative coins weren't common practice in Canada until the 1960s. Previous to that time, the dollar was the denomination of choice.
Most designs were reduced to scale for engraving. In 1949, the typical method was to create a large modelof the coin design first, then reduce it using a pantograph engraver—not so for the 1949 silver dollar,which showcases Thomas Shingles' outstanding skills as an artist and engraver.
The 1949 dollars were struck from selected dies to ensure a superior finish. Packaged in plastic or cardboard tubes of 20 to minimize abrasions, the coins entered circulation in late June 1949, with the first ones sent to Newfoundland.
Some 1949 dollars were struck in 1950. Due to demand, the decision was made to continue striking the coin in 1950 while retaining the 1949 date. Anadditional 40,718 pieces were struck in 1950, for atotal combined mintage of 672,218.
Packaging:
Your coin is encapsulated and presented in a Royal Canadian Mint-branded clamshell with a black beauty box.
Order your coin today!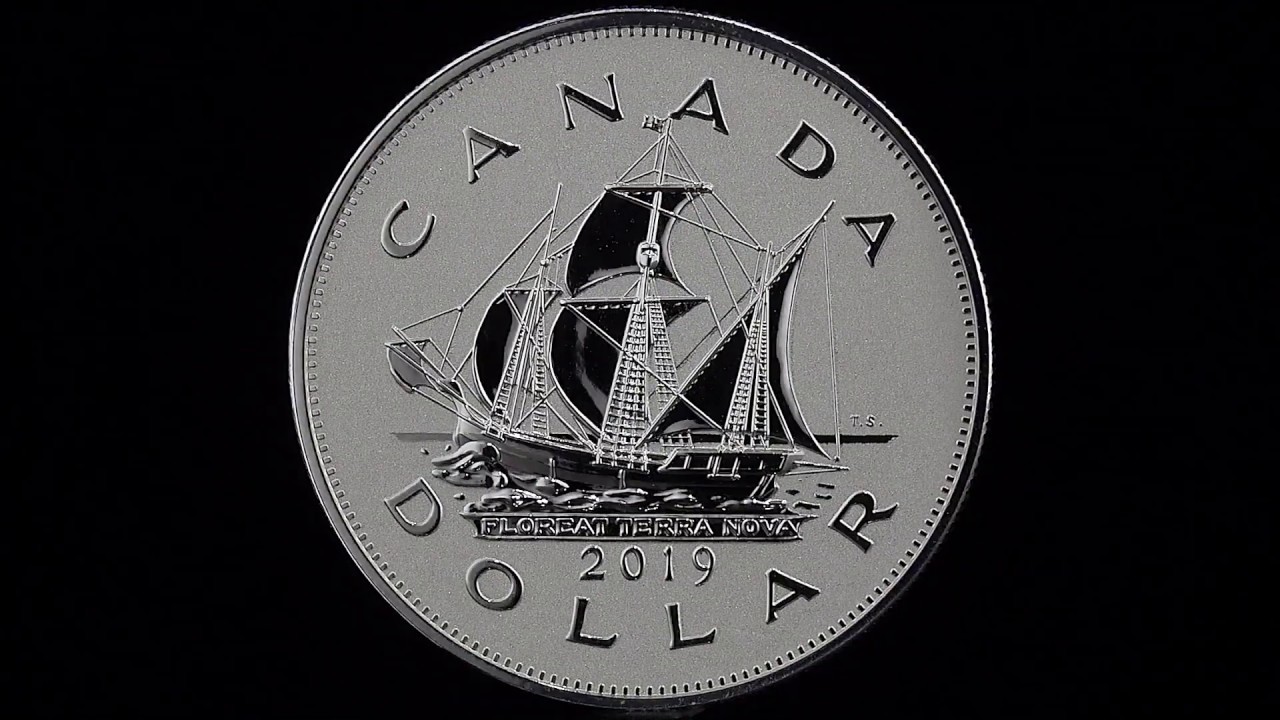 Composition
99.99% pure silver
Artist
Thomas Shingles (reverse), T.H. Paget (obverse)
What do you want to know about this product?
Your product was successfully added to your collection.
The product could not be added