1/4 oz. Pure Silver Coin – Moments to Hold: 50th Anniversary of the Medal of Bravery
1/4 oz. Pure Silver Coin – Moments to Hold: 50th Anniversary of the Medal of Bravery
Masters Club:
250
Status:

CAN & US shipping only
The first 2022 Moments to Hold coin celebrates 50 years of ordinary people doing extraordinary things.
Here's to the heroes among us! The Medal of Bravery recognizes those who have risked injury, even death, to save the lives of others!
From bystander interventions in drownings and fiery rescues to saving someone from an animal attack—these are some of the "acts of bravery in hazardous circumstances" recognized by Canada's Medal of Bravery throughout its 50-year history. Those who have been awarded this decoration may not consider themselves as heroes, but their selflessness is one of our great strengths, and worthy of one of Canada's highest honours.
Join us in celebrating a half-century of heroism with this Moments to Hold coin that puts 50 years of bravery in the palm of your hand.
About the Medal of Bravery
In 1972, Her Majesty Queen Elizabeth II established a group of medals recognizing courageous acts: the Cross of Valour, the Star of Courage and the Medal of Bravery. These are Canada's Decorations for Bravery, which are awarded based on the degree of peril faced by the recipients. The Medal of Bravery is one of Canada's best known civilian honours for acts of exceptional courage. Since its inception, the Medal of Bravery has been awarded by the Governor General of Canada to nearly 3,300 people—Canadians and others, civilians and combatants, living and deceased—in recognition of "acts of bravery in hazardous circumstances" that range from animal attacks to burning buildings. The act of bravery does not have to take place in Canada, but it should involve at least one Canadian and/or Canadian interests. Any person or organization can nominate someone they feel deserves the Medal of Bravery. Nominations must be submitted to the Chancellery of Honours at Rideau Hall within two years of the incident. To learn more, please visit the Governor General of Canada's website.
Coin #1. Canada, this is one of your Moments to Hold in 2022. This is Coin #1 in a four-part compilation series that is your essential set for 2022—it highlights some of the big themes and anniversaries that have special significance this year.
An affordable piece. One of our most affordable fine silver collector coins! Each Moments to Hold coin gives you ¼ oz. of 99.99% pure silver for the low cost of just $24.95 per coin.
Available as a subscription. You're guaranteed to get all four 2022 Moments to Hold coins with our easy subscription option. When you subscribe to the series, we'll reserve one of every Moments to Hold coin issued in 2022 (a total of four coins released throughout the year). There's no advance payment or interest fee—you only pay for each coin once it is shipped.
No GST/HST
Packaging
Your coin comes in a colourful gift card folder with a removable coin capsule that allows easy access to your Moments to Hold collectible.

A Canadian celebration of courage
While it commemorates the 50th anniversary of the Medal of Bravery, this coin is also a proud celebration of a half-century of ordinary Canadians doing extraordinary things. It is an expression of gratitude to the medal's recipients for their willingness to risk their lives to protect or save another person.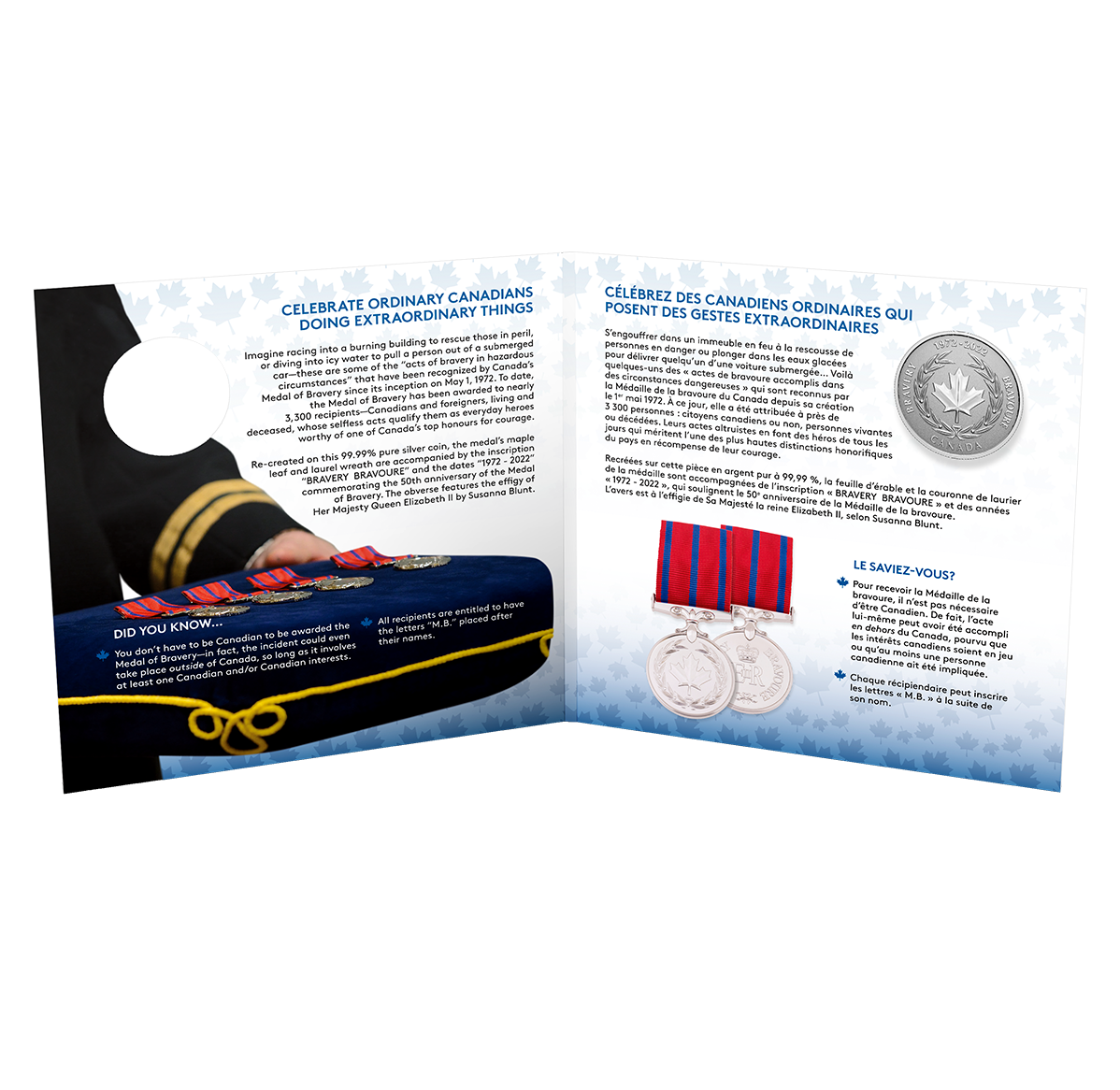 Special packaging
Each Moments to Hold coin comes in a colourful folder filled with information about the theme. The coin itself is enclosed in a removable capsule, which allows you to hold the "moment" in your hand and take a closer look at your collectible.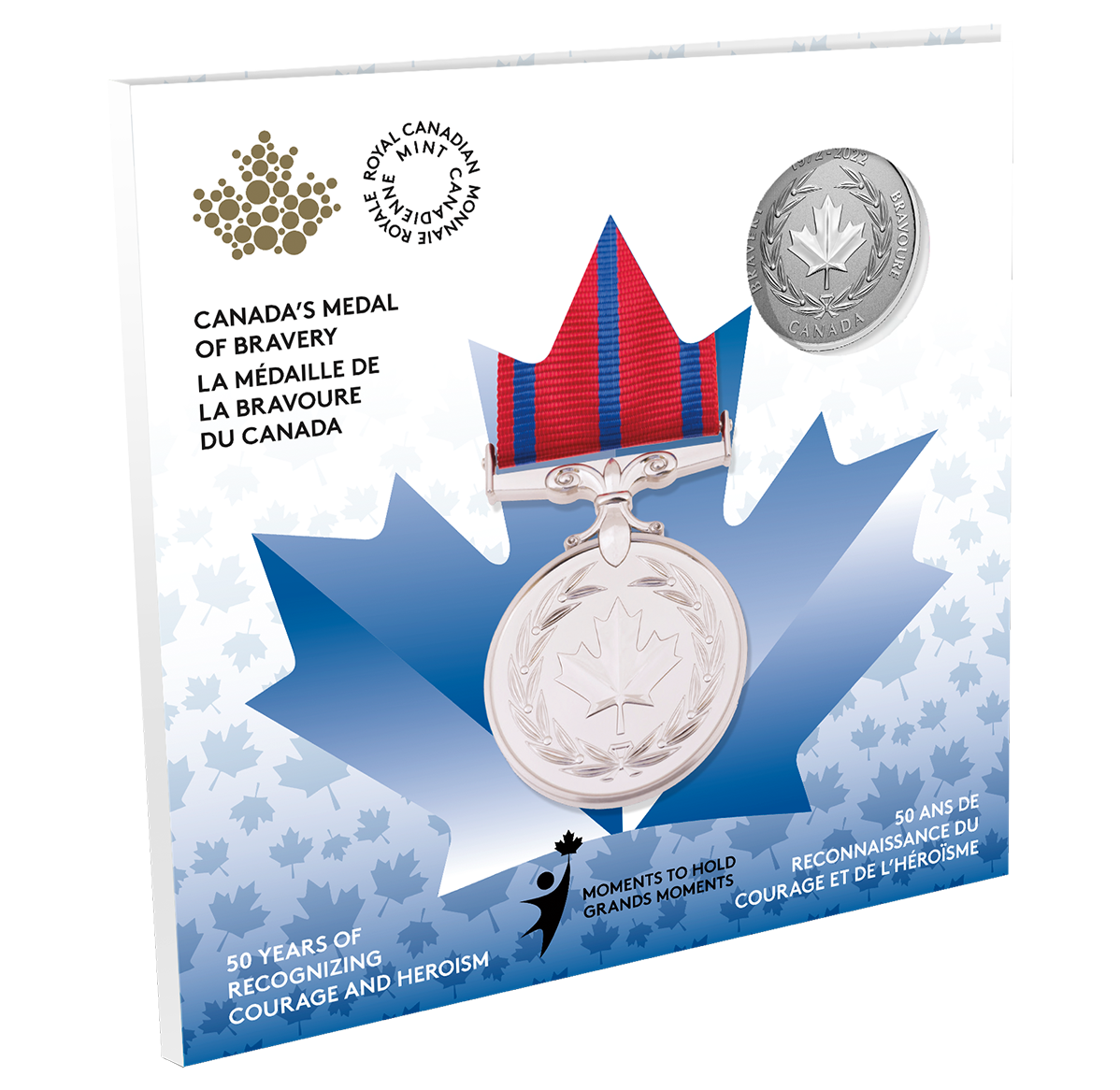 Great gift or addition
Looking to start a new collection? This is a great starting point! Our annual Moments to Hold coins are affordable collectibles that are perfect for sharing, whether you're starting or growing a collection. Each theme is an important part of this nation's story, and these coins will serve as enduring snapshots of Canada in 2022.
Composition
99.99% pure silver
Your coin's reverse resembles Canada's Medal of Bravery, which recognizes "acts of bravery in hazardous circumstances." A maple leaf is surrounded by a laurel wreath on your coin's reverse, which also includes the medal's obverse inscription, "BRAVERY BRAVOURE", and the dates "1972 - 2022" to commemorate the medal's 50th anniversary. Your coin's obverse indicates a face value of "5 DOLLARS" and features the effigy of Her Majesty Queen Elizabeth II by Susanna Blunt.
What do you want to know about this product?
Your product was successfully added to your collection.
The product could not be added