1 oz. Pure Gold Coin – Celebrating Canada's Diversity: Culture and Traditions
1 oz. Pure Gold Coin – Celebrating Canada's Diversity: Culture and Traditions
$3,697.96 USD
Pay up to 6 monthlyinstallments of $616.33 USD.
Masters Club:
50,000
Status:

CAN & US shipping only
Availability:

Out of stock in stores
The stunning blue sapphire on this 99.99% pure gold coin is sure to spark joy.
Music, dancing, art, food and storytelling—French-Canadian traditions are many and varied, but they all have one thing in common: they make Canada's cultural mosaic more distinct, vibrant and exciting! The sparkling blue sapphire on this 99.99% pure gold coin serves as a vibrant representation of the Francophone spirit that has always been a cornerstone of our nation. And on this coin's reverse, the magnificent blue gemstone is surrounded by some of the many diverse symbols that are proudly associated with French heritage in Canada.
Coin #3 is a stunning salute to French Canadians.
Third coin in the series! This coin is dedicated to all people of French-Canadian heritage! French is one of Canada's two official languages, and millions of Canadians across the country share this common language. They can lay claim to a proud heritage that is an integral part of this nation's identity and unique character.
A rare collectible! Only 275 coins are available to collectors worldwide.
Includes serialized certificate! The Royal Canadian Mint certifies all of its collector coins, and this coin comes with an additional certificate of authenticity for its sapphire centrepiece.
Packaging
Your coin is encapsulated and presented in a Royal Canadian Mint-branded clamshell with a graphic beauty box.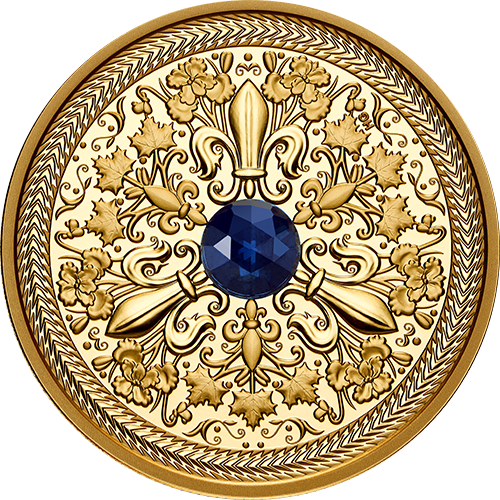 Designed to captivate
Crafted in 99.99% pure gold, this 1 oz. coin features a highly intricate design on its reverse, where the engraved arrangement is a proud celebration of Canada's rich cultural diversity.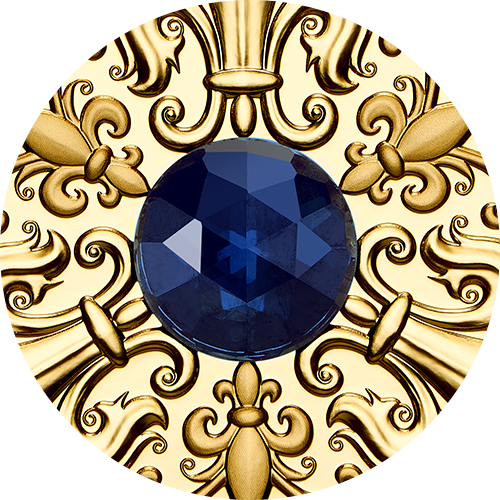 A stunning sapphire
Your coin features a grade AAA natural blue sapphire. The 0.75 carat rose-cut gemstone adds a captivating colour to this design while representing Canada's Francophone spirit.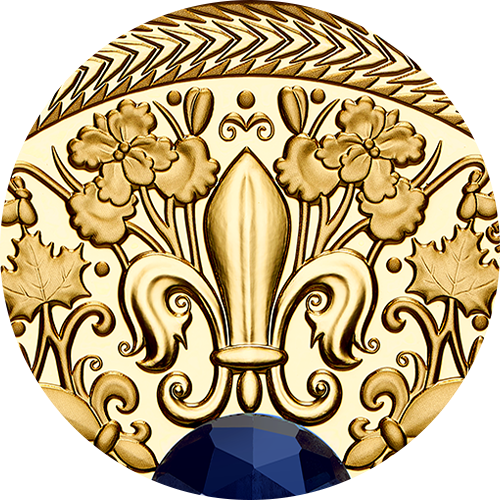 A symbolic arrangement
Canada's Francophone communities use diverse emblems to express their identity and pride, and some of those symbols have been combined on your coin's reverse, where the iconic ceinture fléchée wraps around and embraces them as a whole.
Composition
99.99% pure gold with genuine grade AAA 0.75 carat rose-cut blue sapphire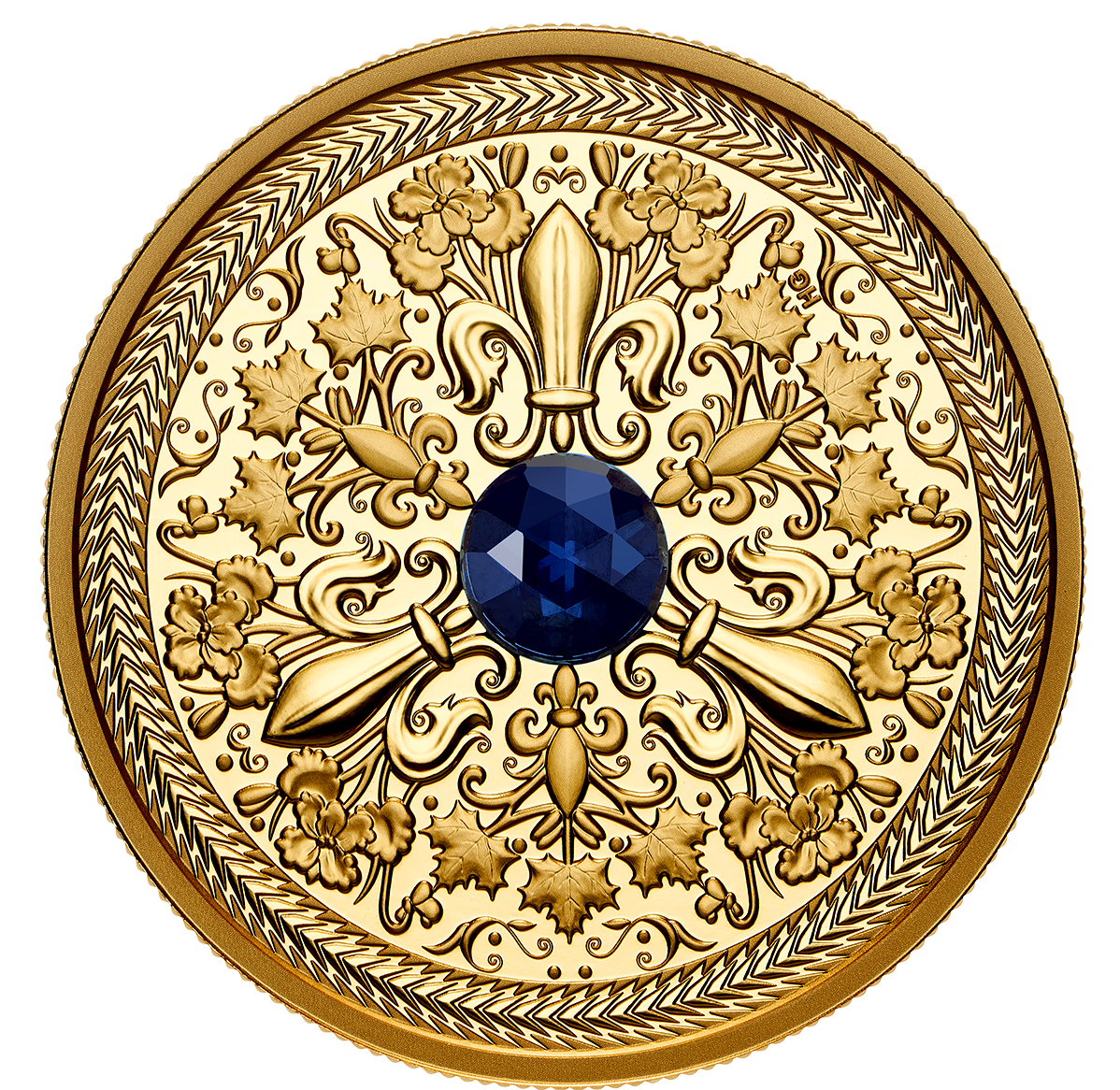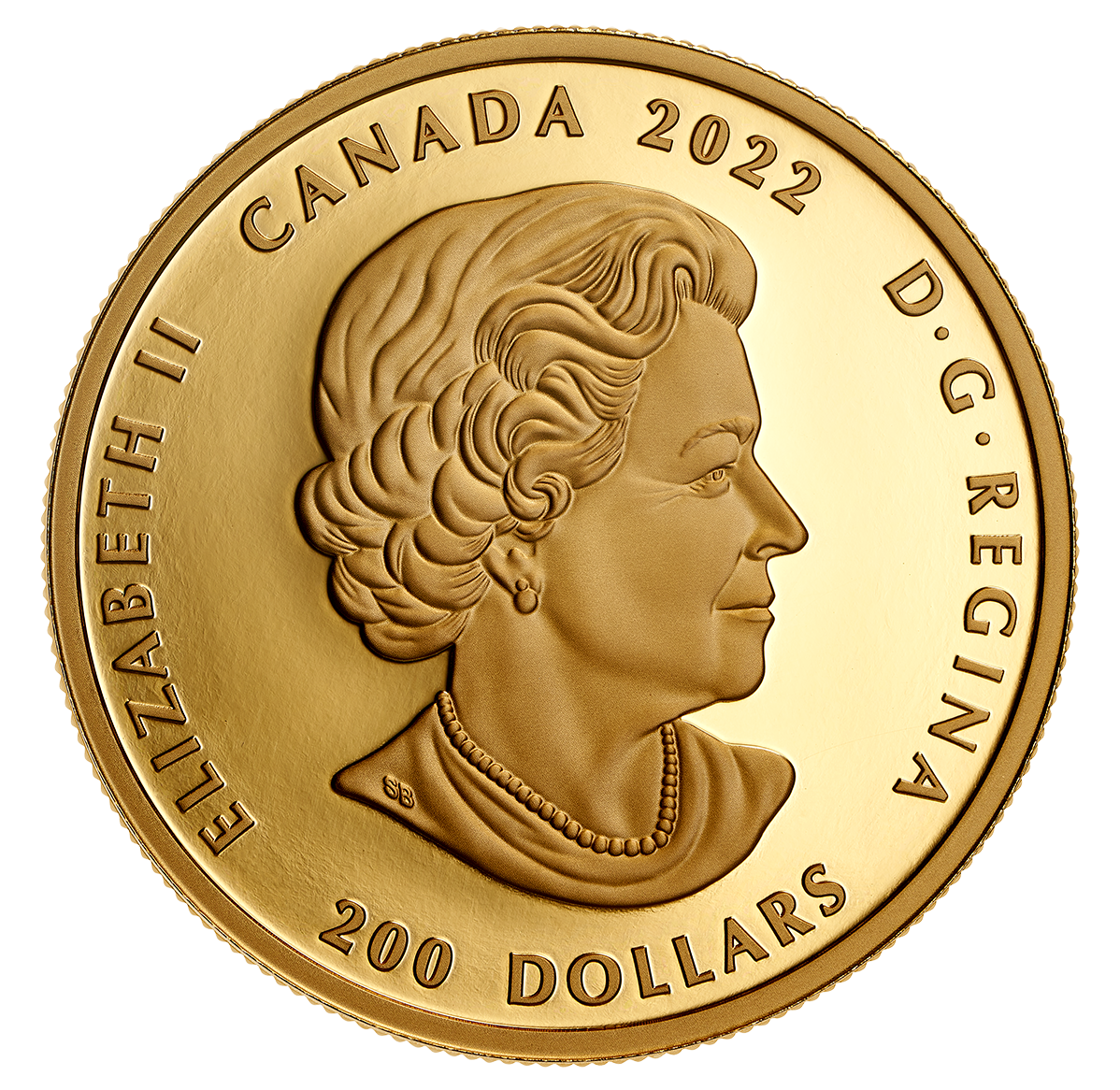 The reverse design by Canadian artist Hélène Girard features a grade AAA rose cut blue sapphire at its centre, where the gemstone's blue hue represents Canada's Francophone spirit.
The gemstone is surrounded by an engraved arrangement of repeating ornamental flourishes and emblems associated with French heritage in Canada, including: the fleur-de-lis, a symbol that evokes the wider French-speaking community; the blue flag iris, the floral emblem of Quebec; the purple violet, the floral emblem of New Brunswick; and maple leaves that represent all Francophone communities in Canada. The iconic ceinture fléchée (arrow sash) surrounds the design, embracing all the individual elements as a whole. The obverse features the effigy of Her Majesty Queen Elizabeth II by Susanna Blunt.
What do you want to know about this product?
Your product was successfully added to your collection.
The product could not be added