1 oz. Pure Silver Coin – Generations: The Red River Métis
1 oz. Pure Silver Coin – Generations: The Red River Métis
Masters Club:
1,000
Status:

CAN & US shipping only
Availability:

Out of stock in stores
Honouring the "Flower Beadwork People"
These beads come together to form a dazzling floral motif that represents a living tradition for the Red River Métis, known by their neighbours as the "Flower Beadwork People." The second Generations coin celebrates the tradition of Métis beadwork, which is a proud expression of Métis culture and identity, and an exercise in visual storytelling, as seen on this coin. Today, this centuries-old artform is also a powerful statement of continuity, for each bead contributes to a gorgeous tapestry; and that signature craftsmanship is passed down from one generation to the next, inspiring others to create the patterns that stitch together a people's past, present and future.
Celebrate the everlasting heritage of the Red River Métis.
Special features
Coin #2. The annual Generations

series celebrates the transfer of knowledge through the stories of the First Peoples of Canada. The second coin highlights traditional Métis beadwork as a cherished art form and a proud cultural expression; on this coin, the beadwork pattern tells the story of the Red River Métis.

Rooted in tradition. With every bead, the story unfolds: by sharing it with others, that story—and the act of its creation—lives on. Métis beadwork is a rich medium for storytelling and for intergenerational learning, and the Generations series of coins honours the artists and storytellers who play a key role in passing down traditional knowledge to new generations.
Limited mintage.

Crafted from 99.99% pure silver, your coin has a limited mintage of 5,000 worldwide.

Includes serialized certificate. The Royal Canadian Mint certifies all of its collector coins.
NO GST/HST
Packaging
Your coin is encapsulated and presented in a black Royal Canadian Mint-branded clamshell with a black beauty box.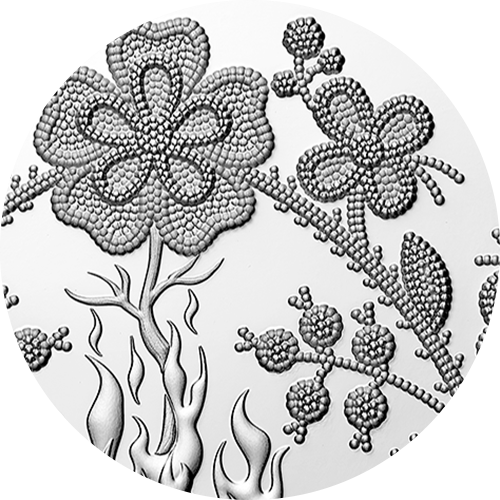 An unforgettable design
On your coin's reverse, the engraving is done in an elaborate style that perfectly mimics traditional Métis beading. In lieu of colour, varying relief height and frostings help create a striking contrast that sets neighbouring elements apart while adding depth to the overall design.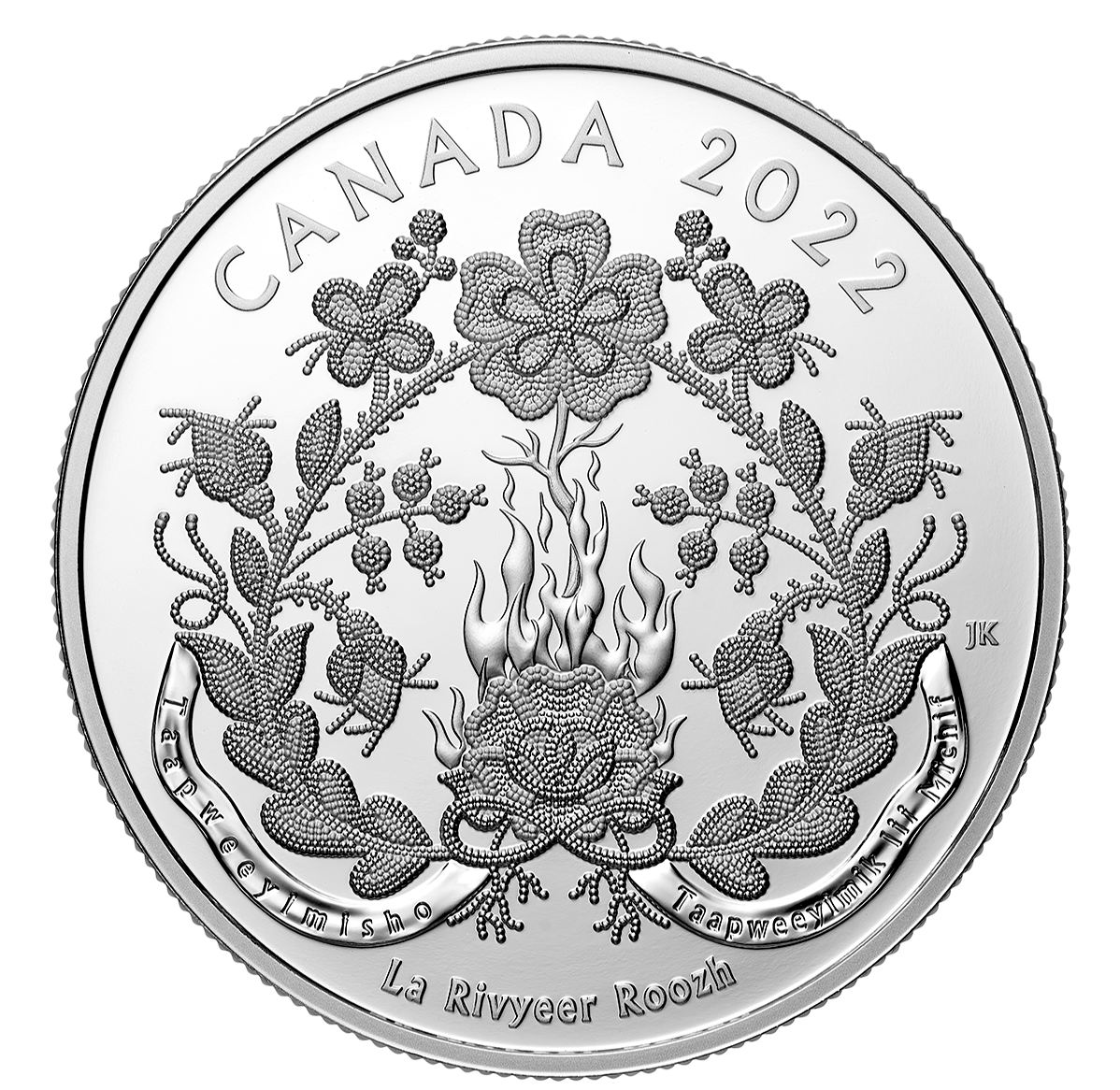 Visual storytelling
This is our first collaboration with Métis artist Jennine Krauchi, whose original beadwork pattern combines several traditional motifs and design elements to tell the story of the Red River Métis.
Composition
99.99% pure silver
Packaging
Black clamshell with black beauty box
Artist
Jennine Krauchi (reverse), Susanna Blunt (obverse)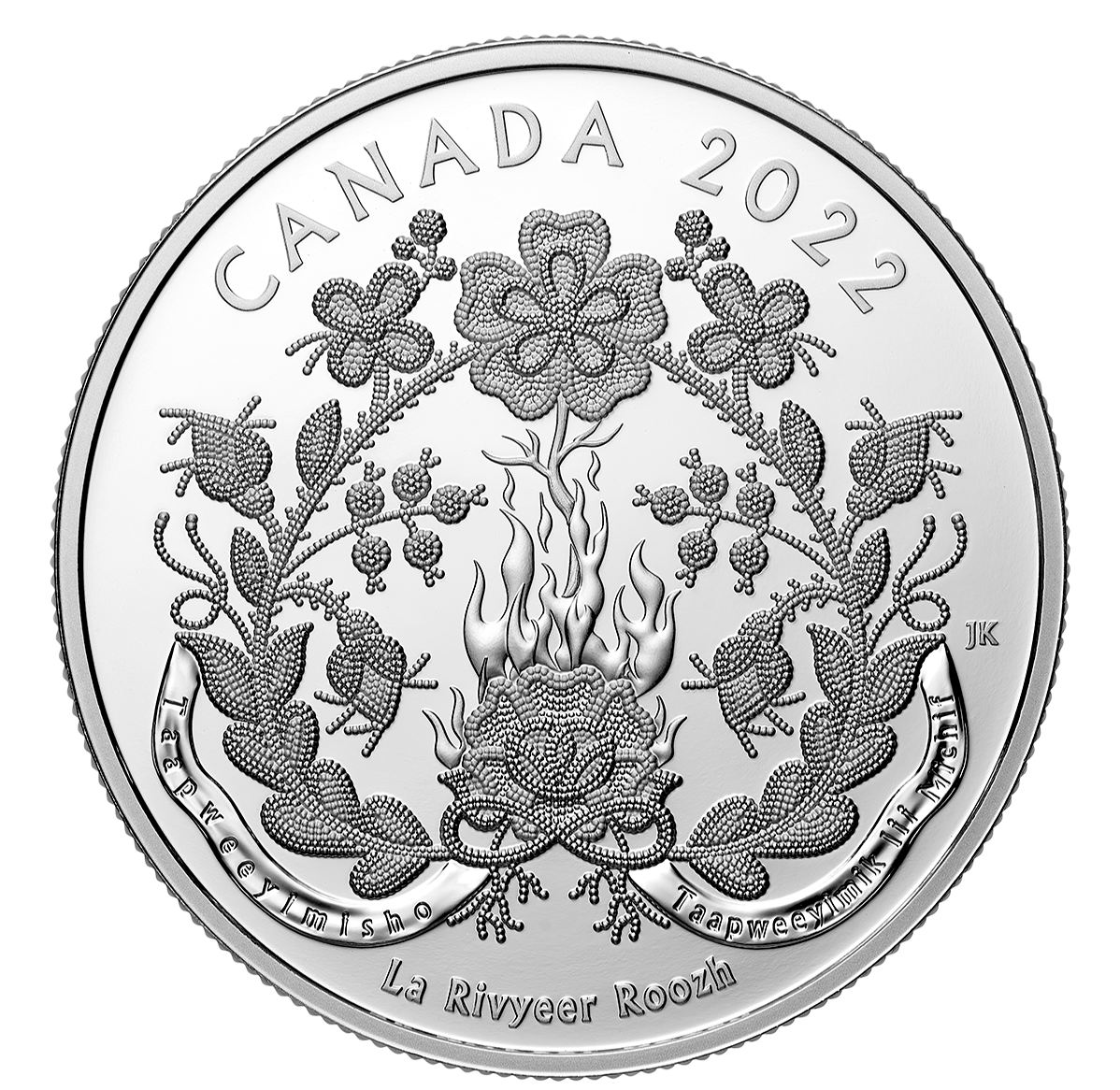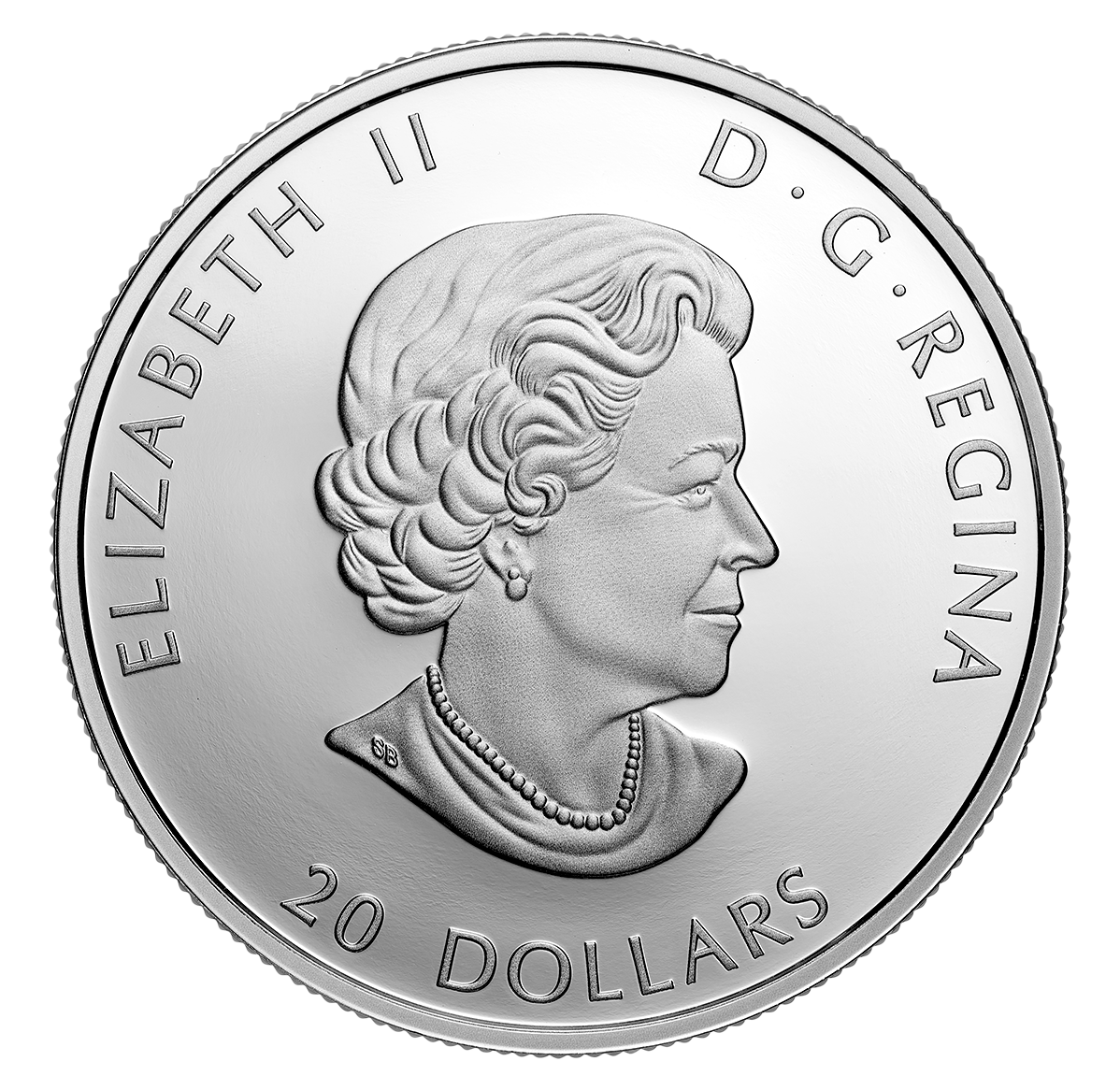 Your coin's reverse features an engraved rendering of an original floral beadwork pattern by Métis artist Jennine Krauchi, who has weaved together traditional beading elements to tell the story of the Red River Métis. At the base of the design, roots are intertwined with the Red River (" LA RIVYEER ROOZH" in Michif) to represent the Red River Métis homeland and ancestry, while the infinity symbol speaks to the Red River Métis' eternal and unbreakable spirit. Placed within the river are the Michif words "TAAPWEEYIMISHO" and "TAAPWEEYIMIK LII MICHIF", which mean, "Believe in yourself" and "Believe in (the) Métis". The central portion of the design speaks to a period of repression and loss, but the prairie rose—a classic Métis motif—represents the survival of the Red River Métis and a cultural resurgence. Long stems adorned with "mouse tracks," leaves and flower buds fill the pattern with a sense of love and joy. The obverse features the effigy of Her Majesty Queen Elizabeth II by Susanna Blunt.
What do you want to know about this product?
Your product was successfully added to your collection.
The product could not be added