1 oz. Pure Silver Coloured Coin – Pysanka
1 oz. Pure Silver Coloured Coin – Pysanka
Masters Club:
1,400
Status:

CAN & US shipping only
Availability:

Out of stock in stores
A spring tradition! Celebrate family, live and love with this colourful fine silver pysanka.
For the past seven years, the Mint has issued pysanka-themed collector coins, a spring tradition that pays tribute to Ukrainian culture and artistry in Canada. As we prepare to launch this year's collection, and in light of the invasion of Ukraine, the Mint has decided to donate all net proceeds from the sale of our 2022 gold and silver pysanka coins to the Canadian Red Cross Ukraine Humanitarian Crisis Appeal.
Funds raised through this appeal will help the Red Cross respond to humanitarian needs emerging from the current conflict faced by Ukraine. We hope that our donation helps put words into action.
Your coloured pysanka coin for 2022! Strong, lasting and precious, familial bonds are the means by which traditions are passed down. This fine silver coin continues the tradition of celebrating life and the season of renewal through a gorgeous Ukrainian Easter egg—a pysanka that conveys a blessing. On the coin's reverse, the colour motifs come together to form an unforgettable celebration of family, enduring love, and the endless possibilities that each new generation brings.
One of the most sought-after coins each year!
An annual celebration. Our annual Easter egg-shaped celebration of Ukrainian-Canadian culture is a collector favourite, and the tradition continues in 2022!
A bestseller All previous pysanka coins sold out quickly. Don't miss your chance to own the 2022 edition—order yours today!
A limited-edition piece. Only 5,500 are available to collectors worldwide.
Includes serialized certificate. The Royal Canadian Mint certifies all of its collector coins.
No GST/HST
Packaging
Your coin is encapsulated and presented in a Royal Canadian Mint-branded clamshell with a black beauty box.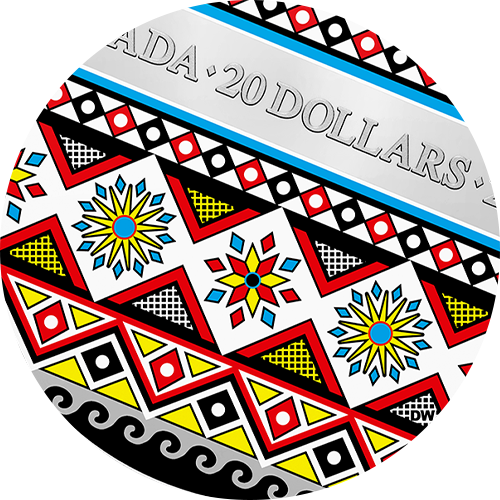 A springtime blessing
Crafted in 1 oz. of 99.99% fine silver, this colourful pysanka coin features an assortment of centuries-old Ukrainian motifs that celebrate spring, family, life and love.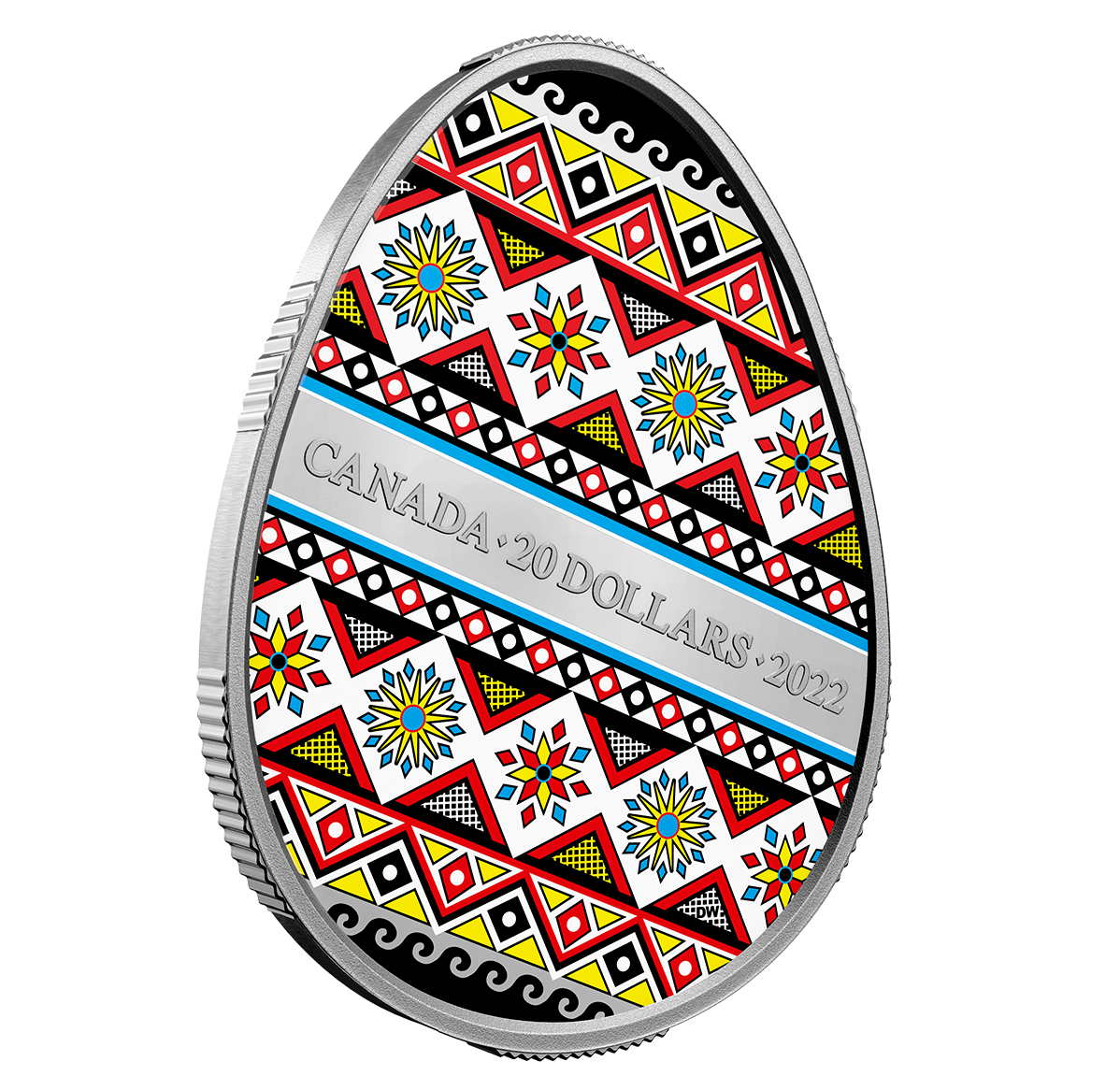 Colour and silver
This intricately patterned pysanka coin combines colours and motifs that have symbolic significance. Its reverse design also makes use of the coin's proof finish, weaving the mirror-like shine of 99.99% pure silver with dazzling colours.
Composition
99.99% pure silver
Edge
Interrupted serrations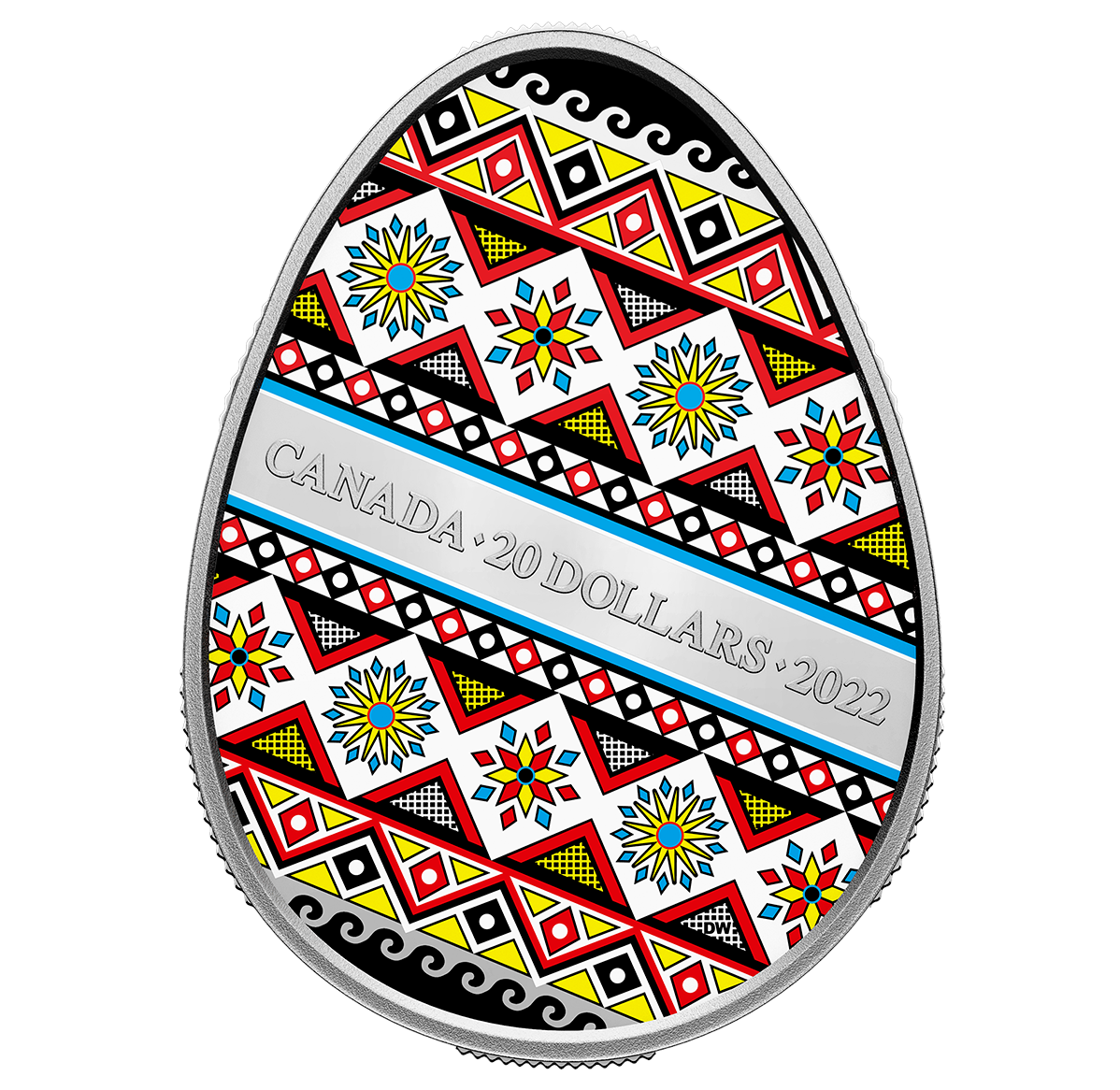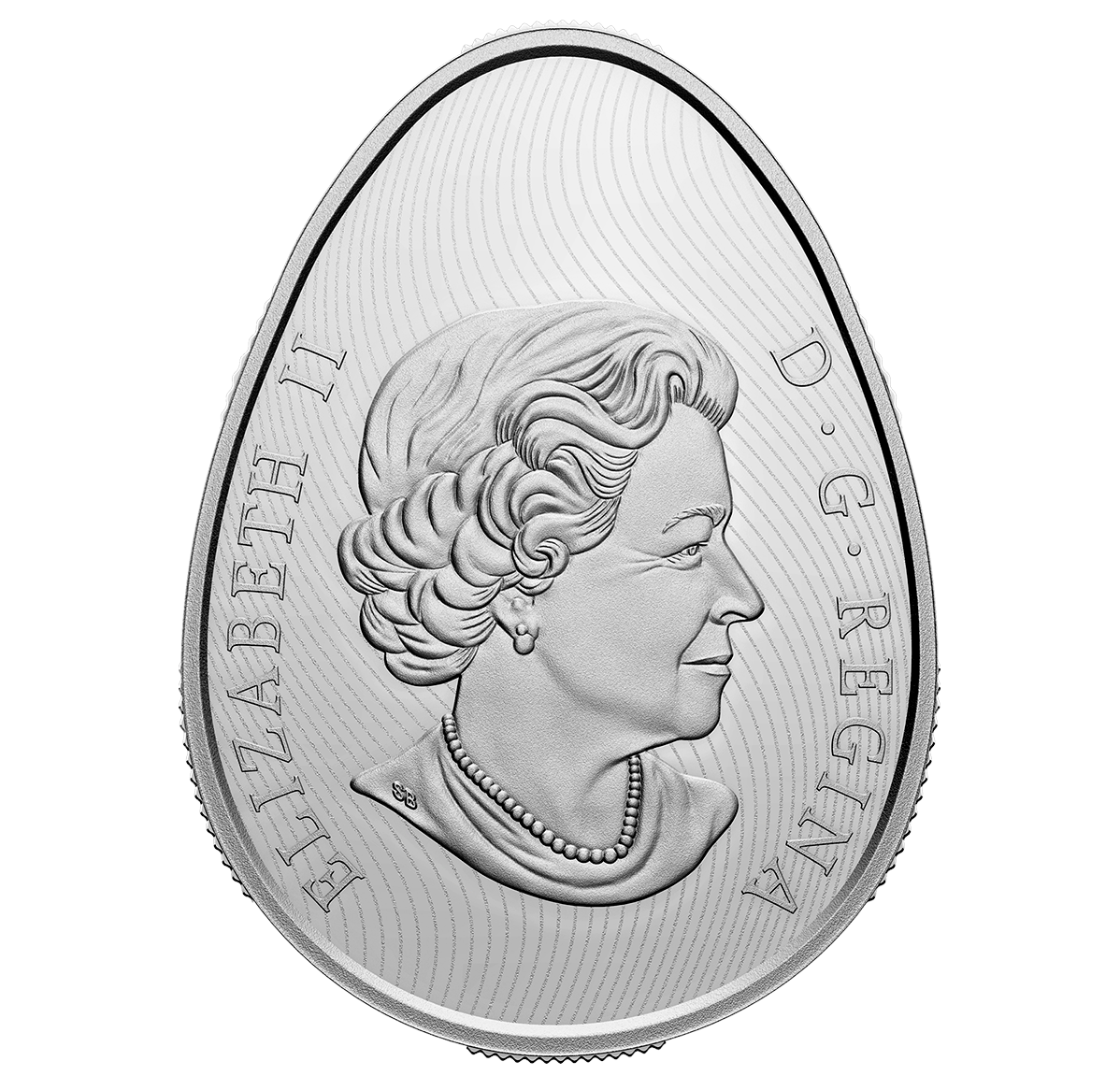 Your pysanka coin's reverse is designed by Canadian artist Dave Wasylyshen. The centre band features the word "CANADA", a denomination of "20 DOLLARS" and the year, "2022". The two main bands feature starburst and rose motifs symbolizing beauty, love, life and good fortune. The larger diamond and triangle shapes represent knowledge and wisdom; smaller triangles represent family, while the triangles with an inside sieve pattern signify the division of good and evil. Two outer bands contain a saw-like pattern that symbolizes loyalty and the sun's rays, while the waves represent water and wealth. By using four or more colours, this pysanka conveys a blessing for a family's prosperity: blue for the sky and good health; red for passion and happiness; yellow for youth and light; white for purity and birth; and black for eternity and the darkest time before dawn. The obverse features the effigy of Her Majesty Queen Elizabeth II by Susanna Blunt.
What do you want to know about this product?
Your product was successfully added to your collection.
The product could not be added