2 oz. Pure Gold Coin – Her Majesty Queen Elizabeth II's Diamond Diadem
2 oz. Pure Gold Coin – Her Majesty Queen Elizabeth II's Diamond Diadem
$5,694.88 USD
Pay up to 4 monthlyinstallments of $1,423.72 USD.
Masters Club:
77,000
Status:

CAN & US shipping only
Availability:

Out of stock in stores
Mark the Platinum Jubilee with Her Majesty's famous diadem, complete with a yellow diamond (a Mint first).
Spectacular yet familiar, the Diamond Diadem is the royal headpiece that has appeared on countless banknotes, stamps and coins since Her Majesty acceded to the throne in 1952.
The regal accoutrement has become synonymous with Her Majesty's historic 70-year reign, and for this reason, it is the inspiration for this 99.99% pure gold tiara tribute on the occasion of Her Majesty's Platinum Jubilee. The coin's reverse is adorned with seven diamonds, including a yellow one (a first for us) that adds authentic sparkle to our artistic representation of the diadem's distinctive cross pattée and floral sprays.
It's an exquisite tribute inspired by one of the most recognizable symbols of Her Majesty's reign.
Your 2022 gold tiara coin. We saved Her Majesty's most recognizable headpiece for this year's Platinum Jubilee! The dazzling Diamond Diadem (aka the George IV State Diadem) is the inspiration for this 2022 crown-themed tribute to Her Majesty Queen Elizabeth II, as the Queen of Canada marks 70 years on the throne.
High demand, very low mintage. Only 225 coins are available to collectors worldwide. Previous crown/tiara-themed coins sold out quickly, and given the famous headpiece represented on this spectacular collectible, it will likely be a sought-after piece.
Certificates of authenticity. In addition to the serialized certificate, your coin comes with two additional certificates that confirm the authenticity of the diamonds featured on the reverse.
Premium packaging. Your coin comes in a premium wooden case that provides a more elegant presentation.
Packaging
Your coin is individually encapsulated and presented in a Royal Canadian Mint-branded premium wooden case with a black beauty box. It is accompanied by a serialized certificate from the Royal Canadian Mint and two additional certificates confirming the authenticity of the diamonds featured on your coin.
The diamond diadem
The regal Diamond Diadem is also known as the George IV State Diadem because it was originally created for the coronation of King George IV in 1821. It has since been exclusively worn by queens regnant and consort beginning with Queen Adelaide and continuing with Queen Victoria, who designated it an Heirloom of the Crown in 1901. Its silver frame is lined with gold and set with 1,333 brilliant-cut diamonds, including a four-carat yellow brilliant at the centre of the front cross; its narrow band is edged with pearls and surmounted by four crosses pattée and four sprays featuring a rose for England, shamrocks for Ireland and a thistle for Scotland.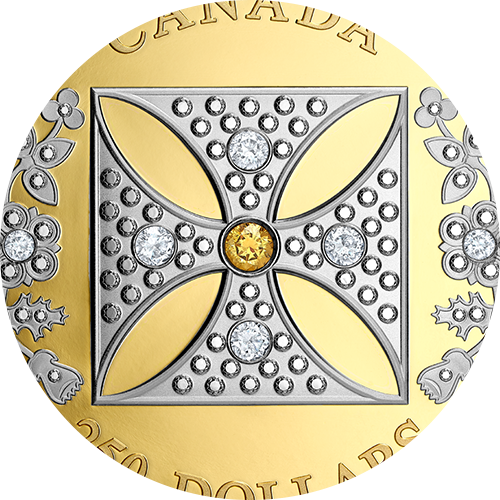 Seven diamonds
Crafted in 2 oz. of 99.99% pure gold, your coin is enhanced with seven diamonds that add authentic sparkle to the diadem-inspired design. Each stone was individually added using precision tweezers for positioning.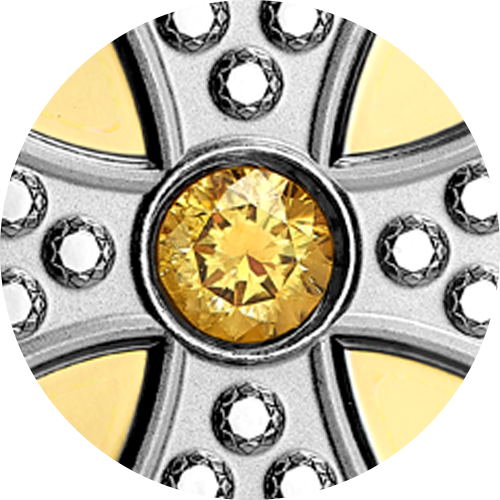 A yellow diamond
A Mint first! To complete this representation of the Diamond Diadem, we added a yellow diamond to the centre of the cross pattée—just like the real diadem.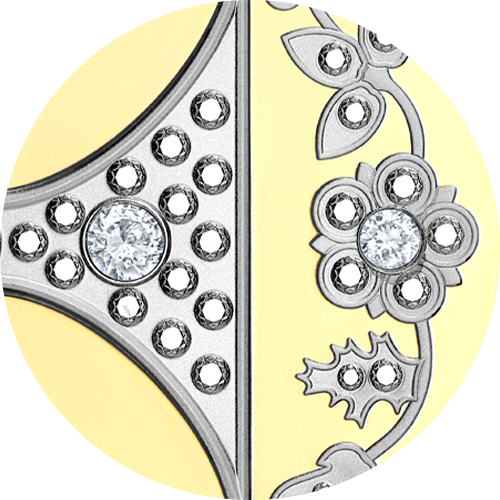 Platinum plating
The engraved motifs are plated with platinum for extra shine and to create a captivating contrast with the gold.
Composition
99.99% pure gold with diamonds and selective platinum plating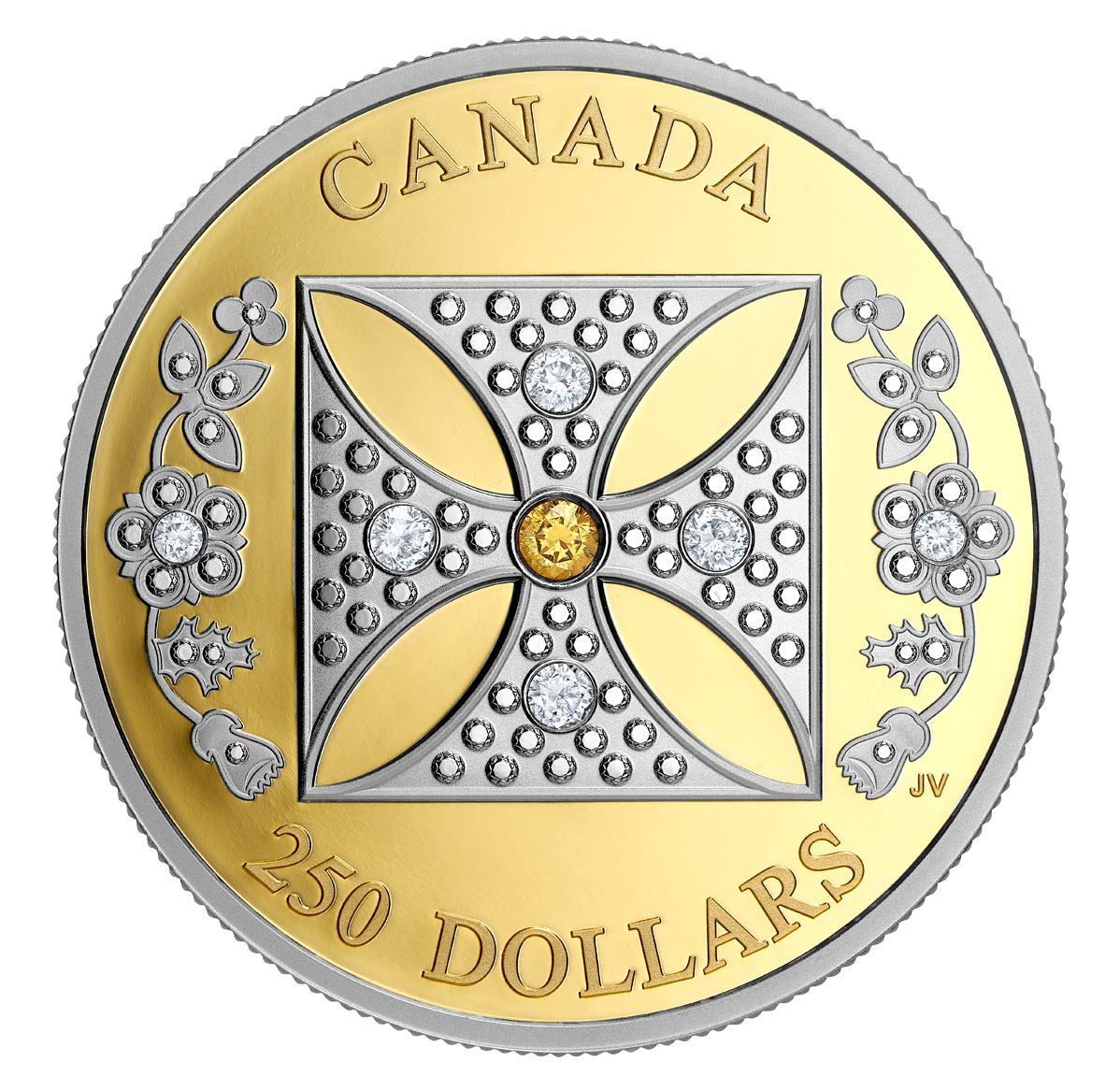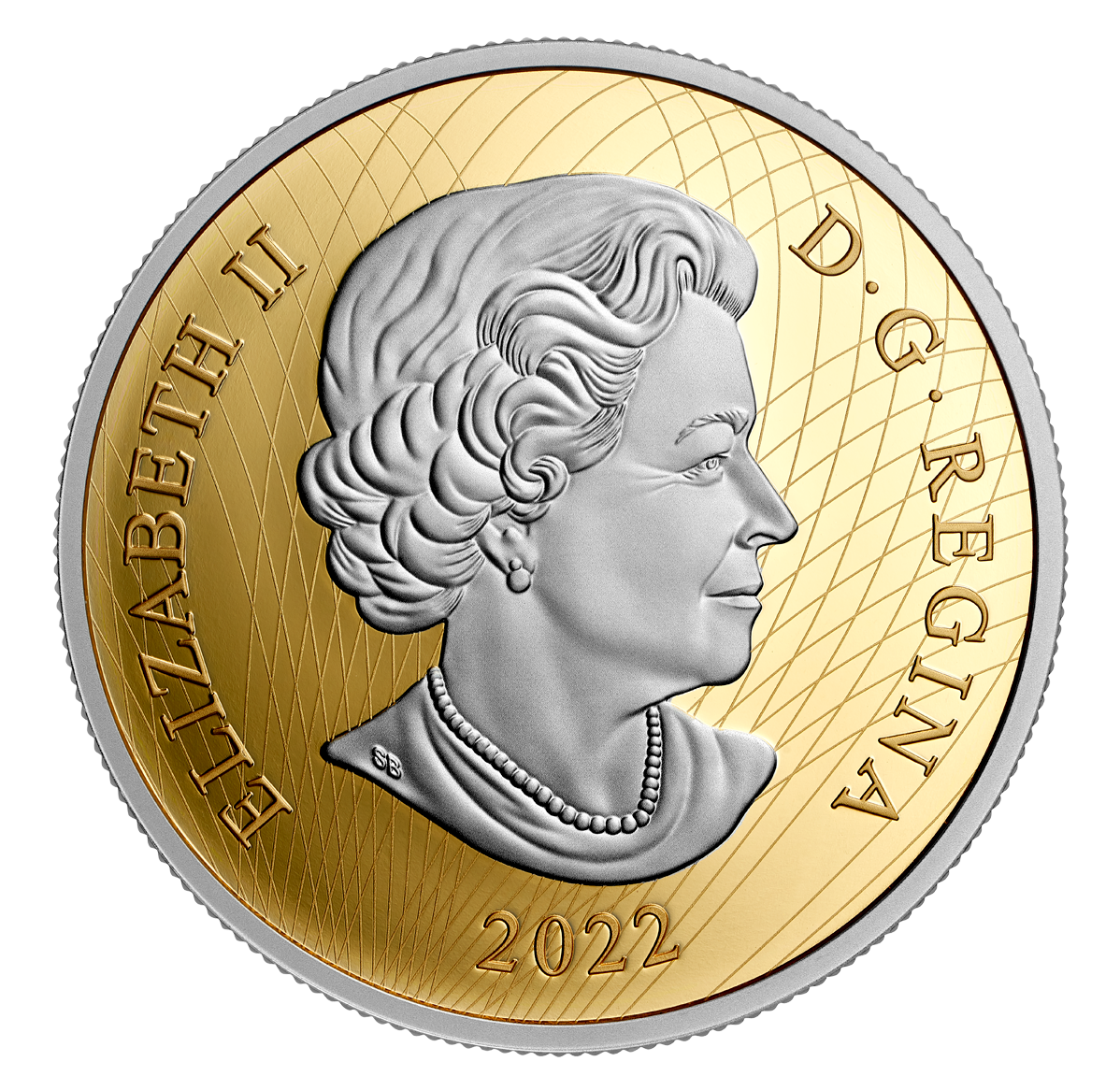 Designed by Canadian artist Jori van der Linde, your coin's reverse is adorned with seven genuine diamonds and features an artistic representation of the famous Diamond Diadem worn by Her Majesty Queen Elizabeth II. The platinum-plated motif resembling the diadem's front cross is set with a yellow gold diamond and flanked by floral sprays that combine the emblems of England, Ireland and Scotland. The reverse includes the inscription "CANADA" at the top and "250 DOLLARS" at the bottom. The obverse features the date "2022" and a field pattern behind the effigy of Her Majesty Queen Elizabeth II by Susanna Blunt.
What do you want to know about this product?
Your product was successfully added to your collection.
The product could not be added