3 oz. Pure Silver Coin – Canadian Collage
3 oz. Pure Silver Coin – Canadian Collage
$236.64 USD
Pay up to 4 monthlyinstallments of $59.16 USD.
Masters Club:
3,200
Status:

CAN & US shipping only
Availability:

Out of stock in stores
Quantity:

Maximum 2 per customer
Celebrate Canada in a unique, colourful way with this 3 oz. fine silver collage.
Canada in colour! Gorgeous grasslands, show-stopping shorelines, mighty mountains, and more—all of these breathtaking places exist within our borders, and each contains its own assortment of beautiful flora and fauna. Inspired by our classic circulation coin designs, this 3 oz. coin's colour-over-engraved portrait celebrates the diversity of our landscapes through the seasons, and it's all framed by the mighty maple leaf that proudly identifies Canada to the world.
Iconic wildlife and landscapes come together to represent Canada as a whole.
Special features
A portrait of Canada. Celebrate the natural beauty of Canada in a unique way! Some of the most iconic Canadian landscapes and wildlife are included in this 3 oz. fine silver collage, which illustrates how nature is a key part of our national identity.
Preserved in fine silver. Masterfully crafted in 3 oz. of the world's finest silver (99.99% pure), this 55 mm coin is a portrait of Canada that leaves a lasting impression.
Low mintage. Only 3,000 coins are available to collectors worldwide.
Includes serialized certificate. The Royal Canadian Mint certifies all of its collector coins.
NO GST/HST (if applicable)
Packaging
Your coin is encapsulated and presented in a Royal Canadian Mint-branded clamshell with a black beauty box.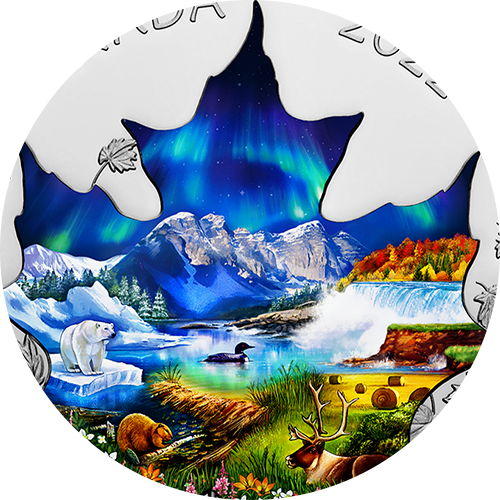 Images that inspire national pride
From east to west and across the north, the reverse design whisks you on a cross-country journey to some of Canada's most amazing places and sights.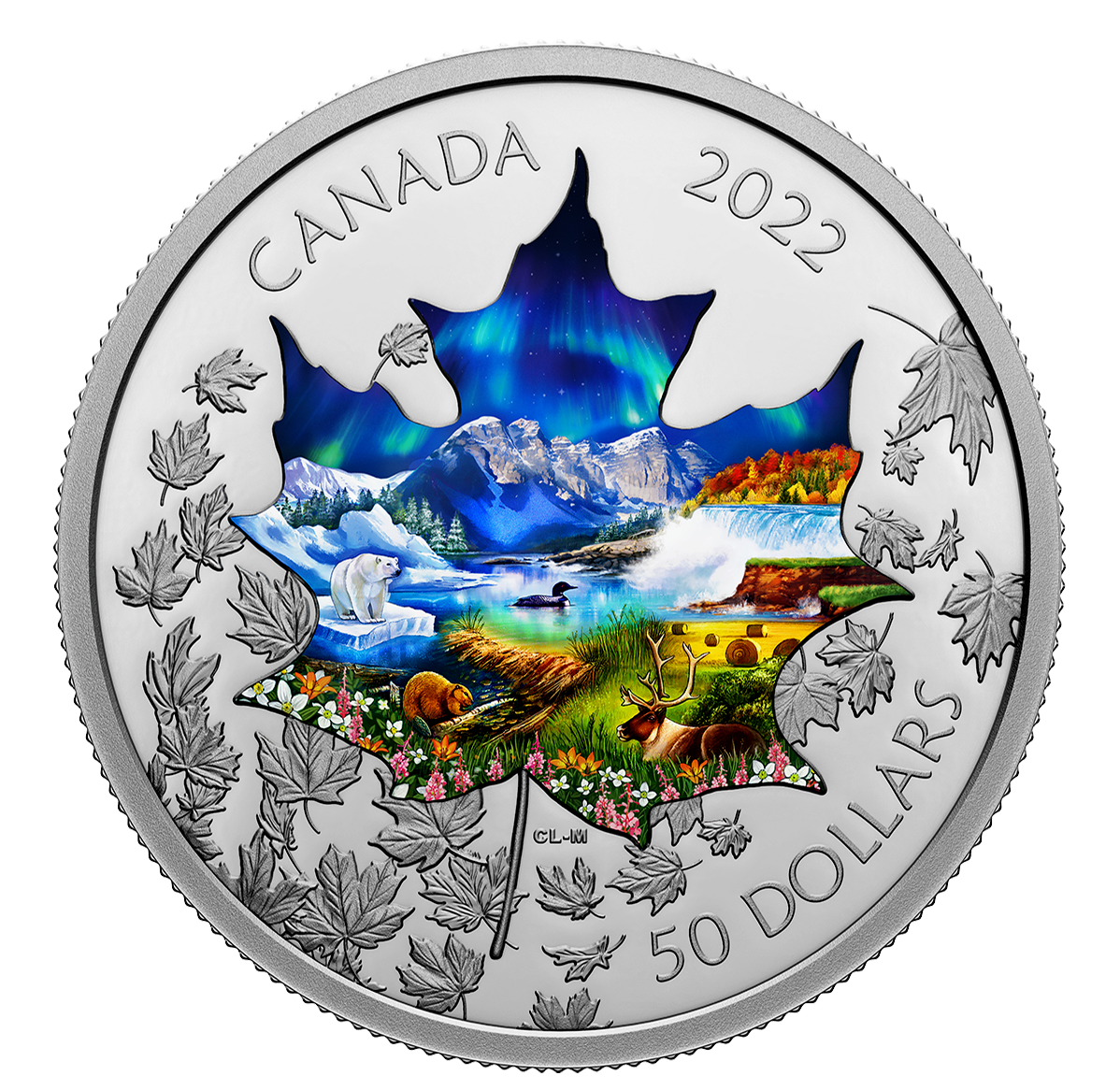 Vibrant colours
On your coin's reverse, a large maple leaf gives shape to the eye-catching collage of colour-over-engraved images that inspire pride for Canada's incredibly diverse—and highly photogenic—landscapes.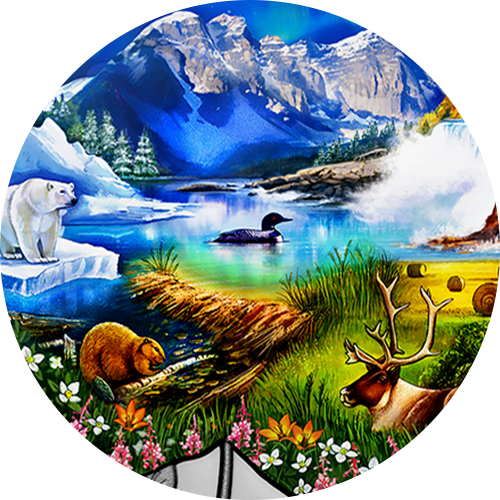 A nod to our circulation coins
Take a close look at the animals featured here: they're based on our animal-themed circulation coin designs! The polar bear ($2), the loon ($1), the caribou (25 cents) and the beaver (5 cents) are each depicted in their natural habitat.
Composition
99.99% pure silver, with colour over engraved relief
Packaging
Black clamshell with black beauty box
Artist
Caitlin Lindstrom-Milne (reverse), Susanna Blunt (obverse)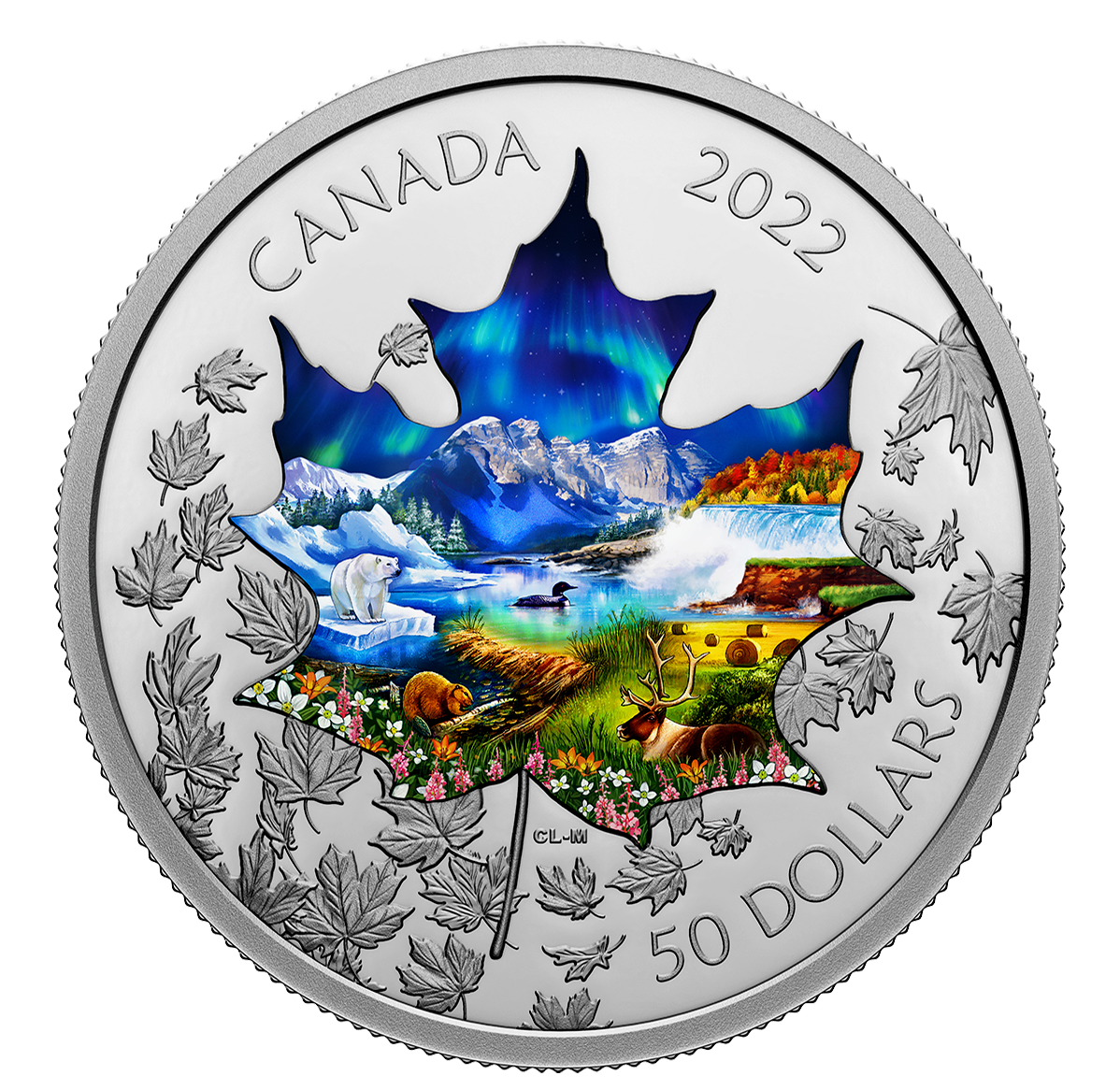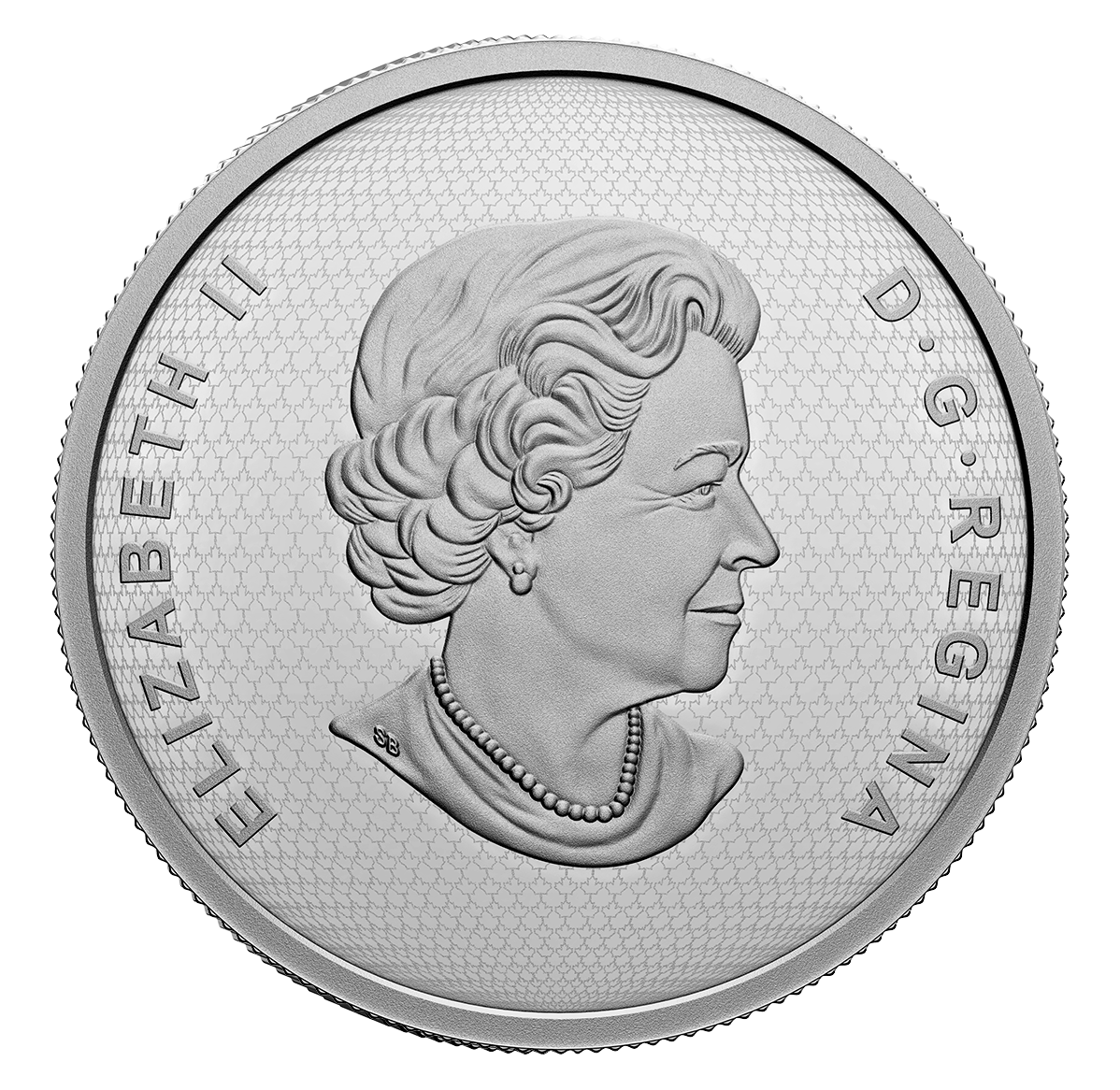 The reverse design by artist Caitlin Lindstrom-Milne features several engraved maple leaves in the breeze; these form a backdrop to a larger maple leaf, which gives shape to a colour-over-engraved collage of iconic Canadian landscapes and fauna. These famous sights are, clockwise from top: the aurora borealis; the Canadian Rocky Mountains; a forest in autumn; Niagara Falls; the red cliffs of Prince Edward Island; wheat fields representing the Prairie Provinces; Arctic glaciers; and a quiet lake setting. The animals from Canada's circulation coins (the caribou, beaver, polar bear and loon) are also depicted in their natural habitat, while the bottom of the design is edged with wildflowers—bunchberry (Cornus canadensis), fireweed (Chamerion angustifolium) and the western red lily (Lilium philadelphicum). The obverse features the effigy of Her Majesty Queen Elizabeth II by Susanna Blunt.
What do you want to know about this product?
Your product was successfully added to your collection.
The product could not be added