99.99% Pure Gold Fractional Set
99.99% Pure Gold Fractional Set
$4,437.56 USD
Pay up to 6 monthlyinstallments of $739.59 USD.
Masters Club:
60,000
Status:

CAN & US shipping only
Availability:

Out of stock in stores
Multifaceted Engraving shine brightly in this 2023 gold fractional set.
Yours to admire! It is the symbol that inspires pride for all things Canadian, and in this pure gold fractional set, Canada's beloved maple leaf makes a vivid impression thanks to multifaceted engraving. All four coins, are impeccably crafted in 99.99% pure gold. Each coin features a reverse proof finish that puts the focus on the engraving, and with good reason—the various geometric shapes that form the maple leaf reflect light in unexpected ways, resulting in a dazzling multifaceted portrait.
Our only pure gold fractional set launching in 2022 is a multifaceted maple celebration!
Special features
A multi-coin, multifaceted celebration. Every coin in this fractional set is crafted in 99.99% pure gold, and for the first time, all four sizes—1 oz. (30 mm), ¼ oz. (20 mm), 1/10 oz. (16 mm) and 1/20 oz. (14.1 mm)— feature multifaceted engraving on the reverse. An RCM first!
Impeccably detailed. Already a challenging design element, the multifaceted portrait of the maple leaf seems more complex as the coins decrease in size.
A rarity. This is our only gold fractional set launching in 2022, and it features a lower mintage (450) than the 2022 pure gold fractional set. The engraved art and the precious metal content make this set a must-see and a must-have for any gold collector!
Includes serialized certificate. The Royal Canadian Mint certifies all of its collector coins.
NO GST/HST (if applicable)

Packaging
Your four coins are individually encapsulated and presented side-by-side in a wooden case crafted from hard maple and shaped like a maple leaf. Inside the case, your coins are safely nestled in a black velvet insert, while the serialized certificate is held in place on the underside of the lid.
Reverse proof
All four coins feature a reverse proof finish—brilliant relief on frosted/matte field—that puts extra emphasis on the engraving.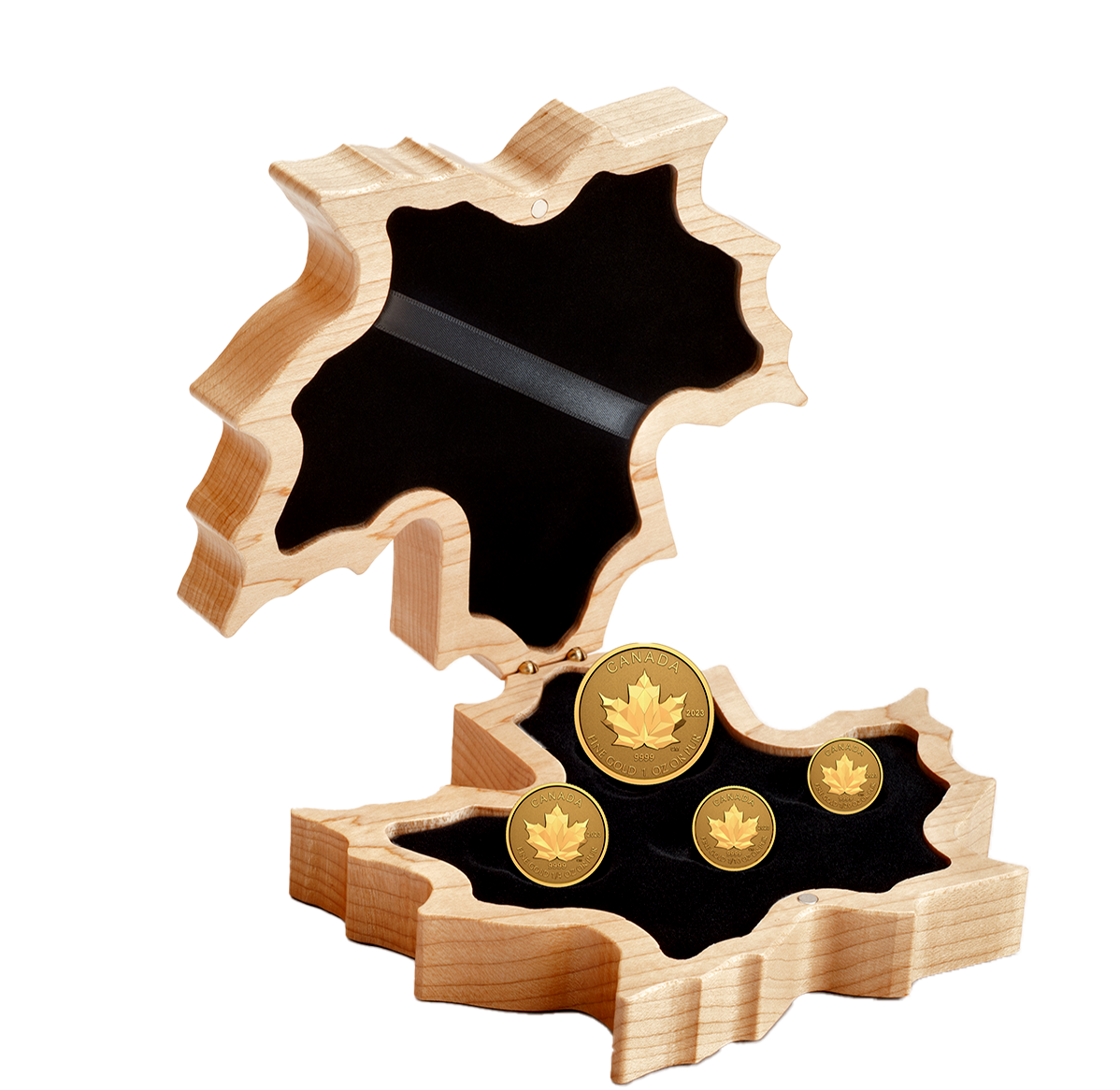 Special packaging
Your four-coin set comes packaged in a maple leaf-shaped case crafted from hard maple—the perfect complement to the coin design.
Composition
99.99% pure gold
Artist
Calder Moore (reverse), Susanna Blunt (obverse)
Composition
99.99% pure gold
Composition
99.99% pure gold
Composition
99.99% pure gold
Composition
99.99% pure gold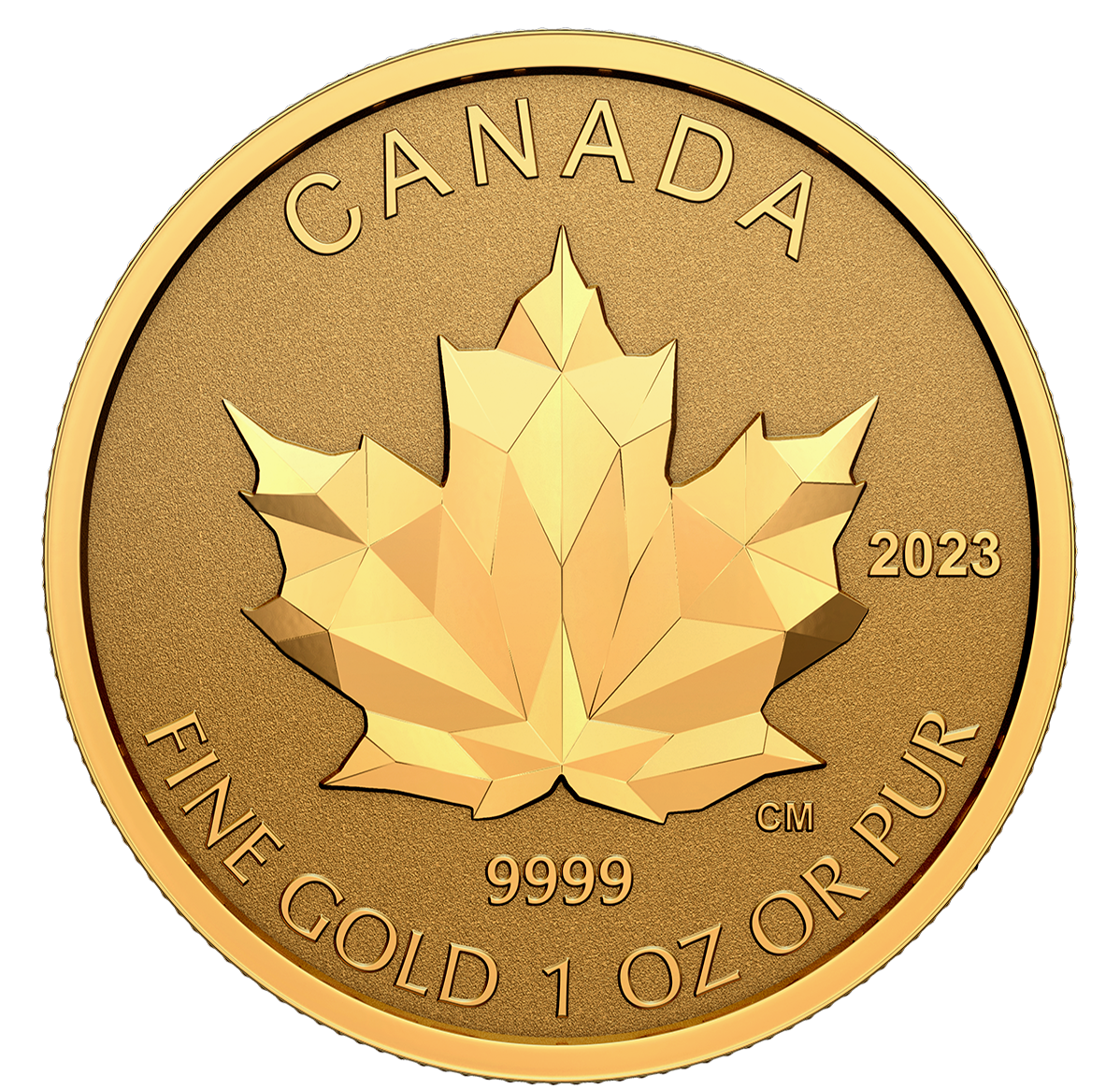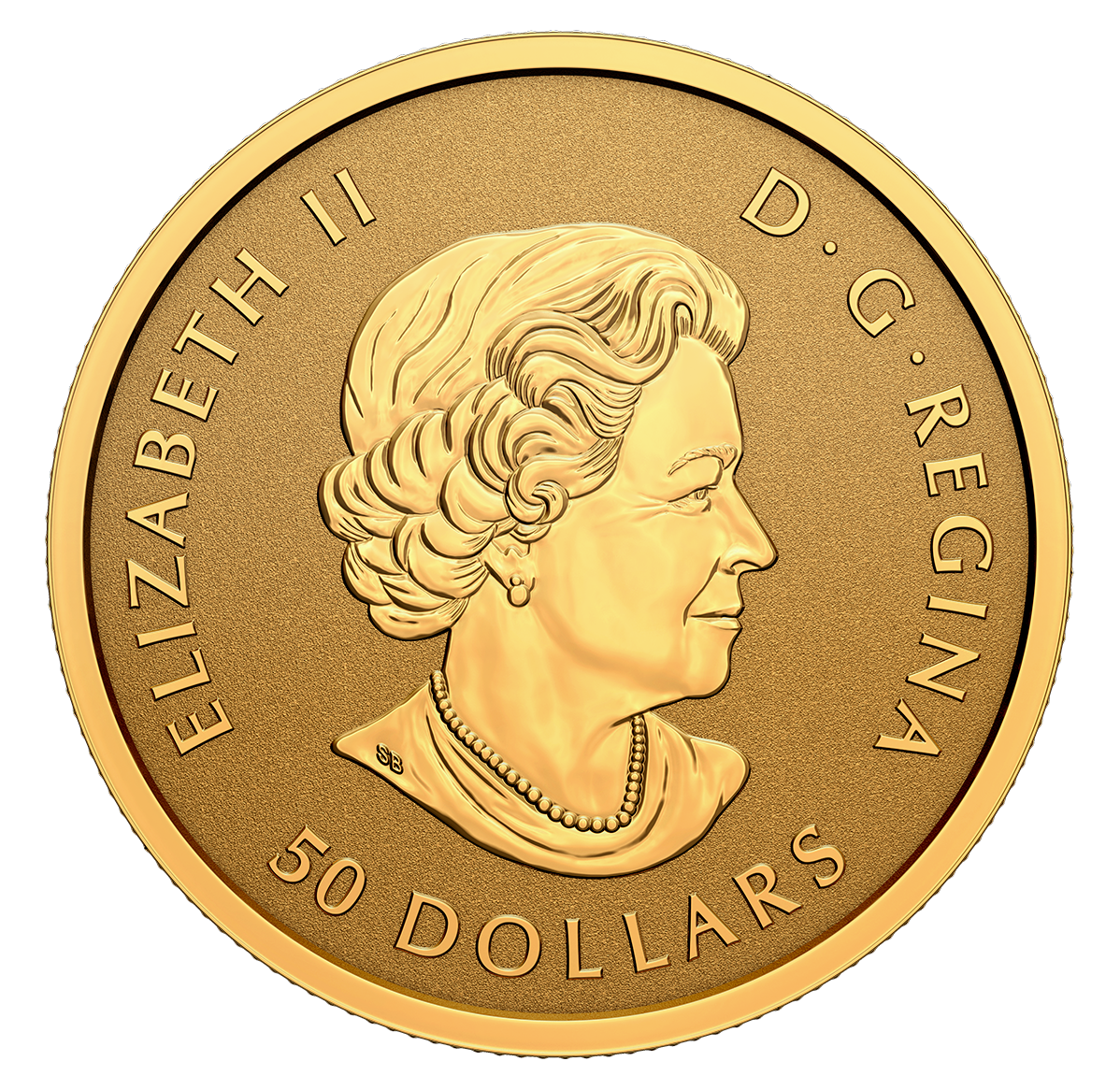 Your four coins share the same reverse design by Calder Moore and feature a stylized depiction of a sugar maple (Acer saccharum) leaf. Each maple leaf is composed of intricately sculpted geometric shapes that give the Canadian emblem a more multi-faceted appearance; the engraved shapes also play with light and shadow in order to convey a sense of movement. On all four coins, the reverse includes the words "CANADA", the coin's purity and weight, and the year "2023". Each obverse features the effigy of Her Majesty Queen Elizabeth II by Susanna Blunt.
What do you want to know about this product?
Your product was successfully added to your collection.
The product could not be added