$50 Pure Silver Coin – 35th Anniversary of the SML
$50 Pure Silver Coin – 35th Anniversary of the SML
$441.98 USD
Pay up to 6 monthlyinstallments of $73.66 USD.
Masters Club:
6,000
Status:

CAN & US shipping only
Join us in celebrating the SML's 35 years of history.
It's not just about marking milestones: anniversaries are an opportunity for reflection and celebration, and we're proud of what the Silver Maple Leaf (SML) bullion coin has achieved in its 35-year history—from setting a high standard in purity to introducing cutting-edge features that have made it the world's most secure silver bullion coin.
This 5 oz.-sized 35th anniversary celebration embodies the same qualities that continue to define the SML: beauty, purity and classic craftsmanship. On both the obverse and reverse, selective gold plating adds a rich, golden gleam that reflects our pride in the SML, whose namesake leaf continues to captivate collectors and investors worldwide.
Add a 5 oz. SML celebration to your collection.
Special features
A 35th anniversary celebration. Canada's Silver Maple Leaf (SML) bullion coin turns 35 in 2023 and this special commemorative issue celebrates its 35 years of successes and achievements as one of the most sought-after silver bullion coins.
5 oz. of pure silver. Your coin has been meticulously crafted in 5 oz. of 99.99% pure silver—five times more silver than the one-ounce SML coin.
A very low mintage. With a mintage of just 2,000 coins, this limited collectible brings added distinction and prestige to any collection.
Includes serialized certificate. The Royal Canadian Mint certifies all of its collector coins.
No GST/HST.
Packaging
Your coin is encapsulated and presented in a Royal Canadian Mint-branded clamshell with a black beauty box.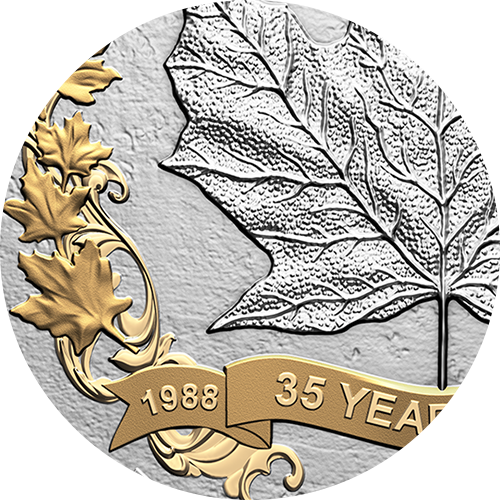 Gold plating
While Walter Ott's iconic maple leaf design is as intricate as ever, the selective application of (yellow) gold plating on the reverse highlights the ornate flourishes that celebrate the SML's anniversary in 2023. The obverse also features selective gold plating.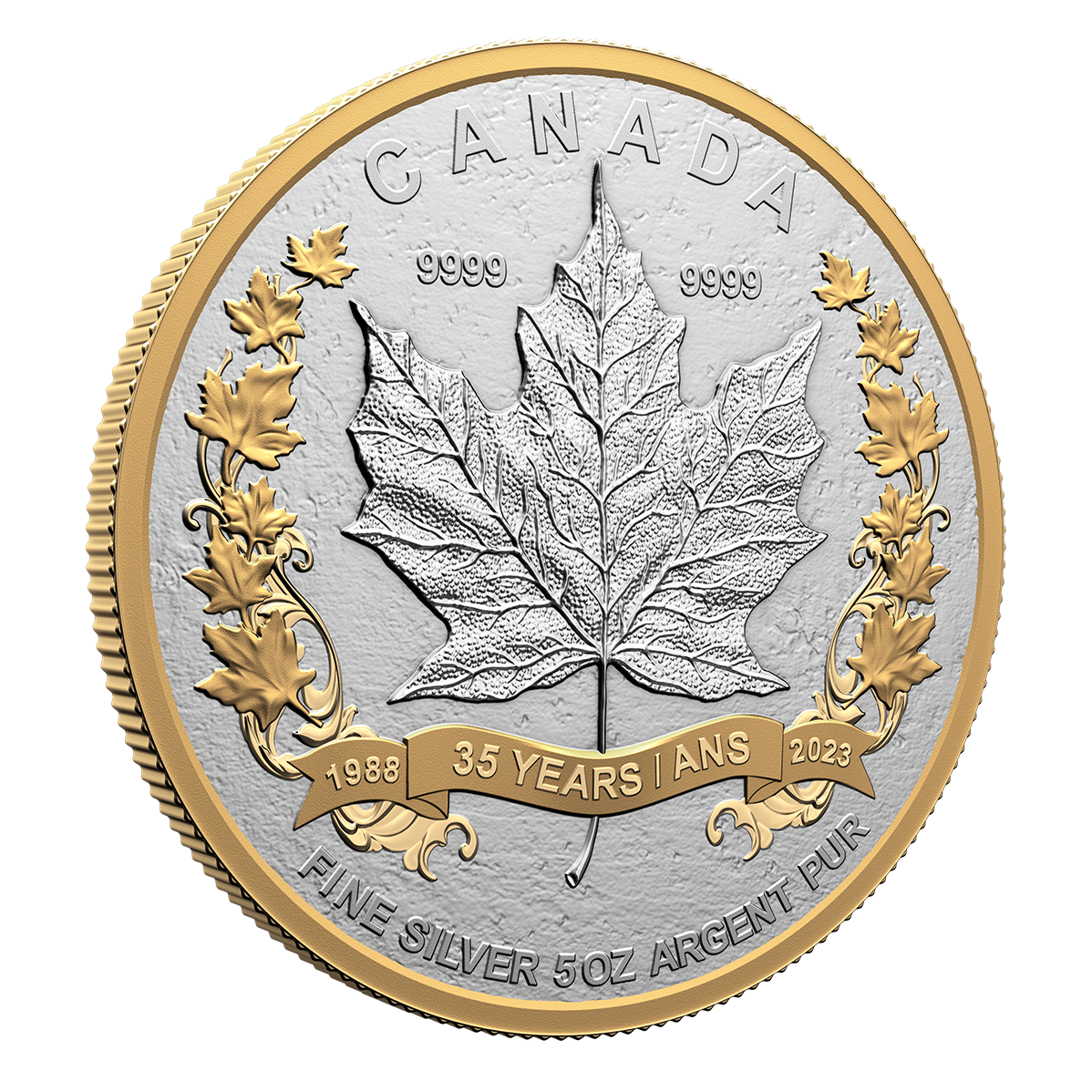 Features a matte proof finish
The field's satin shine creates a pleasing contrast that ensures the focus is on the brilliant relief.
Composition
99.99% pure silver with selective gold plating
Artist
Walter Ott/Tony Bianco (reverse), Susanna Blunt (obverse)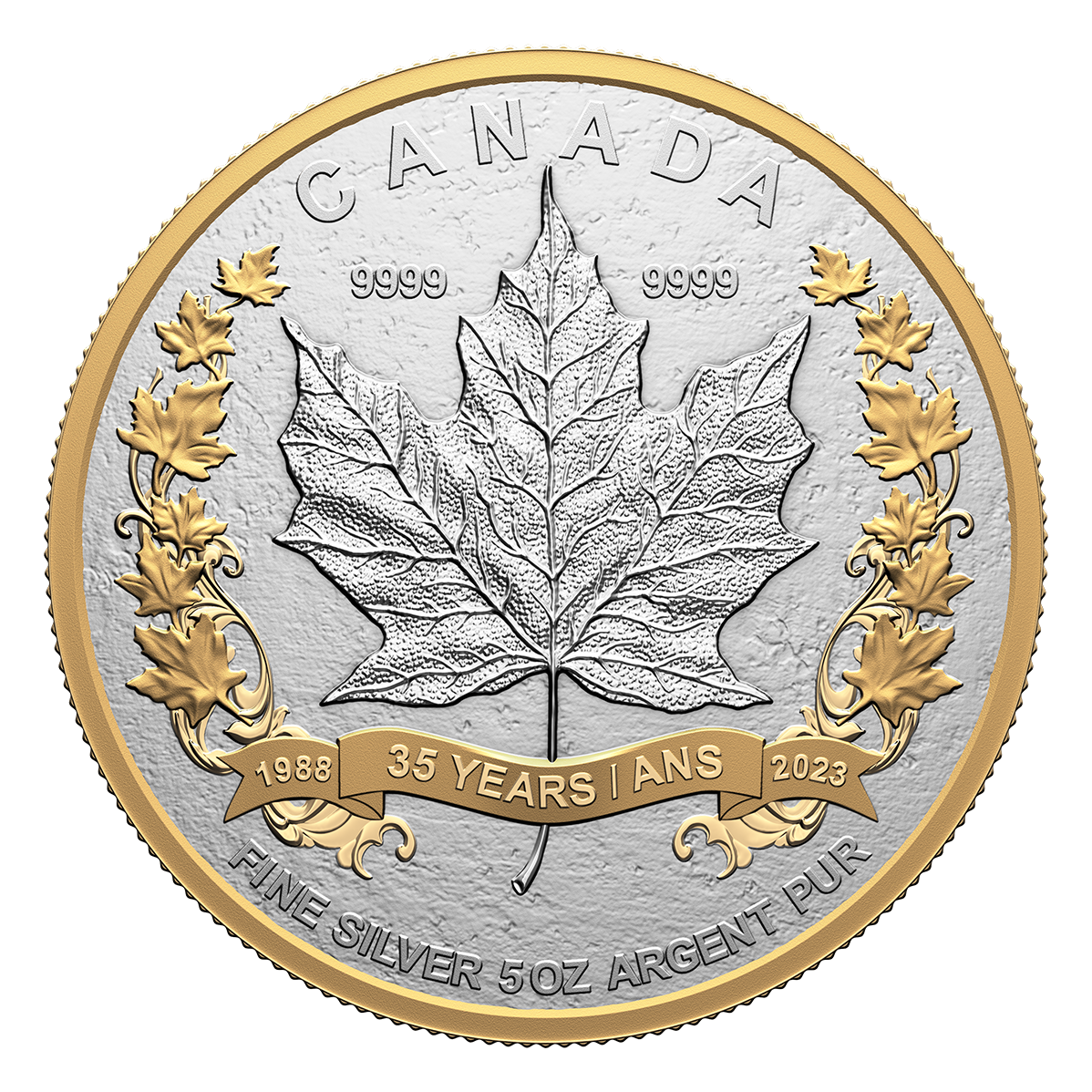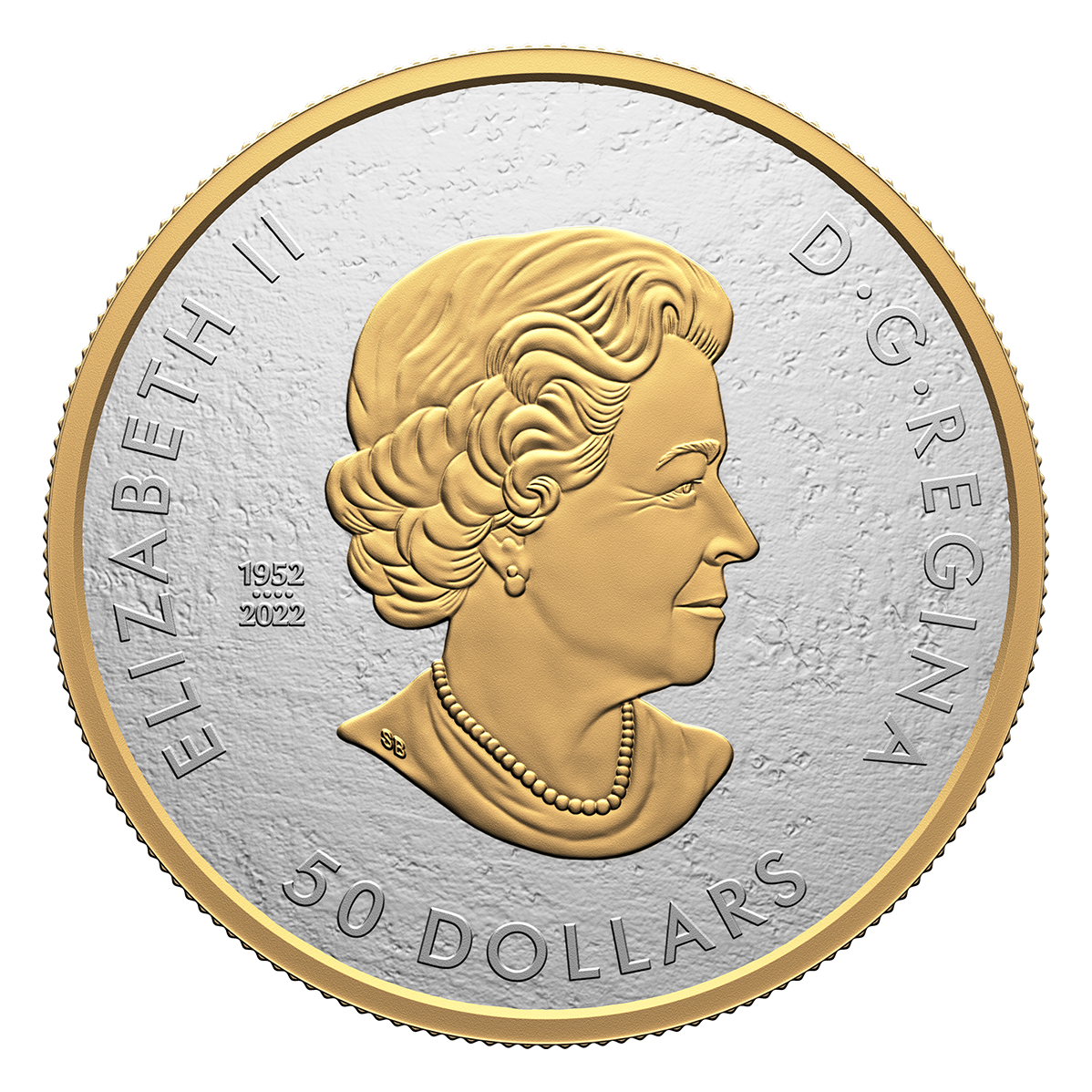 Enhanced with selective gold plating, your coin's reverse features Walter Ott's now-iconic maple leaf design that has graced every Silver Maple Leaf (SML) bullion coin since 1988. The SML design is flanked by intertwined vines and maple leaves designed by artist Tony Bianco, who also created the banner marking the 35th anniversary of the SML in 2023. The selectively gold-plated obverse features the effigy of Queen Elizabeth II by Susanna Blunt. The obverse also bears a special marking that includes four pearls symbolizing the four effigies that have graced Canadian coins and the double date of her reign.
What do you want to know about this product?
Your product was successfully added to your collection.
The product could not be added