1 oz. Fine Silver Coin – Super Incuse Silver Maple Leaf
1 oz. Fine Silver Coin – Super Incuse Silver Maple Leaf
Masters Club:
1,500
Status:

CAN & US shipping only
Black rhodium and super incuse—a striking combination that leaves a deep impression.
For the 2023 edition, we've combined two stand-out features—black rhodium plating from 2020, and the 1.5 mm super incuse depth that set a new standard in 2021—to give our Silver Maple Leaf (SML) design a more modern edge.
This special edition of the SML is a study in contrasts: it mixes standard raised relief with a super-incused strike, and a reverse proof finish (frosted field, brilliant relief) with the sleek satin look of black rhodium plating. The result is a fresh take on a familiar design—it's contemporary, it's captivating, and it is sure to leave a lasting impression.
Black rhodium and super incuse—a bold combination for 2023.
Special features
Fresh yet familiar. This 2023 edition features a new, innovative mix of two

stand-out features: black rhodium plating from 2020, and the 1.5 mm incuse depth from the 2021 and 2022 coins. The perfect addition to your SML collection!

Super incuse—a continuing tradition. In 2021, we took Walter Ott's original art to new depths with the first ever Super Incuse Silver Maple Leaf (SML) coin. We did it again in 2022, and that extreme relief depth of 1.5 mm repeats on the 2023 edition, too.
A favourite. This special issue featuring the SML bullion coin design is crafted in 1 oz. of 99.99% pure silver. Previous 1 oz. SML coins sold out quickly, so don't miss this opportunity in 2023—order today!
Low mintage. Limited to 8,000 coins worldwide.
Includes serialized certificate. The Royal Canadian Mint certifies all of its collector coins.
No GST/HST
Packaging
Your coin is encapsulated and presented in a black Royal Canadian Mint-branded clamshell with a black beauty box.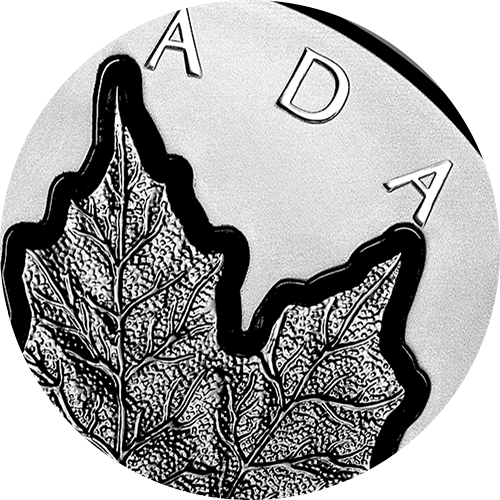 Bold black rhodium
To emphasize the incuse strike and add a modern edge, the deeply recessed maple leaf has been plated with black rhodium. Black rhodium plating also fills the field on the coin's obverse, and it darkens both the coin's edge and rim to boldly frame the reverse.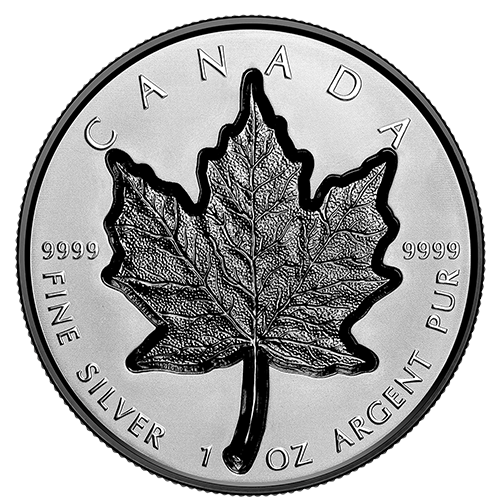 Reverse proof finish
This coin is a study in contrasts, especially with its lightly frosted field and brilliant relief. The reverse proof finish pairs beautifully with the satin sheen of black rhodium to achieve an ultra-modern look that exudes sophistication and truly makes the maple leaf pop!
Composition
99.99% pure silver with selective black rhodium plating
Packaging
Black clamshell with black beauty box
Artist
Walter Ott (reverse), Susanna Blunt (obverse)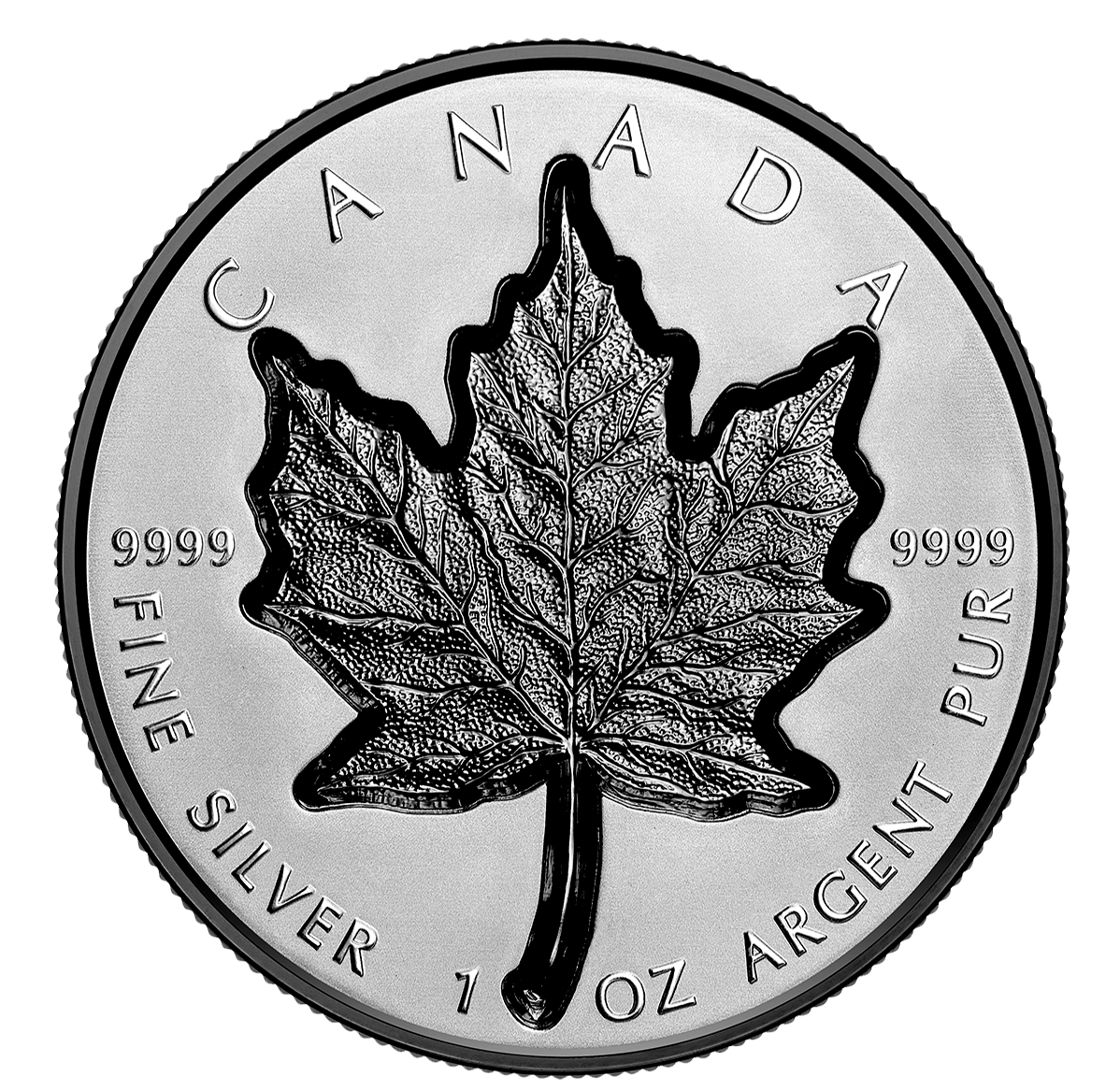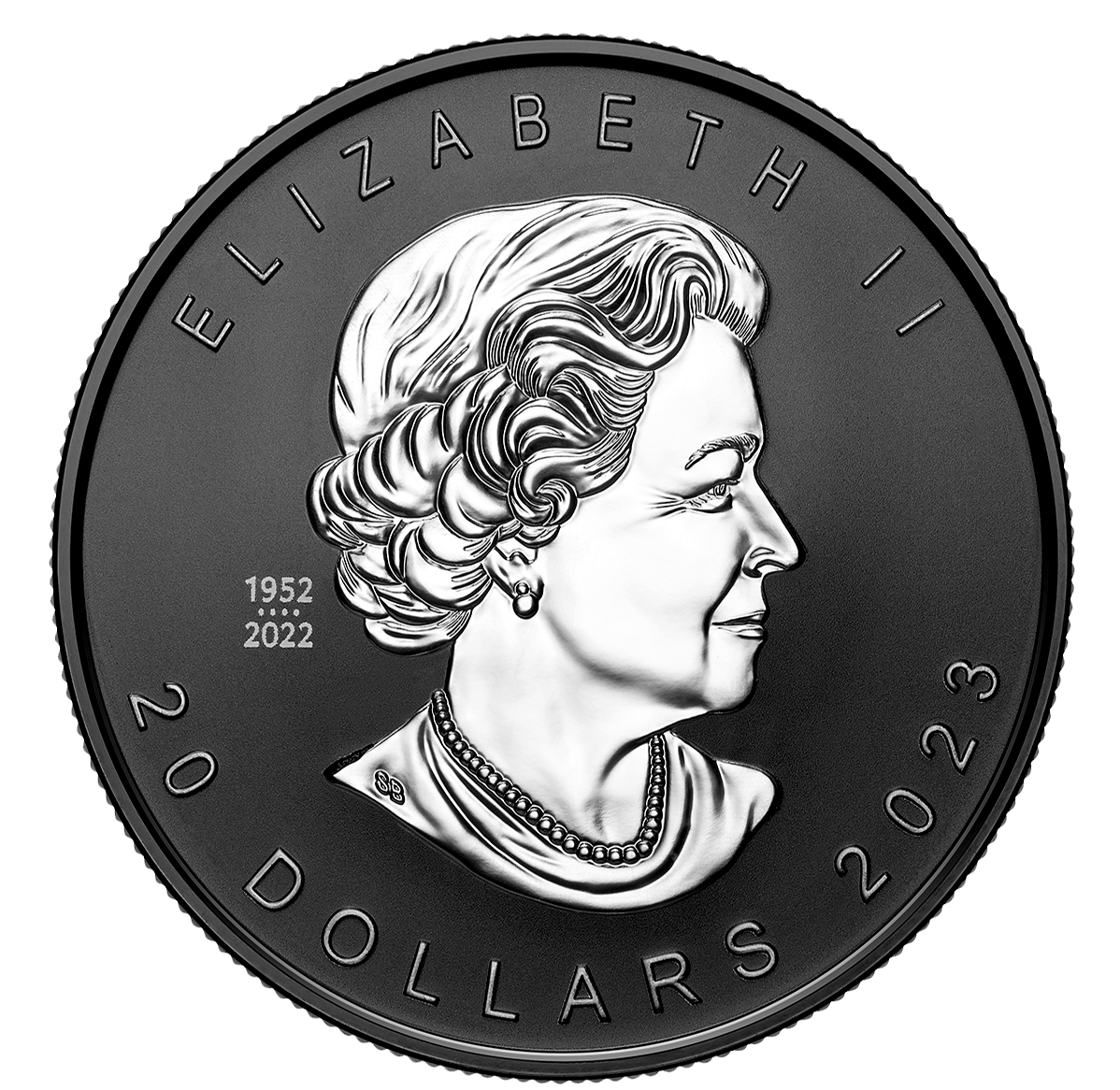 Your coin's reverse features Walter Ott's iconic sugar maple leaf design, unchanged since the first Silver Maple Leaf (SML) bullion coin issued in 1988. Struck incuse, the distinctive sugar maple leaf is plated with black rhodium and reaches a depth of 1.5 millimetres. The coin's reverse proof finish emphasizes the brilliant relief, including the engraved words "CANADA", "FINE SILVER 1 OZ ARGENT PUR" and the purity standard of "9999" on the reverse. Black rhodium plating also fills the field on the obverse, which features the effigy of Queen Elizabeth II by Susanna Blunt. The obverse also bears a special marking that includes four pearls symbolizing the four effigies that have graced Canadian coins and the double date of her reign.
What do you want to know about this product?
Your product was successfully added to your collection.
The product could not be added