1 oz. Pure Gold Coin – Celebrating Canada's Diversity: Knowledge and Interconnection
1 oz. Pure Gold Coin – Celebrating Canada's Diversity: Knowledge and Interconnection
$3,106.28 USD
Pay up to 6 monthlyinstallments of $517.71 USD.
Masters Club:
42,000
Status:

CAN & US shipping only
Availability:

Out of stock in stores
Celebrate Haida culture, people and traditions with this abalone shell-adorned 99.99% pure gold coin.
For the Haida, knowledge is power, and the most vital knowledge—the beliefs, experiences and traditions of their people—is passed down from generation to generation, as represented on this 99.99% pure gold coin. The interconnectedness of all living things, or gina 'waadluxan gud ad kwaagid (everything depends on everything else), is fundamental to the Haida worldview, and that guiding principle is reflected in your coin's reverse design, where the cedar rope binds the generations (the outer and inner rings) together, and the ocean-coloured abalone shell honours the traditional lifeways of Haida Gwaii.
Coin #4 is an abalone shell-adorned expression of Haida culture.
Special Features
Honouring Haida culture. Expertly crafted, this 99.99% pure gold coin proudly pays tribute to the rich artistic heritage and traditional knowledge of the Haida.
Coin #4. Fourth coin in an annual series that highlights the cultural and historical diversity of Canadian society.
A rare collector piece. Only 275 coins are available worldwide.
Includes serialized certificate. The Royal Canadian Mint certifies all of its collector coins.
Packaging
Your coin is encapsulated and presented in a Royal Canadian Mint-branded clamshell with a graphic beauty box.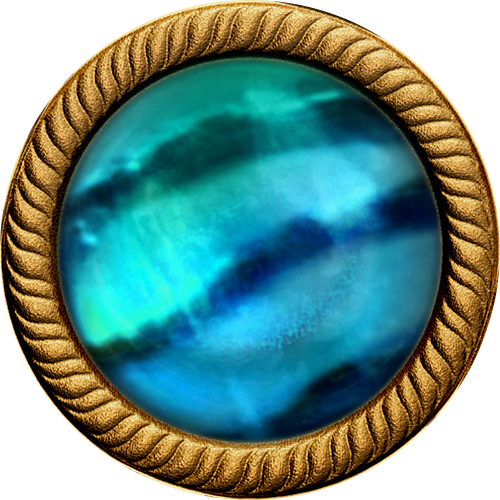 Iridescent abalone shell
With its swirling blues and greens that call to mind the colours of the Pacific Ocean, your coin's abalone shell centrepiece is an organic gem that symbolizes the Haida people's deep connection with the sea.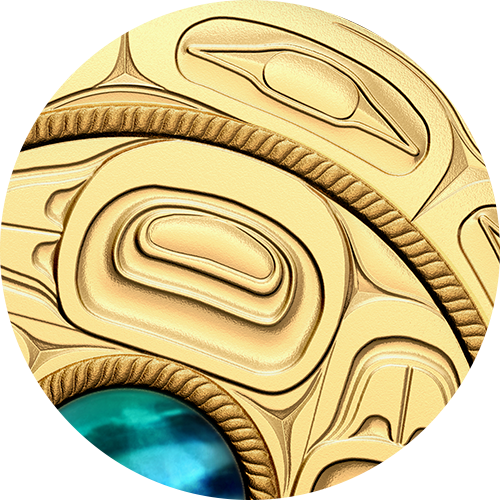 A dazzling art tribute
The engraved design features rounded form lines, ovoid and U shapes that are characteristic of Haida art. These deeply symbolic motifs form a circle with no end or beginning on your coin, and the different elements all flow into one another to form a powerful expression of Haida culture and lifeways.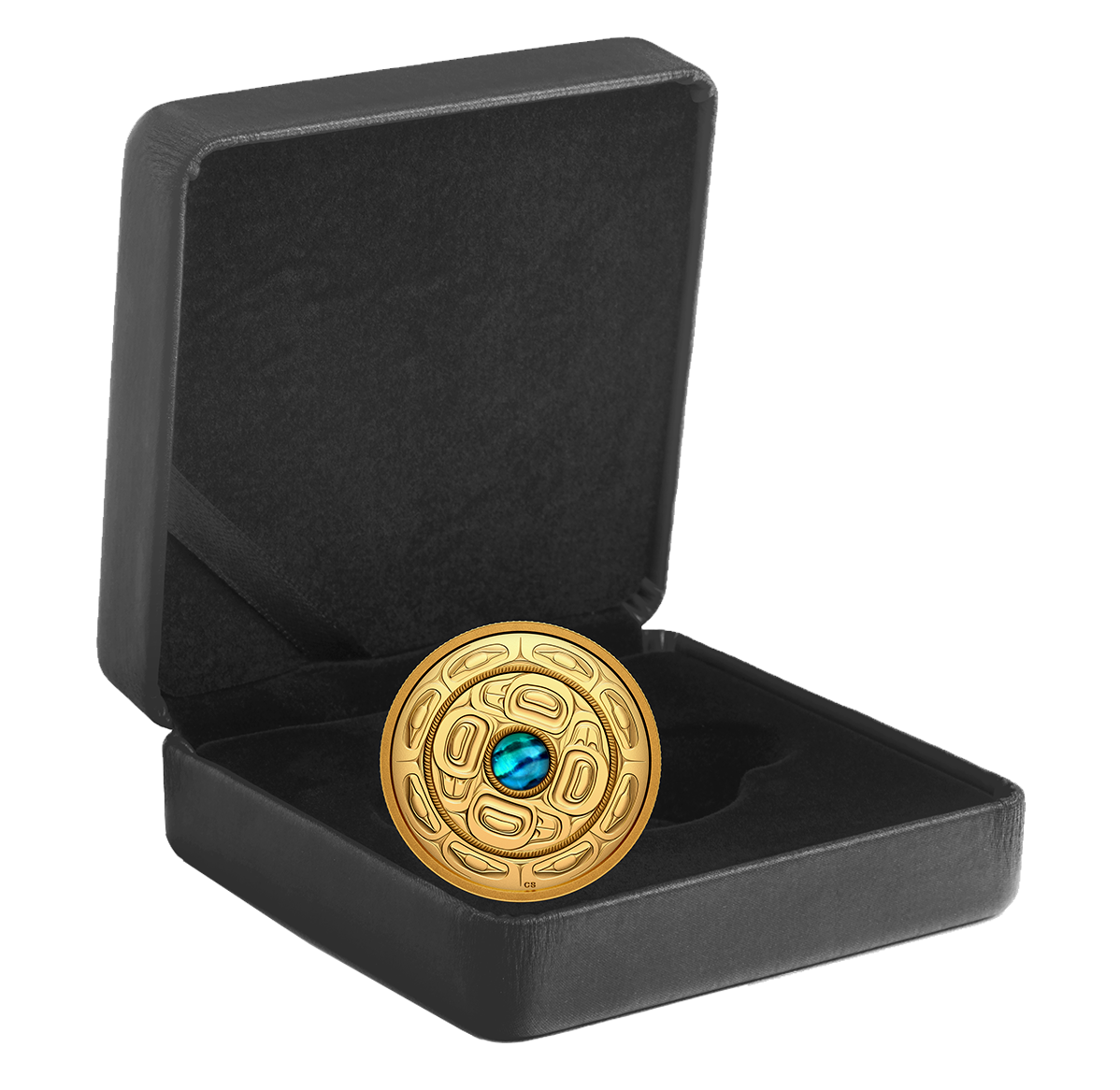 A one-of-a-kind piece
Each coin is adorned with a unique abalone shell that has been responsibly sourced. Since no two shells look the same, your coin is truly a one-of-a-kind collectible.
Composition
99.99% pure gold with abalone shell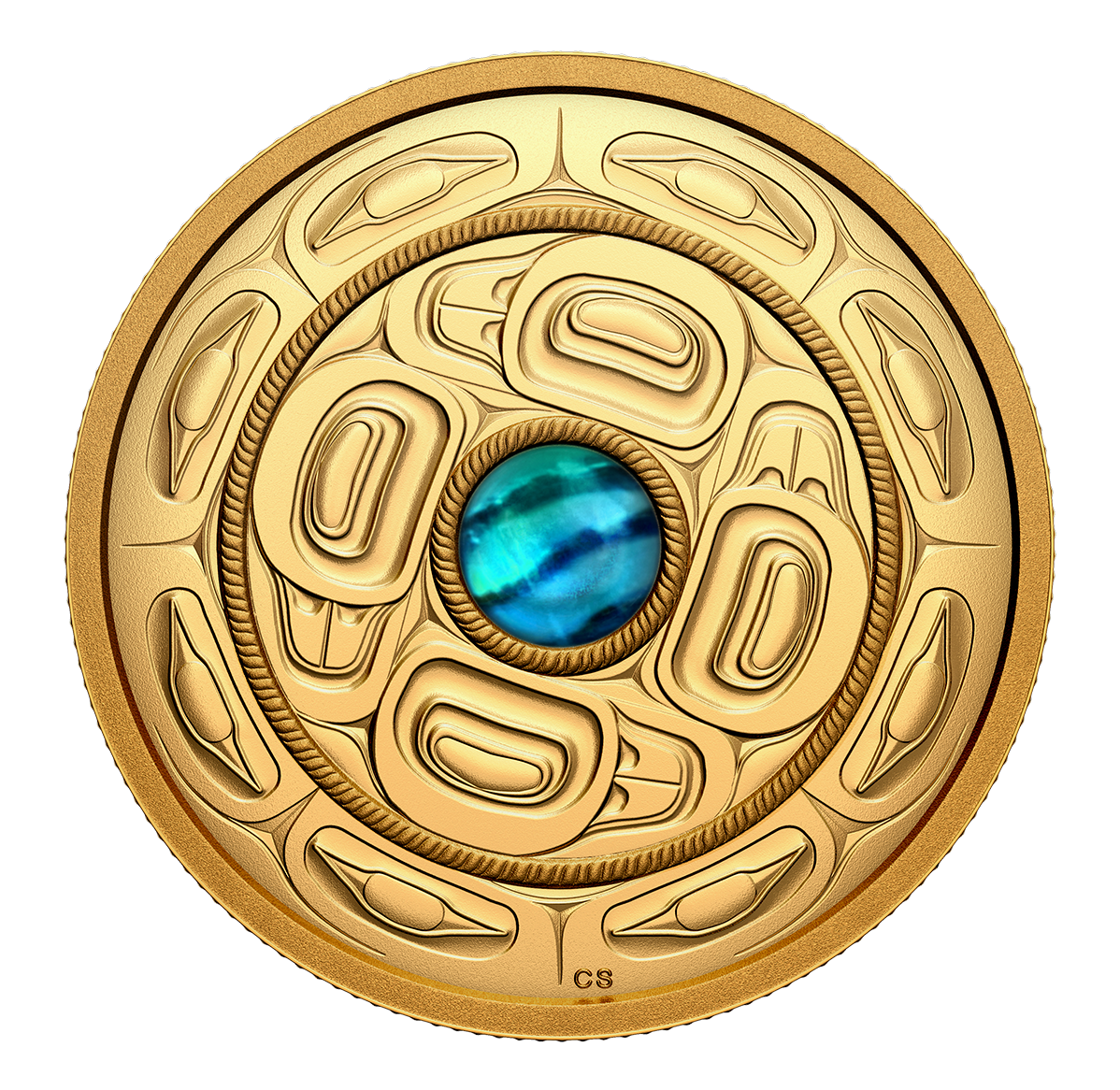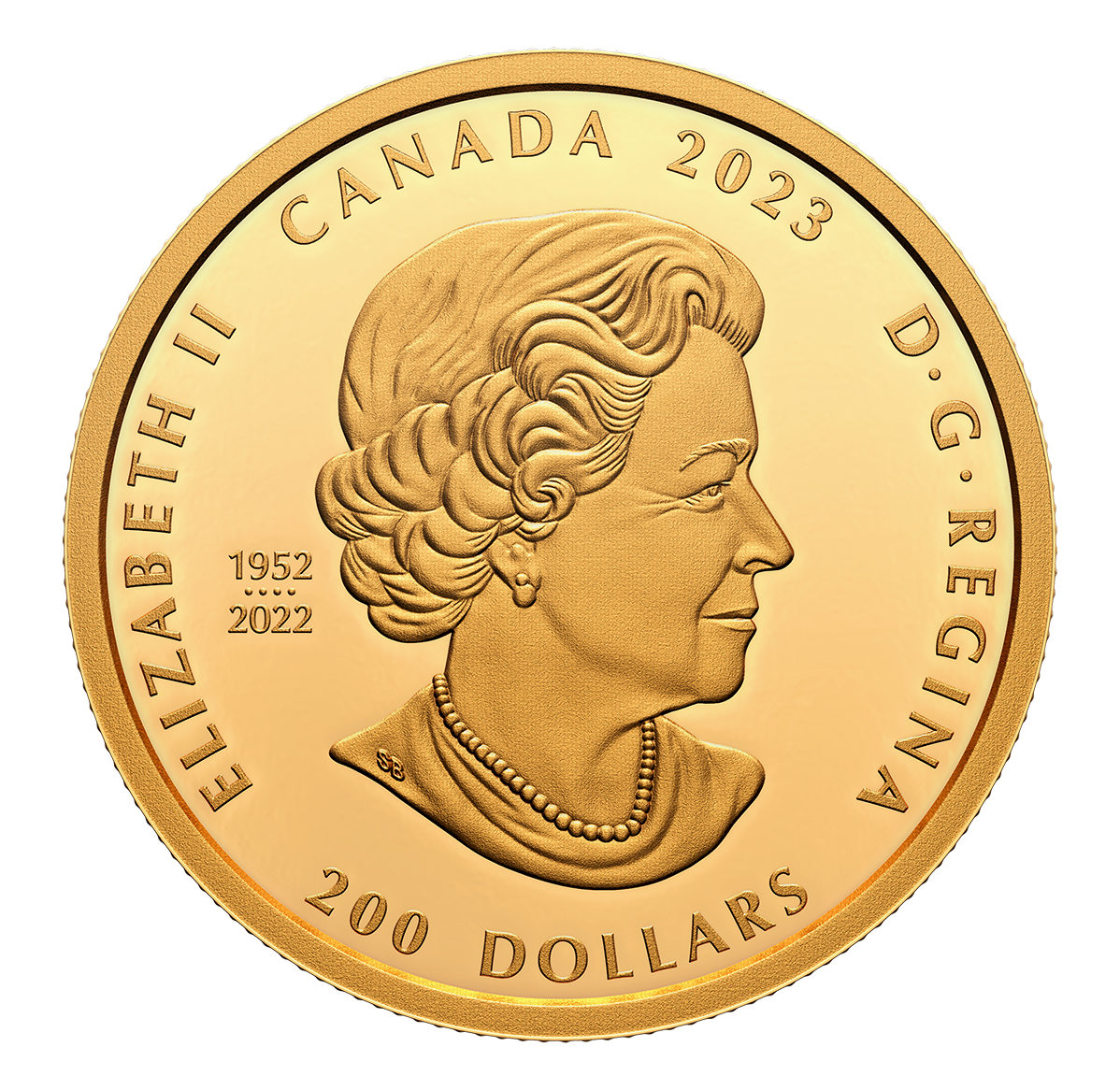 The reverse design by Haida artist Yahl 'Aadas Cori Savard features an abalone shell inlay surrounded by engraved motifs that honour Haida beliefs and values. The ovoid and U shapes on the outer ring represent the eyes of the Haida Elders and knowledge holders who watch over the younger generations, represented by the inner ring. The repetitive patterns flow into one another, as knowledge is passed down from one generation to the next, while the intertwined cedar rope further reinforces this notion of interconnection—of generations, of land and sea. The obverse features the effigy of Her Majesty Queen Elizabeth II by Susanna Blunt. The obverse also bears a special marking that includes four pearls symbolizing the four effigies that have graced Canadian coins and the double date of her reign.
What do you want to know about this product?
Your product was successfully added to your collection.
The product could not be added