1 oz. Pure Silver Coin with Yellow Gold Plating – Celebrate Love
1 oz. Pure Silver Coin with Yellow Gold Plating – Celebrate Love
Masters Club:
1,200
Status:

CAN & US shipping only
Availability:

Out of stock in stores
Celebrate love in all its forms with this everlasting keepsake.
Love is a precious gift that takes many shapes in our lives, whether it's the grounding love between family members and friends; the unbreakable bond of parent and child; the pulse-quickening affection of lovers; the deep devotion that is nurtured through understanding, respect and trust; or even the self-love that is the foundation for all of these relationships.
Love in all its forms is worth celebrating, and this 99.99% pure silver keepsake is a heartfelt expression of your feelings and gratitude for someone special. Through its everlasting bouquet of jasmine flowers and infinity heart, the coin's reverse expresses the joys of being connected to someone, and of being part of something bigger than yourself. That sentiment is amplified by yellow gold plating, which invites you to let love shine bright by showing you care.
Give the gift of an everlasting expression of love.
Special features
Celebrate love in all its forms. Friendship, familial, romantic and more—celebrate the love that surrounds you with this everlasting expression of appreciation and affection.
A precious gift. Crafted in 99.99% pure silver and packaged in an elegant gift-ready box, this love keepsake is the perfect way to show someone you care—today and every day.
Mark the occasion. A meaningful gift for celebrating milestones and moments together, or to mark a special occasion such as a wedding, engagement, birthday, anniversary, Valentine's Day, Mother's Day, and more!
Limited mintage. Only 10,000 are available to collectors worldwide.
NO GST/HST. (if applicable)
Packaging
Your coin comes encapsulated and nestled in a sophisticated presentation box for easy and elegant gift giving.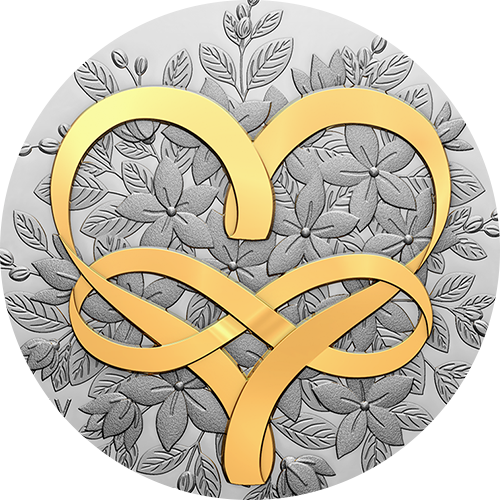 Selective gold plating
Thanks to yellow gold plating, love shines extra bright on this coin! The luxurious gold accent highlights the infinity heart on the reverse, the effigy on the obverse, and the rim that frames the engraving on both sides.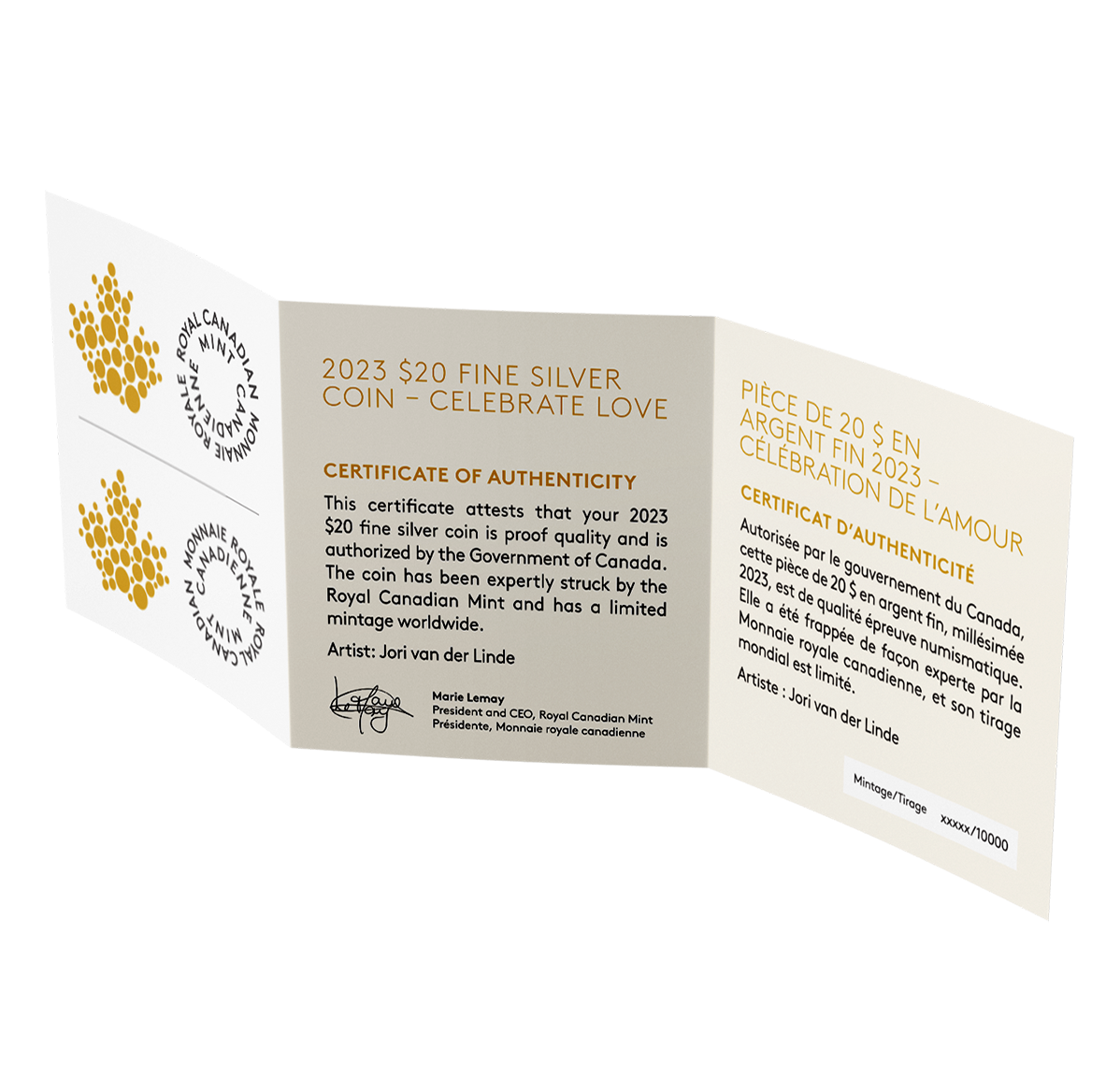 Specially designed certificate
Includes a specially designed certificate in full-colour with space to add your own personalized message.
Composition
99.99% pure silver with yellow gold plating
Packaging
Premium graphic box
Artist
Jori van der Linde (reverse), Susanna Blunt (obverse)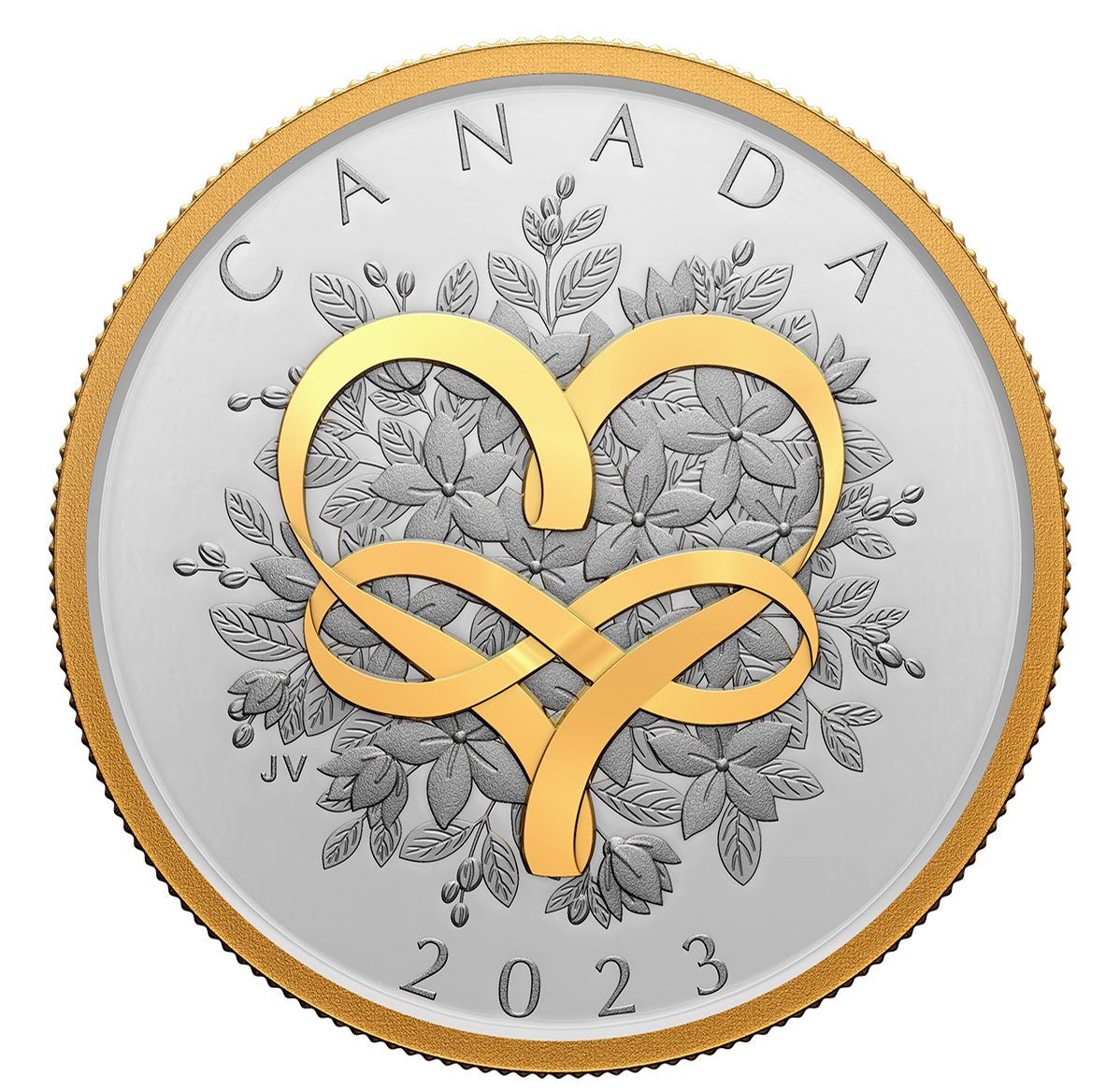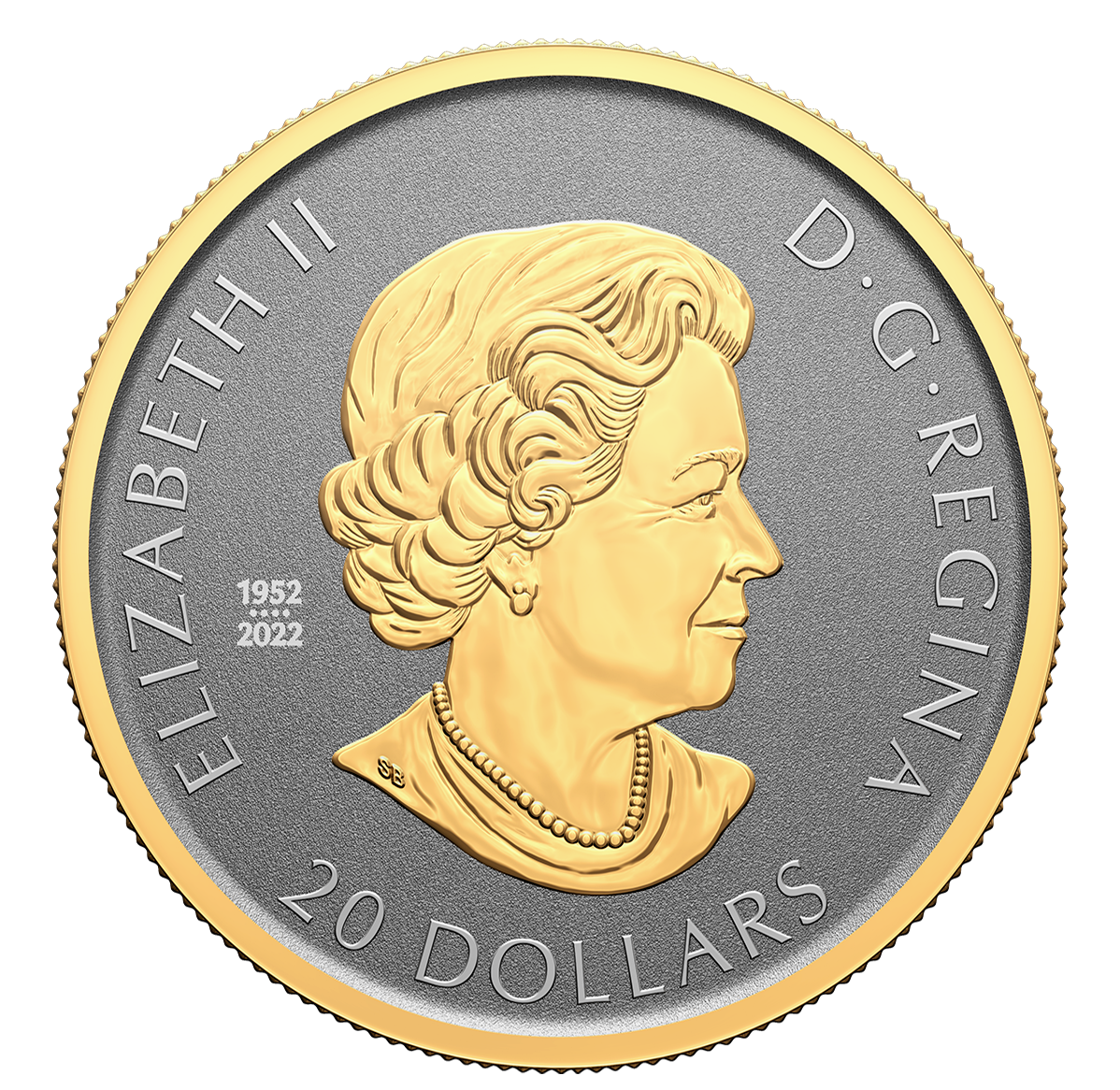 The reverse design by Canadian artist Jori van der Linde is an expression of love that transcends romance. The feelings and thoughts associated with love are represented by the bouquet of jasmine flowers, which are widely regarded as a precious symbol of beauty, love affection, purity or good luck. Enhanced with gold plating, a ribbon weaves its way through the flowers to form an intricate infinity heart that represents unity and an unending bond. The word "CANADA" and the year "2023" are also engraved on the reverse. The obverse features the gold-plated effigy of Queen Elizabeth II by Susanna Blunt. The obverse also bears a special marking that includes four pearls symbolizing the four effigies that have graced Canadian coins and the double date of her reign.
What do you want to know about this product?
Your product was successfully added to your collection.
The product could not be added