1 oz. Pure Silver Coin – Remembrance Day
1 oz. Pure Silver Coin – Remembrance Day
Masters Club:
1,150
Status:

CAN & US shipping only
Shipping:

Expected to be shipped on Dec 14
Join us in honouring Canadians who serve and have served.
It is a solemn memorial for a solemn occasion, a powerful tribute to the one and the many. Depicted on this 99.99% pure silver coin, the Tomb of the Unknown Soldier in front of the National War Memorial in Ottawa honours those who have made the ultimate sacrifice for our nation, and serves as the centrepiece of Canada's Remembrance Day ceremonies. It is the place where generations of Canadians come to pay homage to the fallen, and to place upon it a red poppy that honours the sacrifices made in the name of freedom and peace.
Add a Remembrance Day poppy coin to your collection.
Special features
Honouring service and remembering the Fallen. Through its red poppies, this Remembrance Day coin honours those who serve and have served, and those who gave their lives in service to Canada.
A powerful addition to any collection. Meticulously crafted in 1 oz. of 99.99% pure silver, this special collectible is sure to make a meaningful impression—especially as part of your collection, where it will inspire reflection for years to come.
Includes serialized certificate. The Royal Canadian Mint certifies all of its collector coins.
No GST/HST.
Packaging
Your coin is encapsulated and presented in a Royal Canadian Mint-branded clamshell with a black beauty box.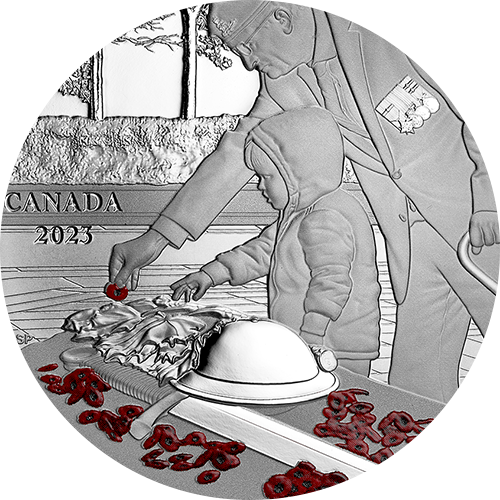 A nation's pledge to never forget
Set at a hallowed site of national remembrance, the scene on your coin's reverse depicts a Veteran involving his grandchild in an act of Remembrance, thereby helping to ensure that the traditions—and the promise to never forget—will be carried forward by each new generation of Canadians.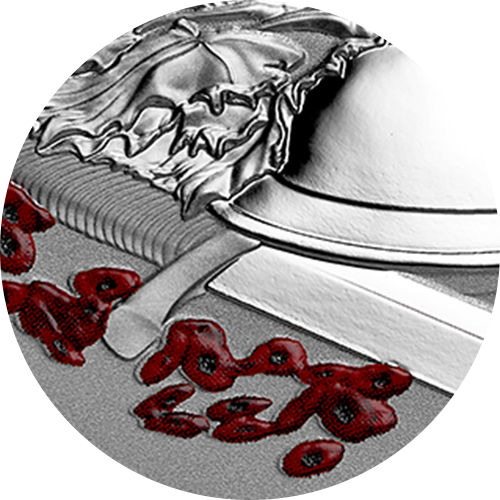 Selective colour
A selective application of colour highlights the red poppies that symbolize Remembrance. Part of a longstanding tradition, poppies are often placed upon, or at the base of, a cenotaph or memorial as a show of respect after Remembrance Day ceremonies.
Composition
99.99% pure silver with selective colour
Packaging
Black clamshell with black beauty box
Artist
Silvia Pecota (reverse), Susanna Blunt (obverse)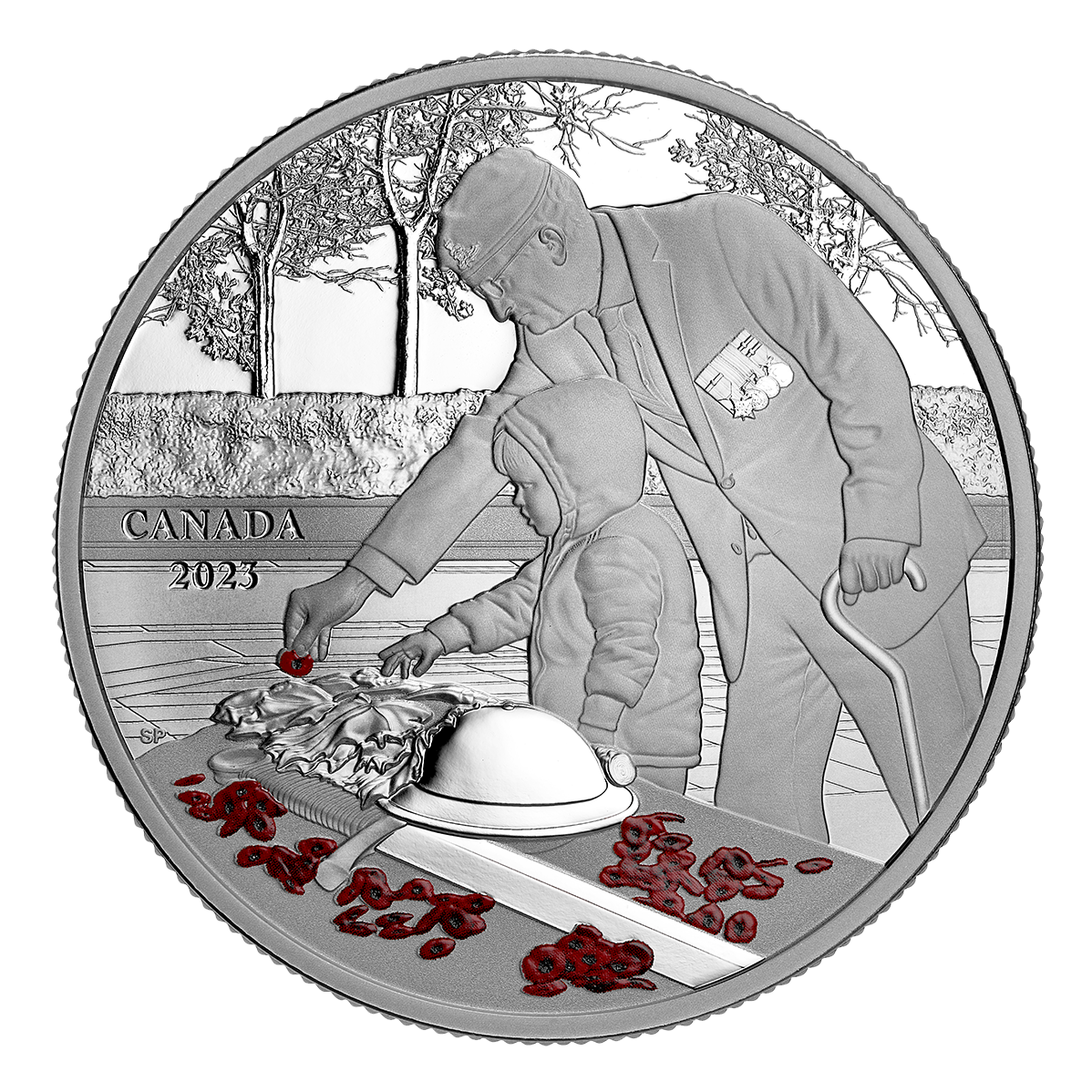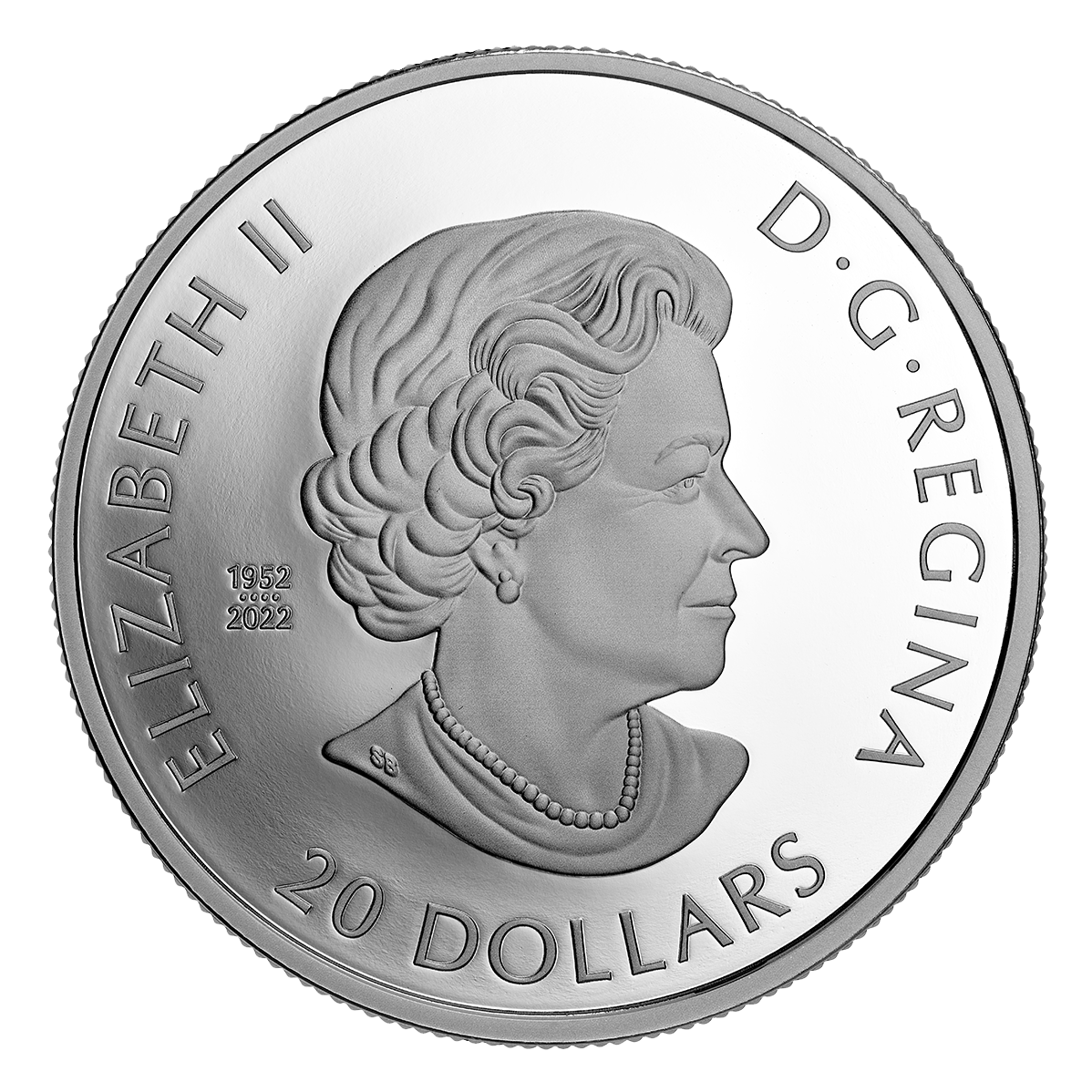 The reverse design by Canadian artist Silvia Pecota depicts a powerful moment at the National War Memorial in Ottawa, Ontario. A Veteran lays a red poppy on the Tomb of the Unknown Soldier, where many have already placed theirs as a show of respect. By involving his grandchild, he is helping to ensure that the traditions of Remembrance will be carried forward through the years by each new generation of Canadians. The obverse features the effigy of Queen Elizabeth II by Susanna Blunt. The obverse also bears a special marking that includes four pearls symbolizing the four effigies that have graced Canadian coins and the double date of her reign.
The Poppy Design is a registered trademark of The Royal Canadian Legion, Dominion Command and is used under license.
What do you want to know about this product?
Your product was successfully added to your collection.
The product could not be added