$175 Fine Silver Coin – From the R&D Lab: Birds in Shadow Box
$175 Fine Silver Coin – From the R&D Lab: Birds in Shadow Box
$2,442.62 USD
Pay up to 6 monthlyinstallments of $407.10 USD.
Masters Club:
33,000
Status:

CAN & US shipping only
Availability:

Out of stock in stores
Quantity:

Maximum 1 per customer
Be one of the few to own a prototype that takes dimensional art to the next level(s).
The shadow box is a timeless artform, one that draws you in by layering shapes to create a beautiful and familiar scene—like the one featured on this extraordinary collectible. Building on the multilayered concept introduced in 2019, the latest minting innovation from our R&D Lab is a prototype shadow box coin that pushes the boundaries of dimensional engraving even further.
The coin's reverse takes the 2019 Birds in the Backyard design and breaks it down into four distinct layers of art. By spacing out and superimposing these layers, the arrangement forms a richer, more complex scene with unparalleled depth, detail and realism, made possible by our R&D researchers.
From the R&D Lab comes another exciting world first: a shadow box coin. After a robust research and development process that began before 2022, we are pleased to share this amazing collectible with you. The 2022-dated coin features the obverse with the effigy of the late Queen Elizabeth II by Susanna Blunt that has appeared on our coins from 2003 to 2022.
Special features
Groundbreaking. This is your first look at a groundbreaking innovation from the Royal Canadian Mint's R&D Lab, which is behind some of our most exciting coin products and minting advances.
A world first. The world's first shadow box coin features four separate layers of art on its reverse. To best demonstrate this new minting technology, we took a familiar scene (2019's Birds in Backyard design) and broke it down into engraved top and bottom layers, and two superimposed cut-out layers in the middle.
Extremely low mintage. One of our most popular collector series, From the R&D Lab coins represent an initial test run for never-before-seen technology—that's why the mintage is so low. These extremely rare coins always sell out quickly, and for 2022, only 252 were minted. Hurry, order yours today!
Includes serialized certificate. The Royal Canadian Mint certifies all of its collector coins.
NO GST/HST (if applicable)
Packaging
Your prototype coin is encapsulated and presented in an exclusive R&D Lab wooden box, along with a special certificate that explains the technology.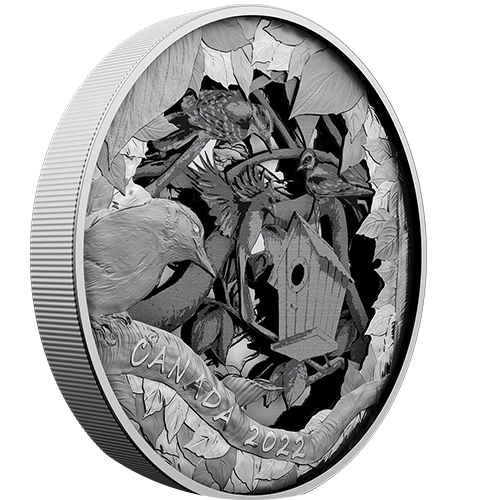 Outstanding depth and detail
This coin requires multiple viewings to fully appreciate all the details! The layers have been spaced out to create a floating image effect, and some of the overlapping portions obscure details that are only visible when the coin is viewed from a different angle.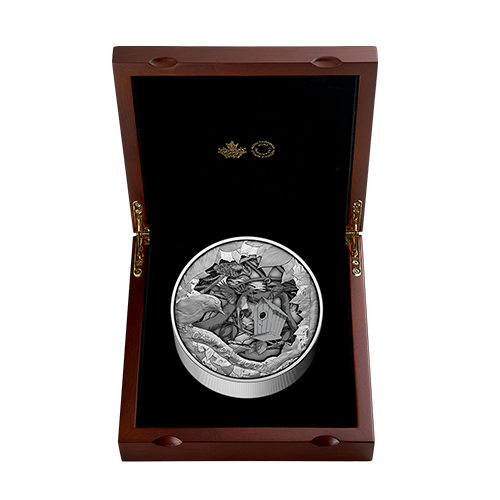 Exclusive packaging
Your prototype shadow box coin comes packaged in an exclusive R&D Lab wooden box with a special certificate that explains the technology.
Composition
99.99% pure silver
Packaging
Wood case with black beauty box
Artist
Neil Hamelin (reverse), Susanna Blunt (obverse)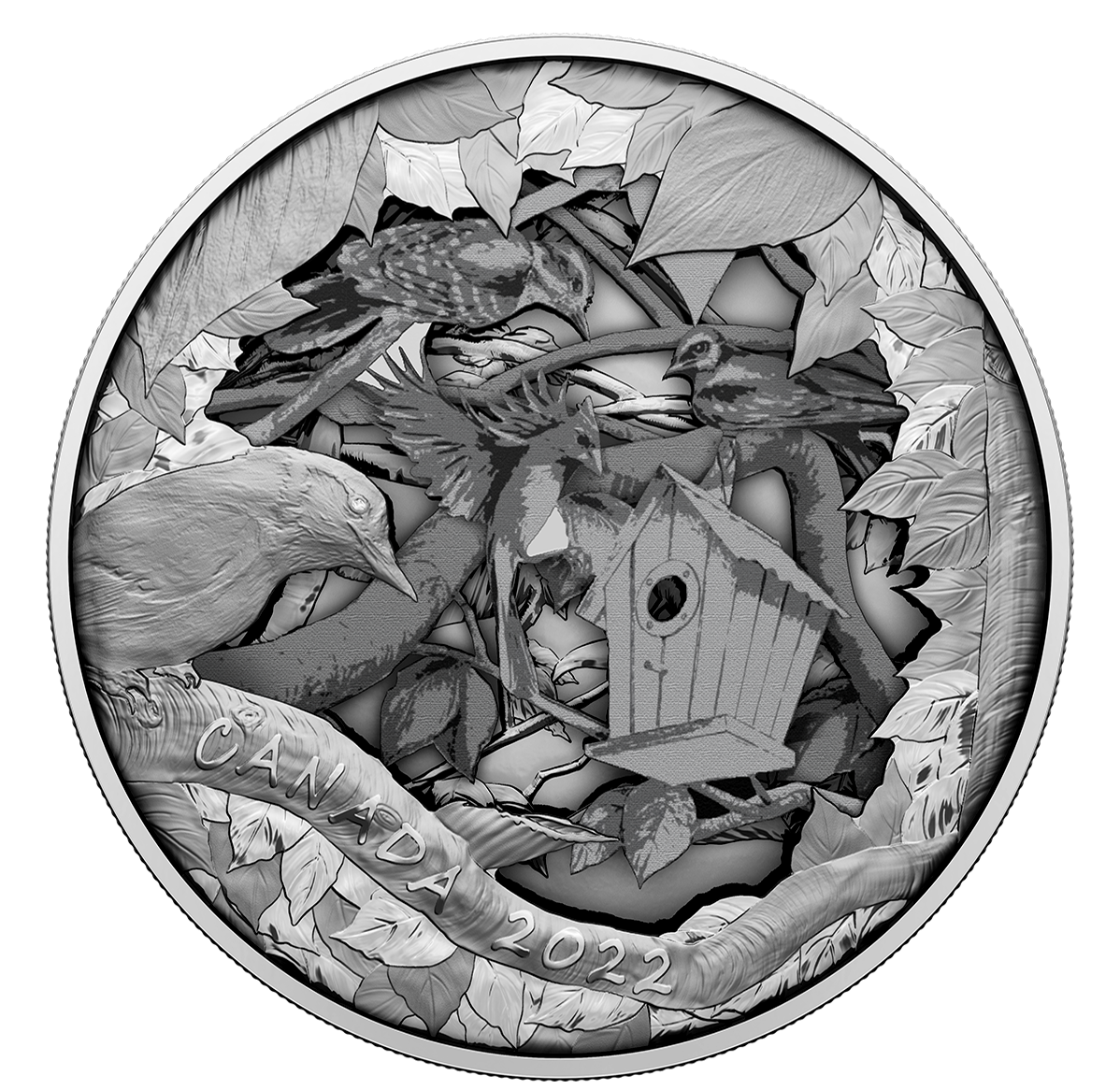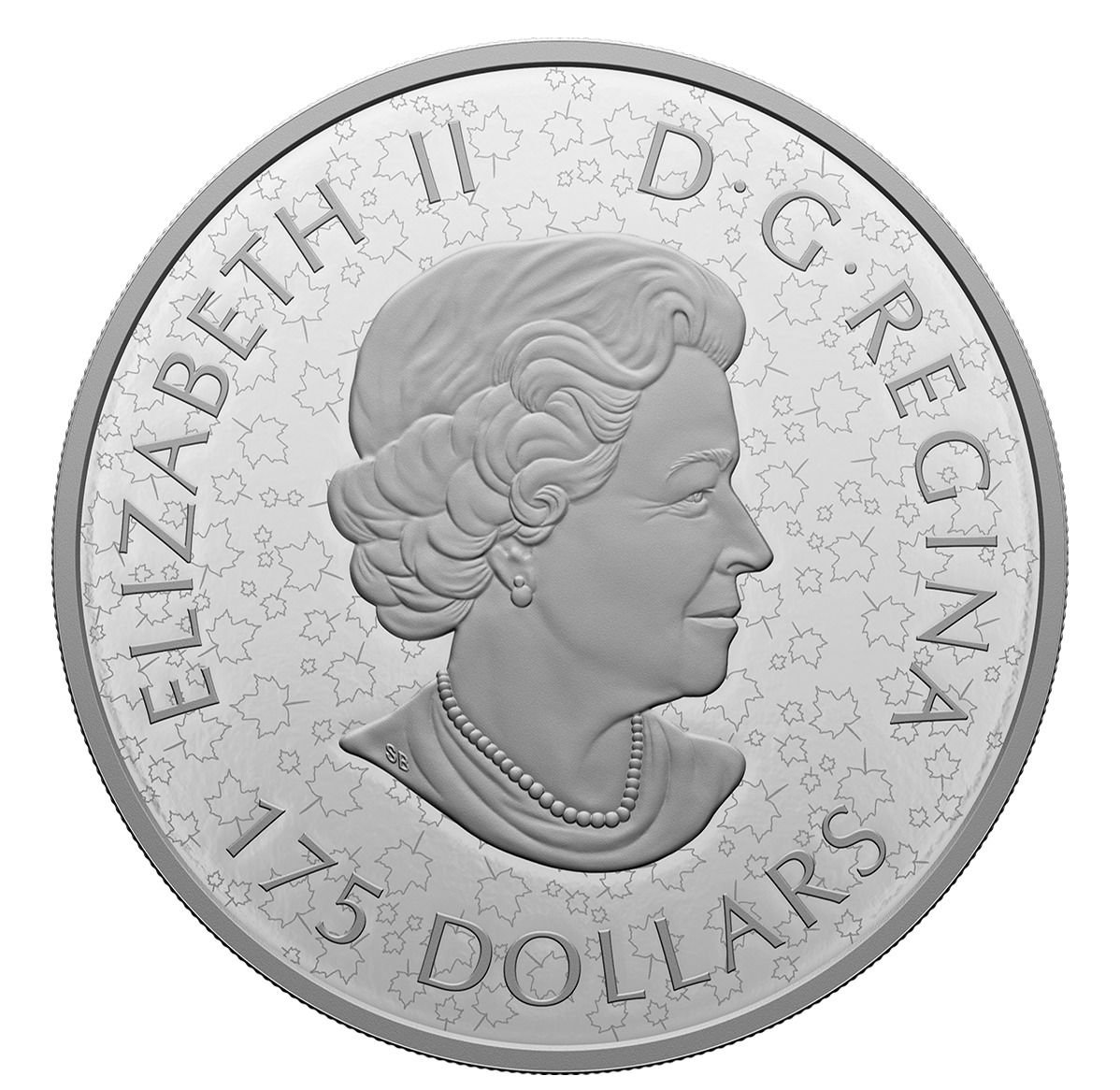 Your prototype coin's reverse features a groundbreaking shadow box concept that separates Neil Hamelin's 2019 Birds in the Backyard design into four distinct layers of art. The bottom layer features the engraved leaves and branches of a catalpa (Catalpa speciosa) tree. The two middle layers feature three birds on the upper layer, a nest box and branches on the lower one—are superimposed to create a floating image effect. The top layer consists of a blue jay and leaves that frame your view of this multidimensional scene. The obverse features a laser-frosted maple leaf background pattern and the effigy of Her Majesty Queen Elizabeth II by Susanna Blunt.
What do you want to know about this product?
Your product was successfully added to your collection.
The product could not be added