2 oz. Pure Silver Coin – The Striking Bald Eagle
2 oz. Pure Silver Coin – The Striking Bald Eagle
Masters Club:
2,100
Status:

CAN & US shipping only
Shipping:

Expected to be shipped on Oct 10
Two bald eagles form a striking pair on this fine silver coin, which combines classic engraving with strong visual imagery.
At once graceful and formidable, the bald eagle is easily one of the most visually striking birds. Its dignified appearance, whether in flight or at rest, never fails to inspire awe—as it does in this 2 oz. 99.99% pure silver portrait. Generously sized (50 mm) to allow ample details, the coin's reverse captures a picture-perfect moment in the wild and shows a bald eagle pair mere seconds after landing on a pine bough.
Features two birds on one coin that captures a picture-perfect moment.
Special features
An inspiring portrait. The follow-up to 2022's The Mighty Bison, your coin's reverse captures a rare moment in the wild, where the sight of not one but two bald eagles evokes a sense of awe and admiration.
Superbly sculpted. This 2 oz. 99.99% fine silver coin features a classic design style and a wealth of classically engraved details that reward repeat viewings.
2 oz. of the finest silver. Your coin is crafted in 2 oz. of 99.99% pure silver and features a 50 mm diameter that provides ample space for finely engraved details. Also available in 1 oz. 99.99% pure gold (new for 2023).
Low mintage. Only 4,500 coins are available to collectors worldwide. A great addition to any silver or wildlife-themed collection!
Includes serialized certificate. The Royal Canadian Mint certifies all of its collector coins.
No GST/HST.
Packaging
Your coin is encapsulated and presented in a Royal Canadian Mint-branded clamshell with a black beauty box.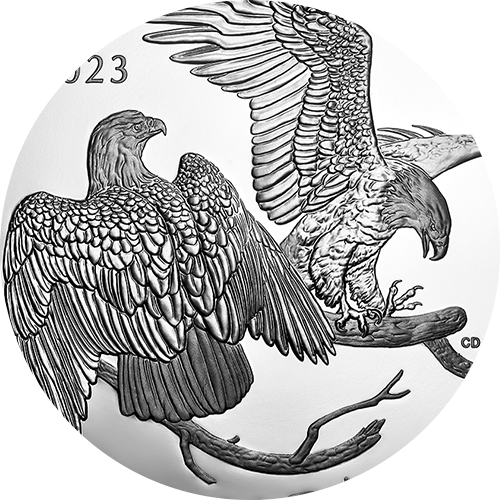 A strong, compelling design
Features a strong, balanced visual concept that implies a circular motion through the positioning of the eagles, while the curved tree branch helps to ground the design.
A mix of frostings
Multiple frostings add a sense of depth and create a striking contrast between the different design elements, resulting in a more realistic portrait of a bald eagle pair.
Composition
99.99% pure silver
Packaging
Black clamshell with black beauty box
Artist
Claudio D'Angelo (reverse), Susanna Blunt (obverse)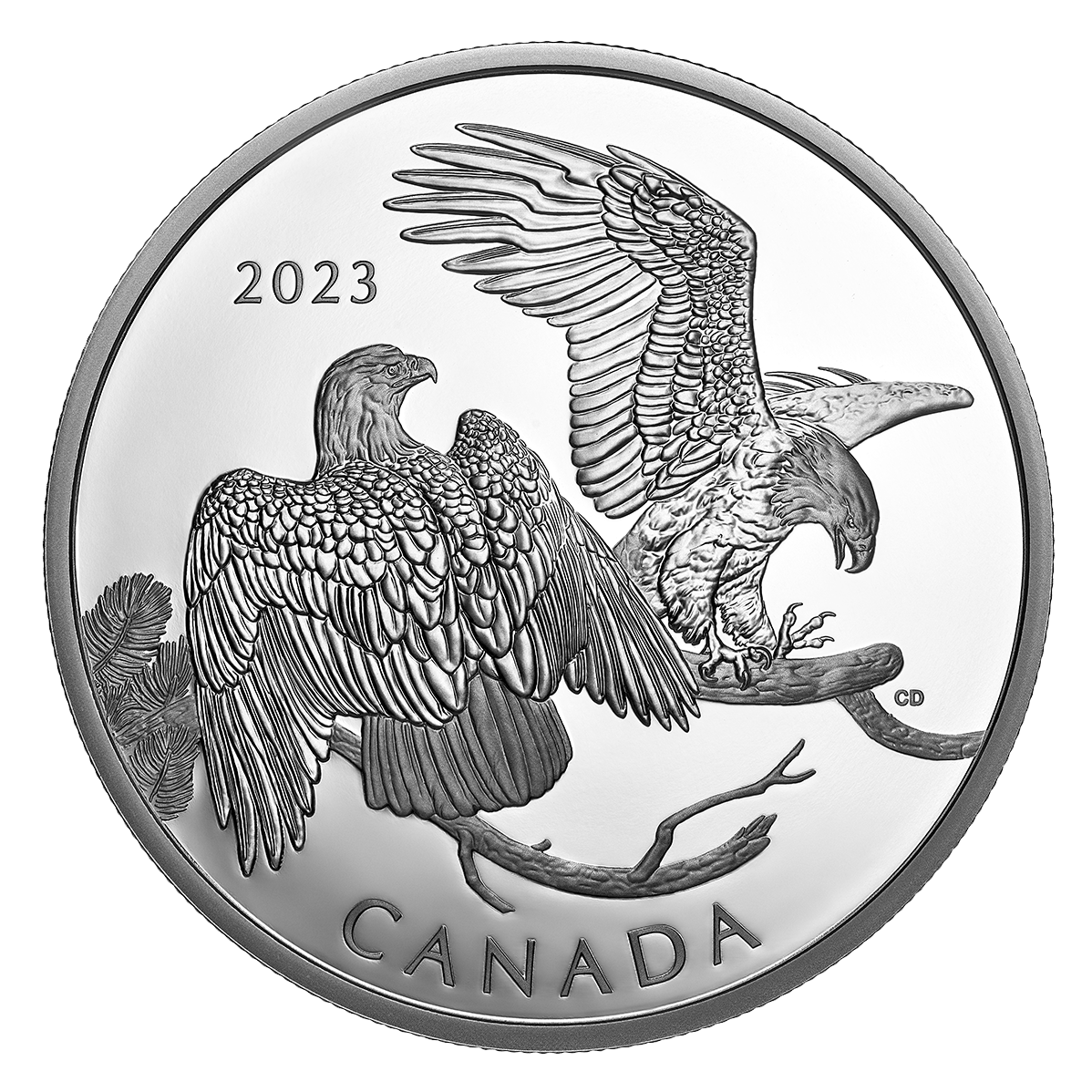 Designed by Canadian wildlife artist Claudio D'Angelo, your coin's reverse features a portrait of two bald eagles (Haliaeetus leucocephalus) on a pine bough. These majestic raptors are positioned in a way that best showcases their features and also implies motion, with the perched eagle holding its wings outward while gazing at its companion, while the newly landed eagle tries to secure its grip. The obverse features a field pattern and the effigy of Queen Elizabeth II by Susanna Blunt. The obverse also bears a special marking that includes four pearls symbolizing the four effigies that have graced Canadian coins and the double date of her reign.
What do you want to know about this product?
Your product was successfully added to your collection.
The product could not be added