1 Kilogram Pure Gold Coin – Vantage Point – Bald Eagle by Robert Bateman
1 Kilogram Pure Gold Coin – Vantage Point – Bald Eagle by Robert Bateman
$73,261.85 USD
Pay up to 6 monthlyinstallments of $12,210.31 USD.
Masters Club:
995,000
Status:

CAN & US shipping only
Availability:

Out of stock in stores
Grow your numismatic art collection with this pure gold Robert Bateman exclusive.
The epitome of strength and resilience in the wild, the bald eagle is a regal sight to behold on this magnificent 99.99% pure gold coin. The coin's reverse presents an engraved take on Vantage Point – Bald Eagle, an inspiring work of art by world-renowned wildlife artist Robert Bateman. Just a glimpse of this bald eagle elicits feelings of awe, even as it quietly sits on its moss-covered perch, its body turned boldly into the wind blowing in from the sea.
A precious Robert Bateman art showcase. Order today!
Special Features
Your 2023 Robert Bateman exclusive! This gold kilo coin represents the finest in Canadian wildlife and numismatic art. Its reverse features original artwork by internationally renowned wildlife artist and naturalist, Robert Bateman.
A limited-edition work of art! Only 50 coins are available to collectors worldwide.
One kilogram of 99.99% pure gold! Beauty lies in the details—your coin's 101.6 mm diameter allows for an outstanding amount of photo-realistic engraved details that capture the spirit of both the original art and its subject.
Includes an insert card. Along with a serialized certificate of authenticity, your coin comes with a special insert card. The insert features the artist statement, as well as a reproduction of both the original artwork and the artist's signature.
No GST/HST.
Packaging
Your coin is encapsulated and presented in a Royal Canadian Mint-branded clamshell with a black beauty box.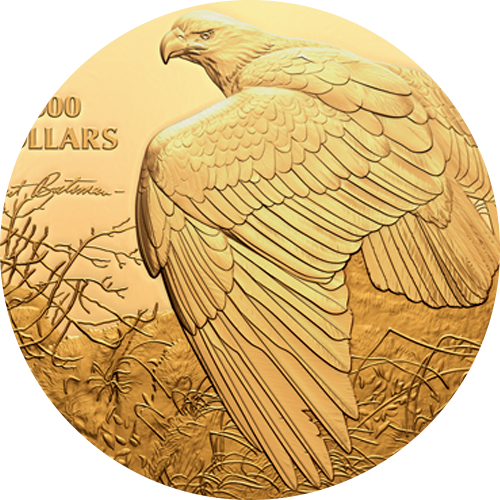 An inspiring eagle portrait
Your coin's reverse is a masterfully engraved adaptation of Vantage Point – Bald Eagle. It is the latest in a growing list of Bateman originals that have graced Canada's coins, including 2019's Into the Light – Lion, 2020's Summertime Polar Bear, 2021's Wolf Sketch and 2022's Snowy Owl on Driftwood. Collect them all!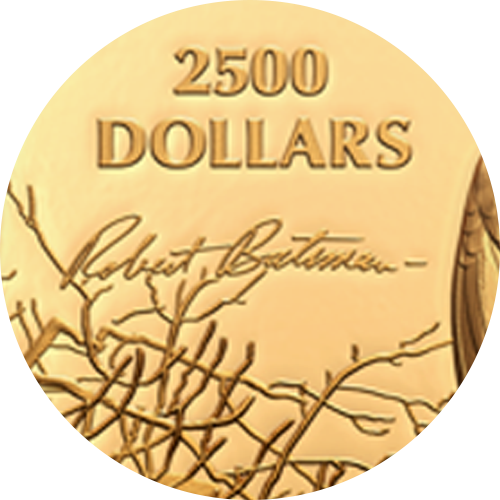 Artist's signature
Your coin's reverse includes the artist's (engraved) signature.
Composition
99.99% pure gold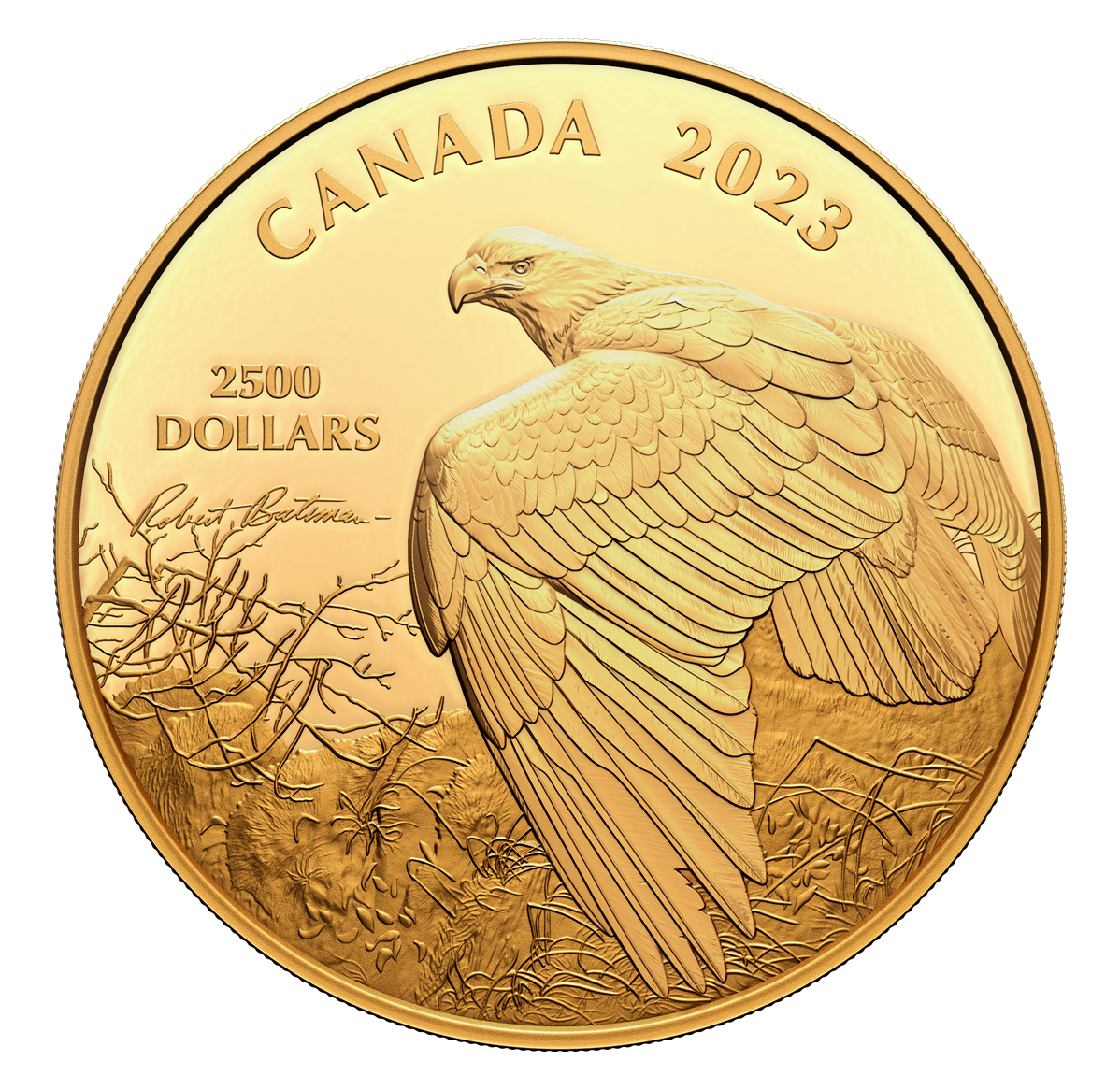 Your coin's reverse is an engraved adaptation of Vantage Point – Bald Eagle, an original painting by Canadian wildlife artist Robert Bateman. It features a side view of a bald eagle (Haliaeetus leucocephalus) perched on the moss-covered roots of an uprooted tree. The text "CANADA 2023" appears in the sky, while the artist's signature is engraved beneath a denomination of "2500 DOLLARS". The obverse features a nature-themed pattern and the effigy of Queen Elizabeth II by Susanna Blunt. The obverse also bears a special marking that includes four pearls symbolizing the four effigies that have graced Canadian coins and the double date of her reign.
What do you want to know about this product?
Your product was successfully added to your collection.
The product could not be added