Pure Gold Coin – The Curious Marten
Pure Gold Coin – The Curious Marten
Masters Club:
2,900
Status:

CAN & US shipping only
Shipping:

Expected to be shipped on Oct 10
Shiny and tiny—this little gold coin and its baby marten will capture your heart.
Captured on our smallest (14 mm) blank and in 99.99% pure gold, the baby marten (or kit) is furry, energetic, and oh so adorable! This cute resident of Canada's boreal forests will grow up to be a solitary hunter and an agile forager that deftly moves among the trees in search of berries, nuts, insects and small mammals. But before reaching maturity, a marten kit is reliant on its mother until the fourth month—that's when it is finally ready to make its first foray out of the den and into the forest, as seen on this coin.
Struck on a 1/20 oz. gold blank for greater affordability, this baby animal portrait is crafted in 99.99% pure gold.
Special features
Smallest gold. Captured on our smallest gold blank (14 mm), this coin offers a glimpse of life in the Canadian wilderness, where even the tiniest creature plays a big part in our natural heritage.
High appeal. Animal lovers will love the coin's wildlife portrait. This pure gold coin is also an affordable option for anyone looking to add pure gold to their collection.
Low mintage. Only 3,000 coins available worldwide.
Includes serialized certificate. The Royal Canadian Mint certifies all of its collector coins.
No GST/HST
Packaging
Your coin is encapsulated and presented in a Royal Canadian Mint-branded clamshell with a black beauty box.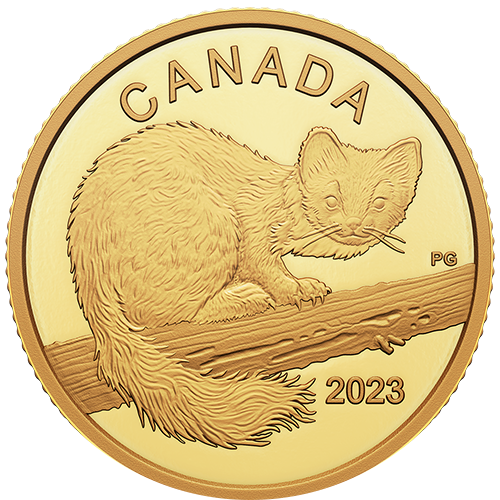 Affordably sized, precisely crafted
While your coin's 14 mm diameter makes it slightly smaller than a 10-cent piece, you'll find an incredible wealth of engraved details on its reverse.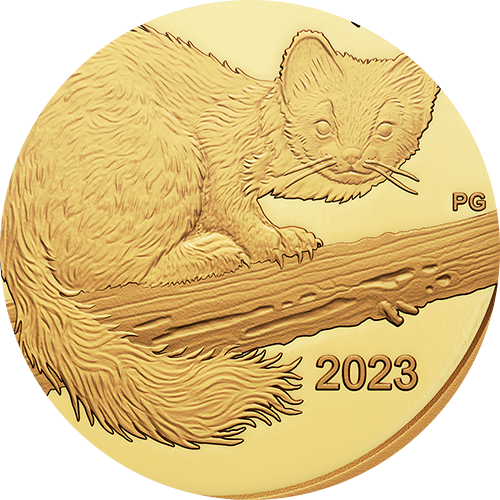 A captivating canadian species
The bushy-tailed marten (also known as the pine marten) isn't often featured on our coins but is found throughout Canada, where it resides in the boreal forests that stretch from east to west and into the north.
Composition
99.99% pure gold
Packaging
Black clamshell with black beauty box
Artist
Pierre Girard (reverse), Susanna Blunt (obverse)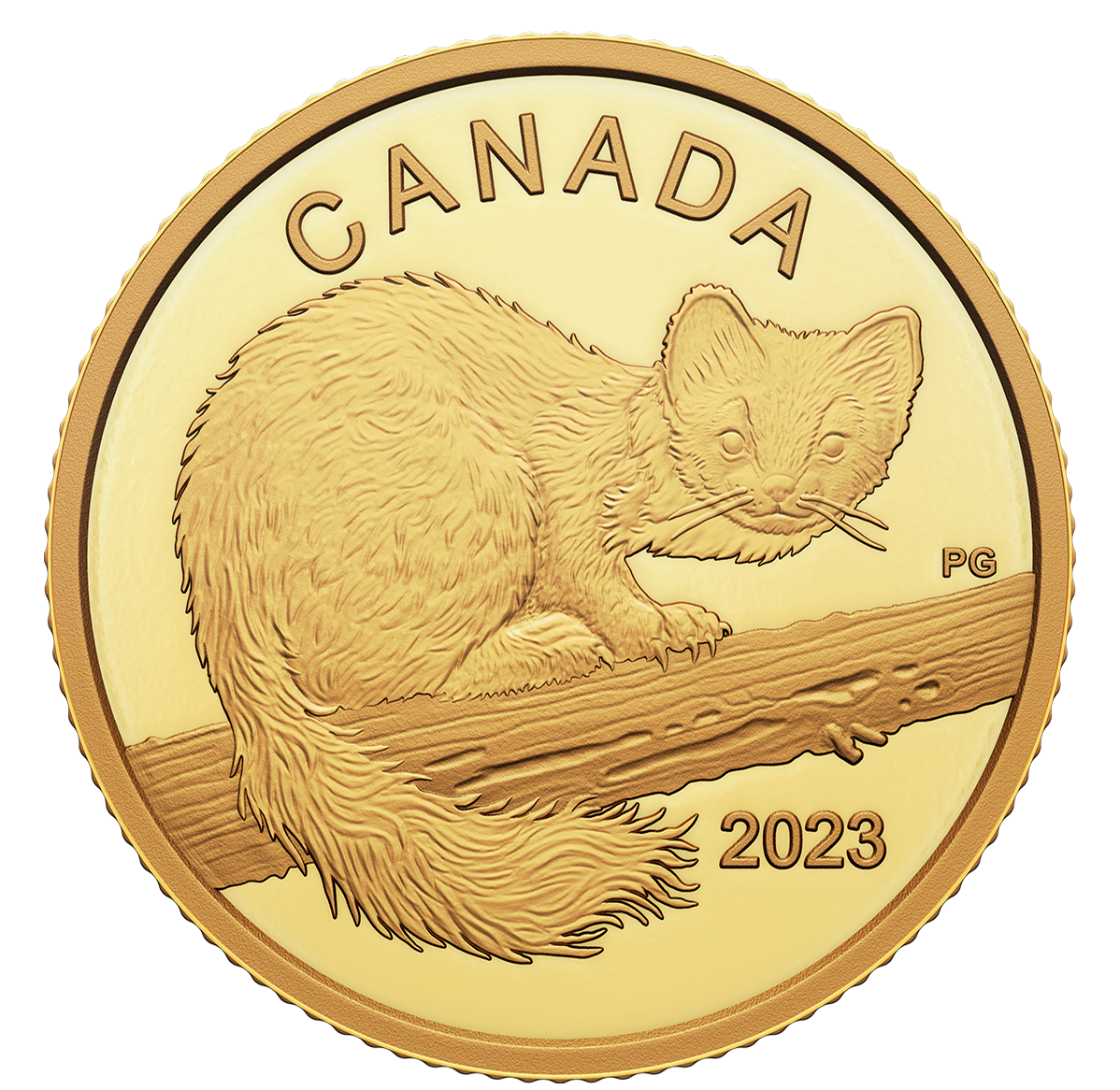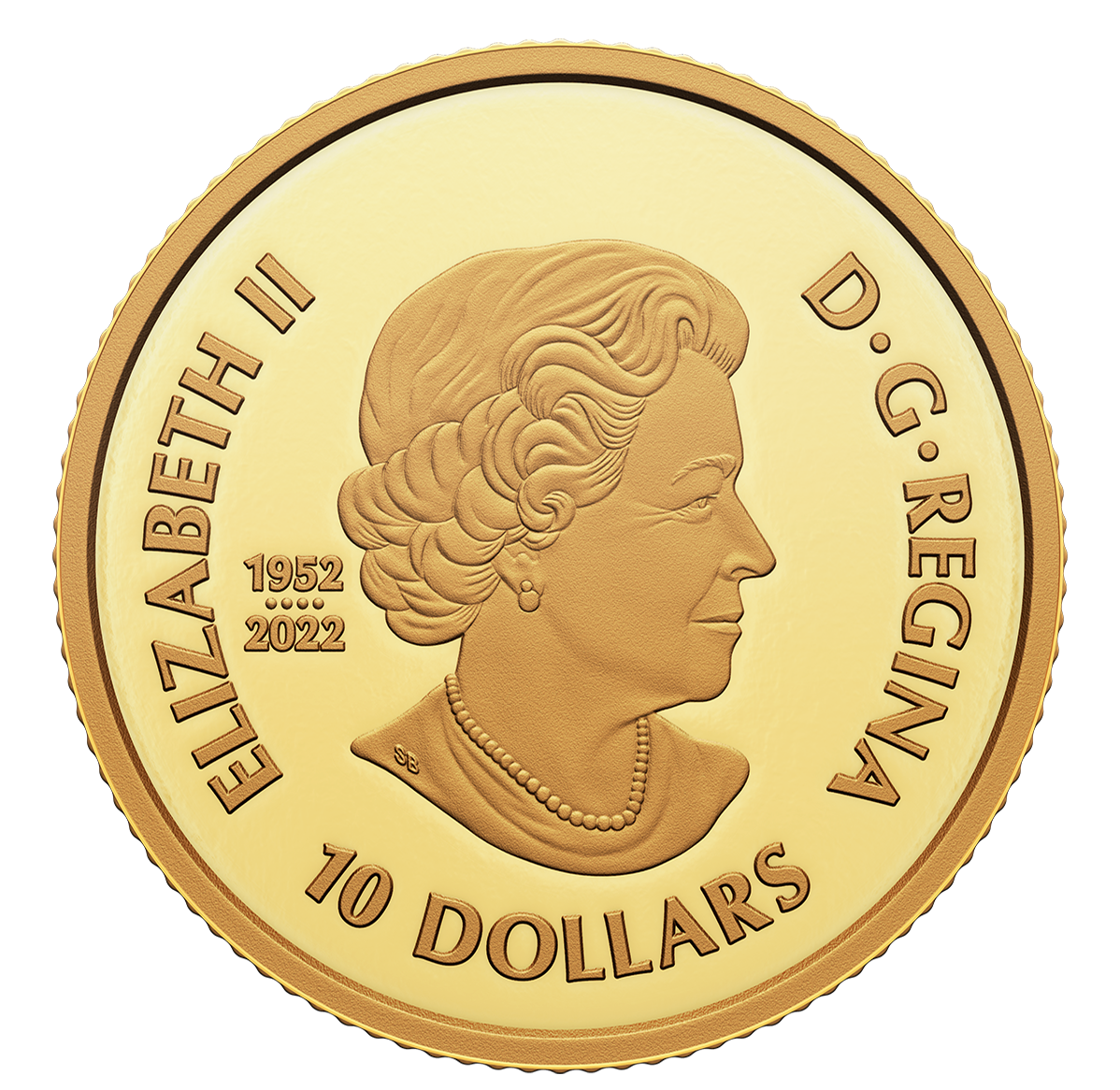 Designed by Canadian wildlife artist Pierre Girard, your coin's reverse features a charming portrait of a marten kit. The young animal is perched on the branch of a tree with its bushy tail hanging down, as it turns to face the viewer. The obverse features the effigy of Queen Elizabeth II by Susanna Blunt. The obverse also bears a special marking that includes four pearls symbolizing the four effigies that have graced Canadian coins and the double date of her reign.
What do you want to know about this product?
Your product was successfully added to your collection.
The product could not be added