2 oz. Pure Silver Coin – Multifaceted Animal Family: Grizzly Bears
2 oz. Pure Silver Coin – Multifaceted Animal Family: Grizzly Bears
Masters Club:
2,100
Status:

CAN & US shipping only
Shipping:

Expected to be shipped on Dec 05
Our Multifaceted Animal Family is GROWING: Coin #2 features the grizzly bear.
The qualities we admire in grizzly bears—their fierceness and strength—are also the source of the expression "Mama Bear"! Female grizzlies are known to be fiercely protective of their cubs, and will aggressively defend them at all costs. But in the absence of perceived threats, a sow reveals her softer side, nurturing her young through their first three years of life and imparting the life lessons needed to ensure their survival. That tenderness between a mother and her cubs, so often hidden from our view, is magnificently captured on this 99.99% pure silver coin's reverse, where multifaceted engraving takes a more geometric and dimensional approach to the grizzly bear's distinctive form within the traditionally engraved scene.
Add a second Multifaceted Animal Family to your collection.
Special features
Coin #2. See the animal world from yet another angle with the second Multifaceted Animal Family coin! The perfect fusion of modern engraving and classic art, its reverse design reveals a more tender side of an iconic species that is typically portrayed as a symbol of strength.
Traditional engraving too. While multifaceted engraving brings the grizzly bears to life, the rest of the scene on your coin's reverse has been traditionally engraved. This mix of geometric shapes in a realistic landscape makes for a compelling design that will make a lasting impression.
Large canvas. Crafted in 99.99% pure silver, your coin features a 50 mm diameter—an uncommon size that draws you into the engraved scene and provides plenty of space for all the engraved details.
Low mintage. Limited to just 4,500 coins worldwide.
Includes serialized certificate. The Royal Canadian Mint certifies all of its collector coins.
No GST/HST.
Packaging
Your coin is encapsulated and presented in a black Royal Canadian Mint-branded clamshell with a black beauty box.

Multifaceted engraving
This is only the second 2 oz. coin to feature multifaceted engraving, an innovative approach to minting dimensional art. The art style isn't often seen on our coins, but by applying it to a wildlife species whose shape is well known, the highly reflective geometric facets elevate the fauna design and transform it into something truly unique.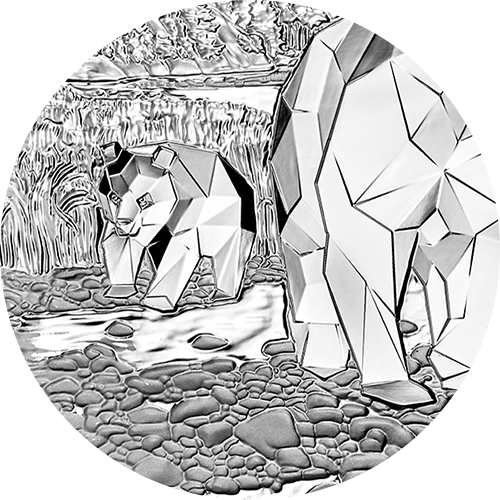 Mix of finishes
With a uniformly brilliant finish, many of the portrait's finer details would get lost in the mix; instead, we've opted to "paint" this family portrait using multiple finishes that create a sense of distance and depth.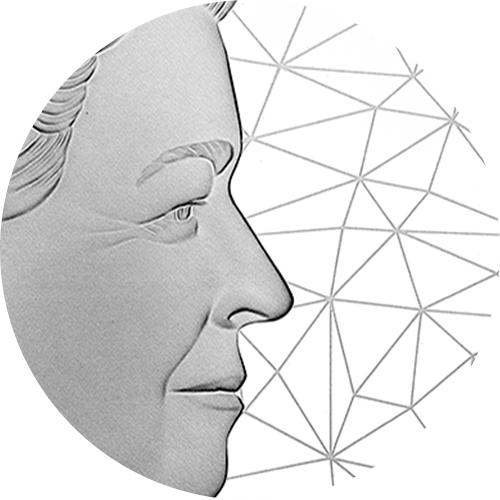 Obverse pattern
On your coin's obverse, an array of laser-engraved polygon shapes—a nod to the multifaceted elements on the reverse—form a dynamic pattern behind the effigy.
Composition
99.99% pure silver
Packaging
Black clamshell with black beauty box
Artist
W. Allan Hancock (reverse), Susanna Blunt (obverse)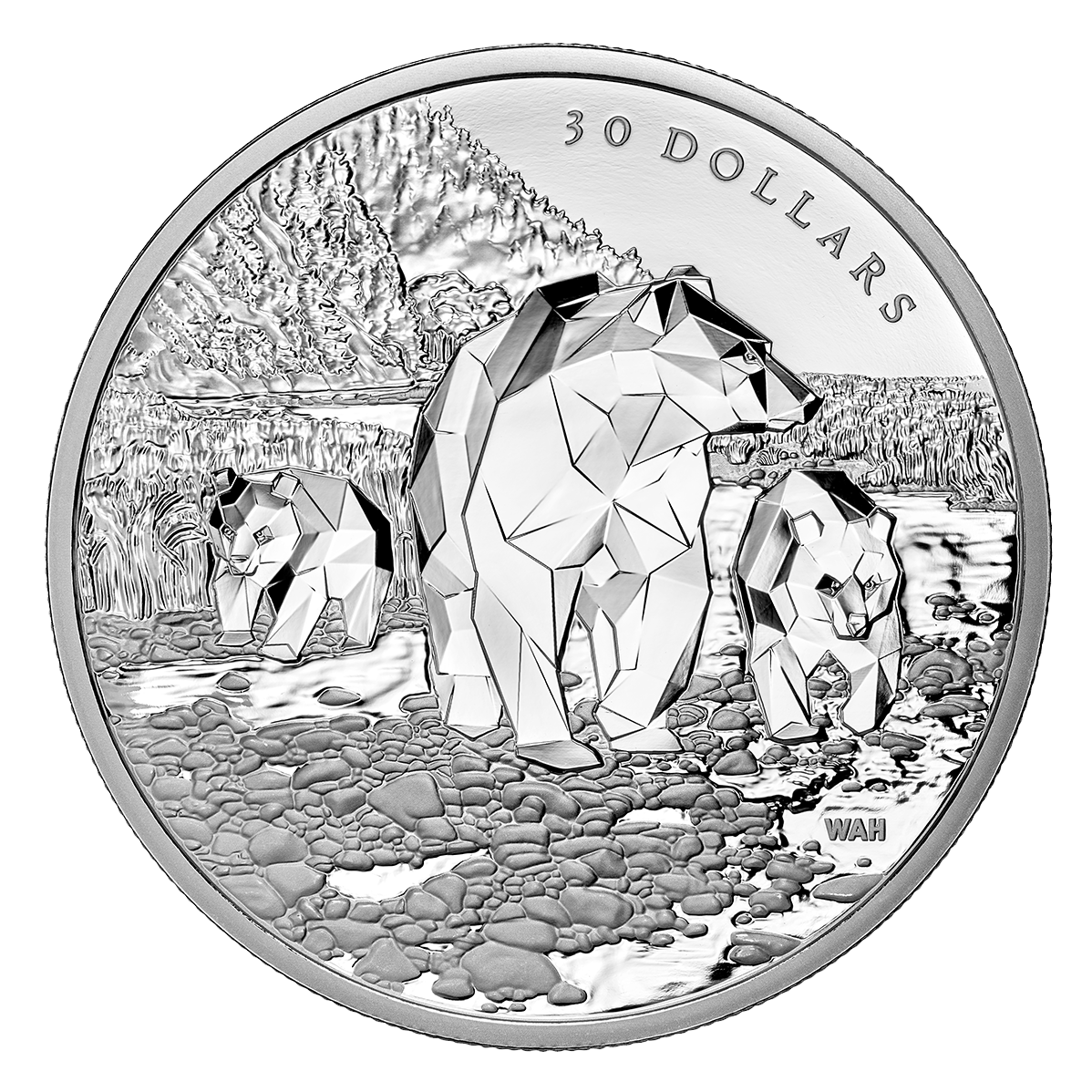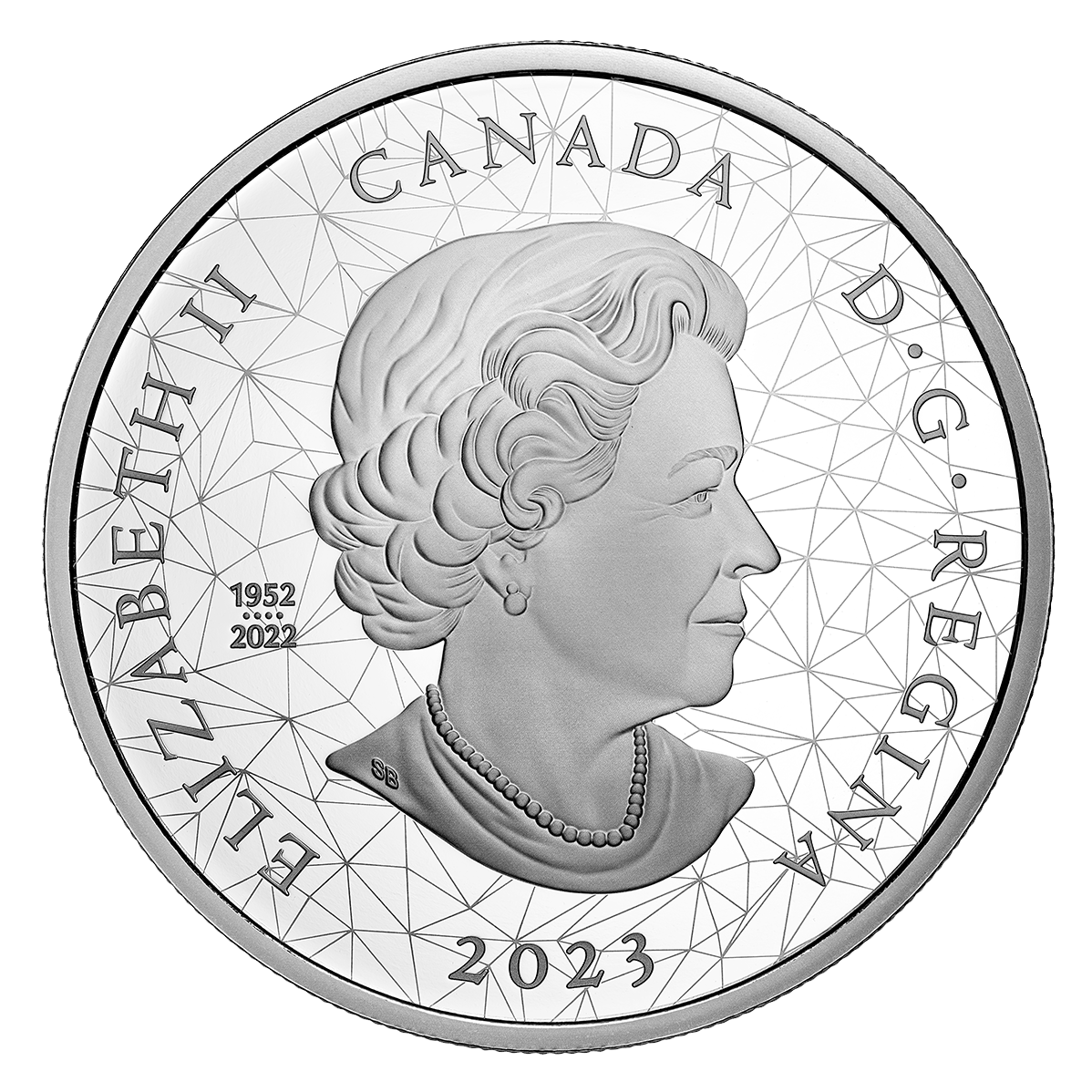 The reverse design by Canadian artist W. Allan Hancock features a rare and scenic view of a grizzly bear (Ursos arctos horribilis) mother and her two cubs enjoying a quiet moment in the wilds of western Canada. Set in a traditionally engraved landscape, the wildlife portrait is enhanced with multifaceted engraving that gives the grizzly bears a more three-dimensional form. The obverse features a polygon pattern and the effigy of Queen Elizabeth II by Susanna Blunt. The obverse also bears a special marking that includes four pearls symbolizing the four effigies that have graced Canadian coins and the double date of her reign.
What do you want to know about this product?
Your product was successfully added to your collection.
The product could not be added