Pure Silver Coloured Coin – Pysanka
Pure Silver Coloured Coin – Pysanka
Masters Club:
1,400
Status:

CAN & US shipping only
Availability:

Out of stock in stores
Quantity:

Maximum 2 per customer
Celebrate spring with a colourful pysanka masterpiece rooted in ancient tradition.
As nature cycles through the seasons, the earth and the sun work together to give us everything we need, and that powerful relationship is celebrated on this 99.99% pure silver pysanka. Its colour-filled reverse features a deeply symbolic art style that is rooted in ancient tradition. With its earth-toned colours, harvest-inspired motifs and flashes of shining silver, your pysanka is not only a reminder of our ties to nature, but a symbol of continuity, of harmony, and the connections that bring life.
This year, the net cash proceeds earned from the sale of our gold and silver pysanka coins will be donated to the Ukraine Humanitarian Appeal.
Special features
A springtime tradition. Our annual Easter egg-shaped celebration of Ukrainian culture in Canada has been wildly popular with collectors! Through its deeply symbolic artistry, the pysanka is a beautiful reflection of the communities they come from, and it underscores the importance of cherishing tradition.
A sought-after addition. A bestseller every year since 2016. Previous pysanka coins all sold out quickly; for 2023, mintage is once again limited to 7,500 worldwide.
Includes serialized certificate. The Royal Canadian Mint certifies all of its collector coins.
NO GST/HST.
Packaging
Your coin is encapsulated and presented in a Royal Canadian Mint-branded clamshell with a black beauty box.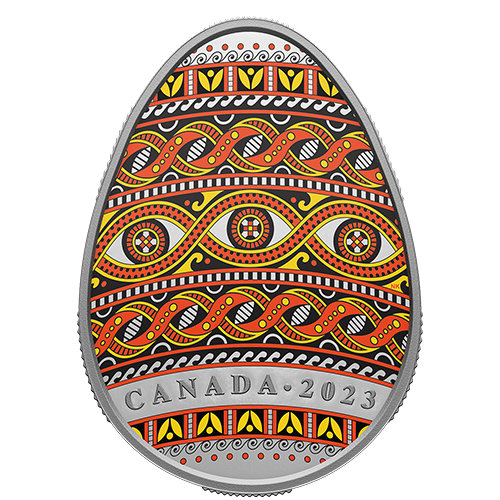 Inspired by prehistoric pottery
Your 2023 fine silver pysanka features a Trypillian art style, which is derived from prehistoric pottery designs and produced in earthy colours.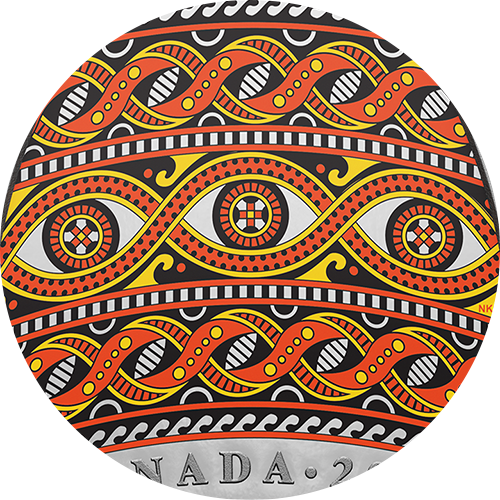 Colour meets silver
Crafted in 1 oz. of 99.99% fine silver, your pysanka features warm, earth-toned colours and harvest-themed motifs. The complex design also makes use of the natural shine of silver, weaking sparkling precious metal with bright colour.
Composition
99.99% pure silver with colour
Edge
Interrupted serrations
Packaging
Black clamshell with black beauty box
Artist
Natalie Kit (reverse), Susanna Blunt (obverse)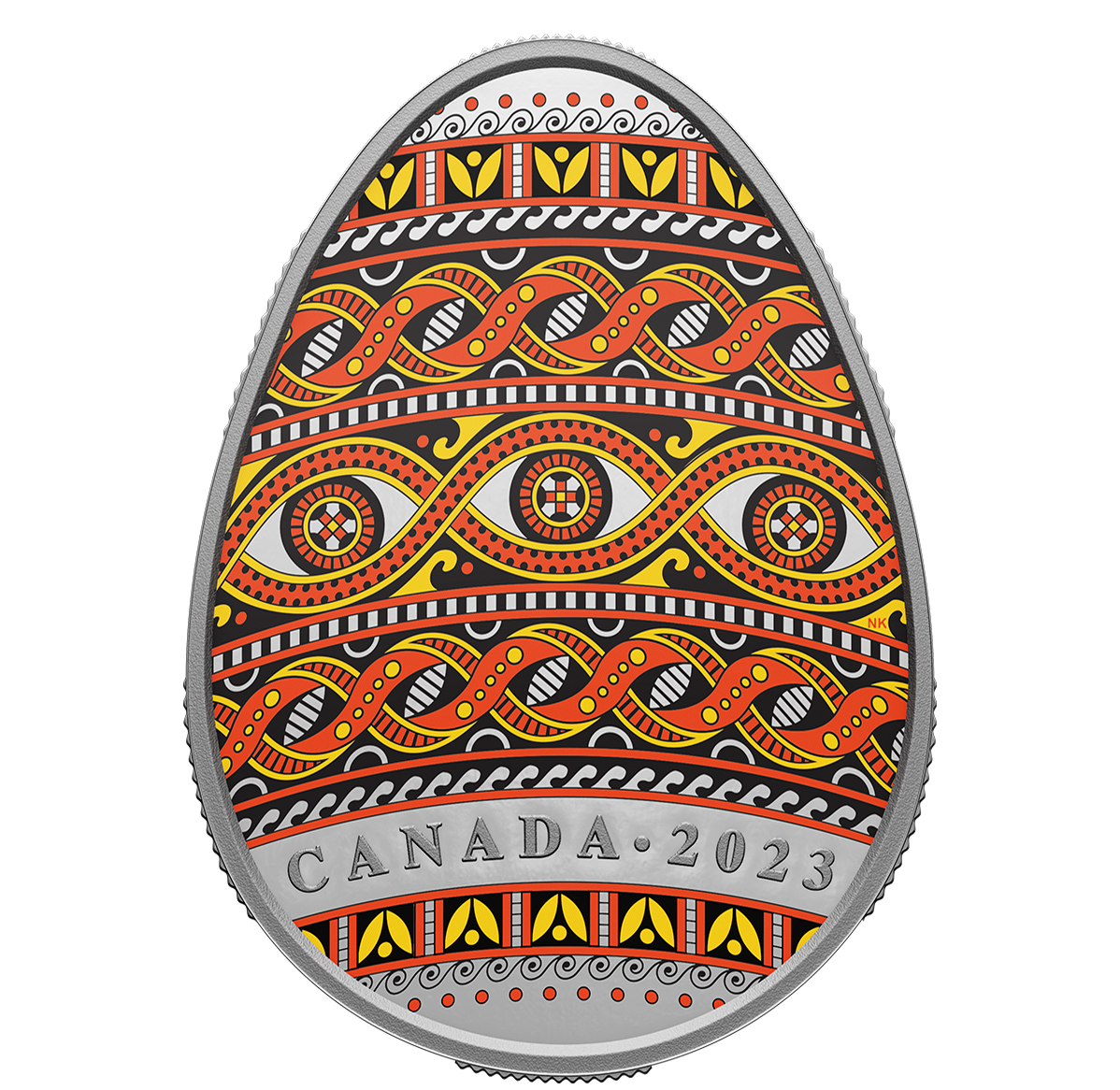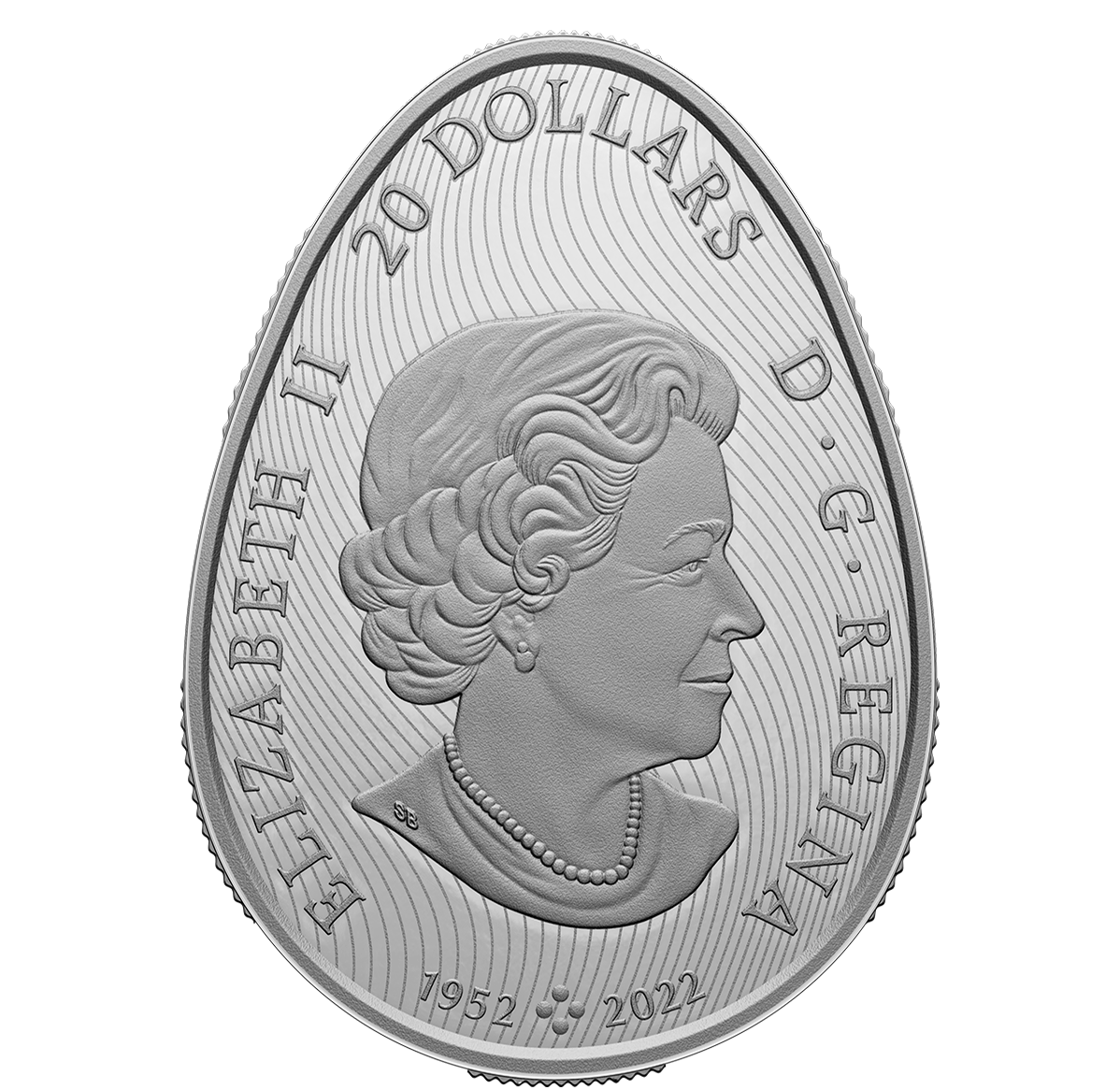 Designed by artist Natalie Kit, your colourful fine silver pysanka features a Trypillian art style inspired by surviving neolithic pottery. Flanked by four parallel lines of life, the centre band features solar symbols and a weaving pattern containing seeds that represent the harvest. Another weaving pattern representing connection and continuity fills the upper and lower bands, where the grain is nurtured by rainfall. Above and below those bands, more lines of life bring strength and frame the powerful eternity line. The ripening grain is contained by vertical lines representing the four seasons, which are guided by time, represented by the spiral forms. The obverse features the effigy of Queen Elizabeth II by Susanna Blunt. The obverse also bears a special marking that includes four pearls symbolizing the four effigies that have graced Canadian coins and the double date of her reign.
What do you want to know about this product?
Your product was successfully added to your collection.
The product could not be added