Ultra-High Relief 99.99% Pure Gold Coin – Purely Brilliant Collection: De Beers Ideal Heart
Ultra-High Relief 99.99% Pure Gold Coin – Purely Brilliant Collection: De Beers Ideal Heart
$3,830.80 USD
Pay up to 6 monthlyinstallments of $638.47 USD.
Masters Club:
52,000
Status:

CAN & US shipping only
Experience a unique and unmistakable symbol of love: A Canadian heart-shaped diamond that reaches great heights.
It is the shape we use to express and convey our strongest emotion: love. An extraordinary statement stone, a heart-shaped diamond is as unique as the person who possesses it, or the special bond you share. It is one of the most difficult diamond shapes to achieve, requiring great skill and precision cutting to achieve its superior brilliance, spectacular fire and perfect symmetry from clef to point. These qualities are exhibited by the 0.23-carat De Beers Ideal Heart diamond on this 99.99% pure gold coin's reverse, where ultra-high relief (UHR) engraving surrounds, lifts and emphasizes a beauty that is purely brilliant.
Complete your Purely Brilliant collection with this fifth and final piece.
Special features
The De Beers promise.

Marked by the promise of superior beauty, utmost purity and responsible sourcing, each De Beers Ideal Cut diamond adds maximum clarity, brilliance and light to your collection.

A Canadian diamond. Canada is one of the world's largest diamond producers and this coin has the added distinction of featuring a piece of Canada's mining history: its diamond has been sourced from one of Canada's finest diamond mines.
A rare gem. Only 350 of these jewellery-inspired, diamond-and-gold masterpieces are available worldwide.
Two certificates of authenticity. Your coin comes in a wooden case packaged in a graphic beauty box that features a magnified view of the coin design. You also get TWO serialized certificates of authenticity: one from the Royal Canadian Mint; and one for the diamond, provided by Crossworks Manufacturing.
No GST/HST
Packaging
Your coin is encapsulated and presented in a Royal Canadian Mint-branded wooden case with a graphic beauty box.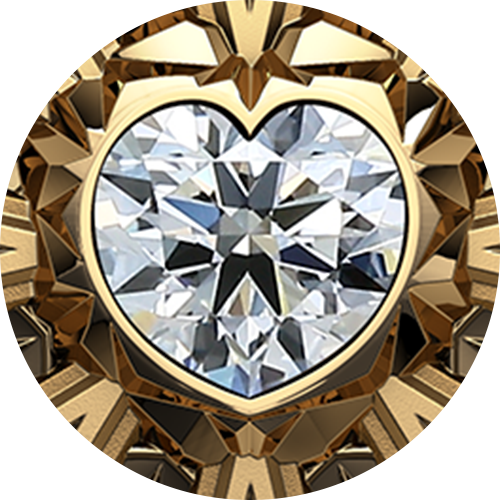 Heart cut diamond
Last coin in this five-part series—complete your collection! In partnership with Canada's premier diamantaire, Crossworks Manufacturing, each coin features a De Beers Ideal heart-shaped diamond, a patented cut that unleashes the spectacular beauty and fire within.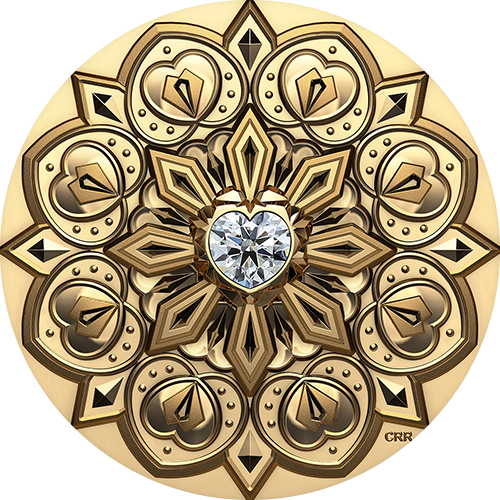 The height of luxury
Your coin combines three of the most luxurious coin features in one unforgettable design:
A 0.23-carat De Beers Ideal Heart diamond;
99% pure gold, the height of gold purity; and
Ultra High Relief (UHR) engraving for unparalleled height and depth.
Composition
99.99% pure gold with ultra-high relief and a 0.23-carat De Beers Ideal Heart Cut Diamond
Packaging
Wood case with graphic beauty box, custom RCM serialized certificate and a separate certificate for the diamond
Artist
Chris and Rosina Reid of Three Degrees Creative (reverse), Susanna Blunt (obverse)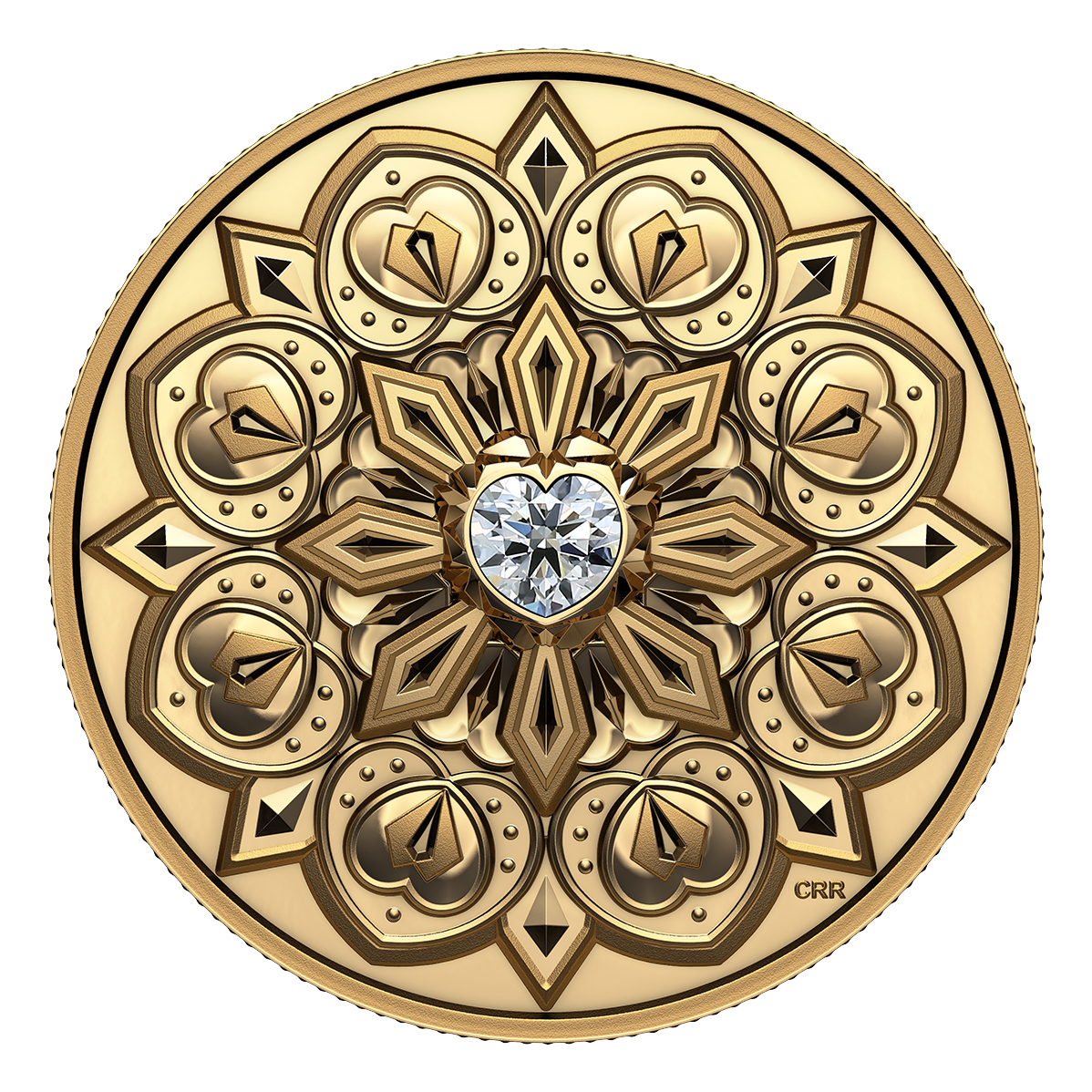 Reverse
Chris and Rosina Reid of Three Degrees Creative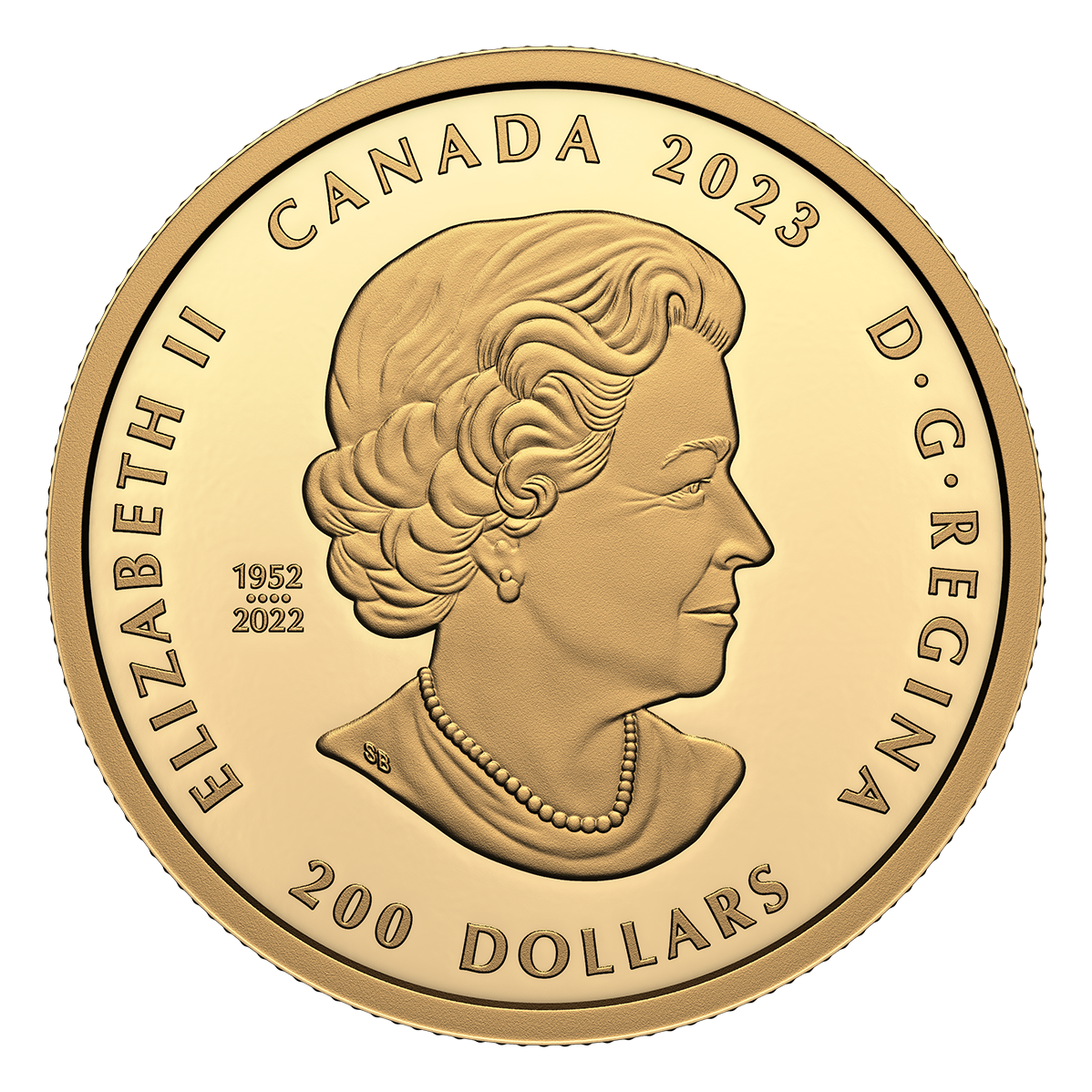 The reverse design by Chris and Rosina Reid of Three Degrees Creative is inspired by the 0.23 carat De Beers Ideal Heart diamond centrepiece. The engraved arrangement is an artistic interpretation of the diamond's light performance, and features rising layers of various shapes engraved in Ultra High Relief (UHR). The obverse features the effigy of Queen Elizabeth II by Susanna Blunt. The obverse also bears a special marking that includes four pearls symbolizing the four effigies that have graced Canadian coins and the double date of her reign.
What do you want to know about this product?
Your product was successfully added to your collection.
The product could not be added