2021 Gold Maple Leaf Bullion Coins (Bullion)
2021 Gold Maple Leaf Bullion Coins (Bullion)
Status:

CAN & US shipping only
Availability:

Out of stock in stores
The Royal Canadian Mint's Gold Maple Leaf (GML) coins are among the world's most popular pure gold coins, with more than 25 million troy ounces sold since their introduction in 1979.
A variety of bullion coins and bars are available to purchase through select dealers. The retail price of bullion products is based on the international gold, silver and platinum market prices, which vary daily. Bullion coins do not have any fixed mintage unless otherwise stated.
All 1-ounce 99.99% pure GML bullion coins dated 2021 will have three unique features for enhanced security—radial lines, a micro-engraved maple leaf and Bullion DNATM Anti-Counterfeiting Technology.
Enhanced Security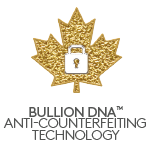 Bullion DNA™ Anti-Counterfeiting Technology is an industry first that goes above and beyond coin authentication like no other. Every die used to produce GML coins is laser micro-engraved with an anti-counterfeiting security mark. Our registration process—digital non-destructive activation (DNA) technology—captures images encrypted with an algorithm signature, and stores these in our secure database. Combined with the proprietary Bullion DNA Reader and software, the coin's authenticity can be verified in an instant.
In 2013, the Mint introduced a new and unique security feature to confirm the authenticity of its GML coins. Derived from the same award-winning security technology applied to Canada's $1 and $2 circulation coins, the GML security feature consists of a textured maple leaf, micro-engraved with laser technology on a small area of the reverse side of the coin. In the centre of this mark, visible under magnification, is the numeral "21", denoting the coin's year of issue.
Radial lines in the 2021 GML's field have been precisely machined to within microns on the master tooling to ensure reproducibility from die to die and coin to coin. The uniqueness of the line width and pitch gives this coin a characteristic look, and creates a light-diffracting pattern that is specific to this coin.
Special Features
Three unique features for cutting-edge security, including precise radial lines, a micro-engraved leaf and Bullion DNA™

Anti-Counterfeiting Technology, exclusive to the Royal Canadian Mint.
An attractive acquisition for both first-time precious metal buyers and long-term investors.
Precision-cut radial lines create a unique light-diffracting pattern specific to this coin.
No fixed mintage.
To find a registered BULLION DNA™ dealer near you, consult our listings.
| | | | | | |
| --- | --- | --- | --- | --- | --- |
| Weight (oz.): | 1 | 1/2 | 1/4 | 1/10 | 1/20 |
| Weight (g): | 31.11 | 15.55 | 7.77 | 3.11 | 1.55 |
| Purity (%): | 99.99 | 99.99 | 99.99 | 99.99 | 99.99 |
| Diameter (mm): | 30 | 25 | 20 | 16 | 14.1 |
| Face value ($CAD): | $ 50 | $ 20 | $ 10 | $ 5 | $ 1 |
What do you want to know about this product?
Your product was successfully added to your collection.
The product could not be added